Communication
What Does Your Body Language Say About You? How To Read Signs and Recognize Gestures - Jinxi Boo - Jinxi Boo. Art by LaetitziaAs we all know, communication is essential in society.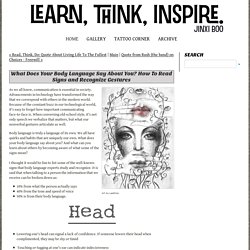 Advancements in technology have transformed the way that we correspond with others in the modern world. Because of the constant buzz in our technological world, it's easy to forget how important communicating face-to-face is. Get Anyone to Like You. Get anyone to like you - Instantly - Guaranteed If you want people to like you, make them feel good about themselves.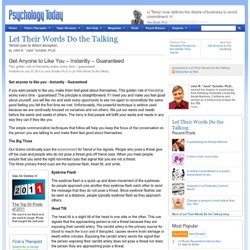 This golden rule of friendship works every time - guaranteed! The principle is straightforward. If I meet you and make you feel good about yourself, you will like me and seek every opportunity to see me again to reconstitute the same good feeling you felt the first time we met. Unfortunately, this powerful technique is seldom used because we are continually focused on ourselves and not others.
How to Detect Lies. Interesting Info -> Lying Index -> How to Detect Lies Become a Human Lie Detector (Part 1) Warning: sometimes ignorance is bliss.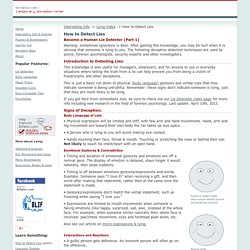 After gaining this knowledge, you may be hurt when it is obvious that someone is lying to you. How to Read Body Language. Difficult Conversations: Nine Common Mistakes. 25 Acts of Body Language to Avoid. Our body language exhibits far more information about how we feel than it is possible to articulate verbally.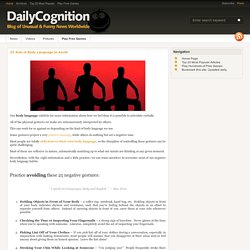 All of the physical gestures we make are subconsciously interpreted by others. This can work for or against us depending on the kind of body language we use. Some gestures project a very positive message, while others do nothing but set a negative tone. Most people are totally oblivious to their own body language, so the discipline of controlling these gestures can be quite challenging. Most of them are reflexive in nature, automatically matching up to what our minds are thinking at any given moment.
---