Photoshop
50 Photoshop Tricks for a Fast-Paced Work Environment. Details Published on Wednesday, 19 March 2014 19:29 Happy Nowrouz to all friends, well-wishers and supporters of a free and democratic Iran and the Iranian Resistance movement.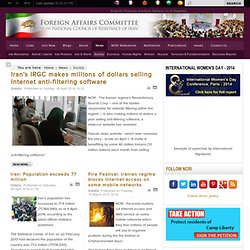 Our best wishes to you in this coming year, and for a free Iran, where all vestiges of the current ruling regime's inhumane oppression, execution, torture, religious and gender based discrimination, export of terrorism, and support for dictators and oppressors around the world, will be washed away, and where Iranians will be free to enjoy the potential of their inalienable right to life, liberty, and prosperity. We also wish for the safety of the brave members of PMOI residing in Camp Liberty, who have sacrificed much to bring freedom and democracy to their beloved country and are today the source of inspiration for all Iranians. 80 All-You-Need Photoshop Brushes. 111 Awesome Creative Photoshop Tutorials Can Make You Designer.
The Main Tap › PatternTap. Photoshop CS4: A Picture Worth a Thousand Words. I love Photoshop techniques that offer all kinds of possibilities for experimentation—and the following tutorial is a perfect example of one of those techniques.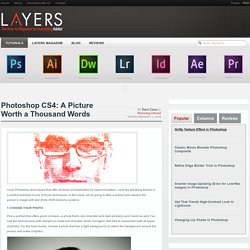 In this issue, we're going to take a portrait and replace the person's image with text (think 2009 Grammy posters). Pick a portrait that offers good contrast—a photo that's very dramatic and dark probably won't work as well. I've had the best success with straight-on head and shoulder shots, but again, feel free to experiment with all types of photos.
For the best results, choose a photo that has a light background (or select the background around the person and make it lighter). Create a new document (File>New) in a size that's smaller than your photo: the specifics don't really matter. 20 Fantastic Photoshop Manipulation Tutorials -2010. Tutorial Magazine / photoshop / effects. Photo Retouching. This tutorial will help you learn how to speed up skin retouching and polish photos in Photoshop using basic techniques.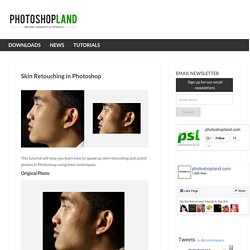 Original Photo Step 1 Duplicate the background image and rename it to Layer 1. Step 2 Go to Filter > Other > High Pass and set the Radius to around 4.5 pixels. Photoshop. 30 Christmas Holiday PSD & AI Flyer Templates The success of any event, being it a show, a sale, a party or a simple get-together, often depends on how well you can promote it.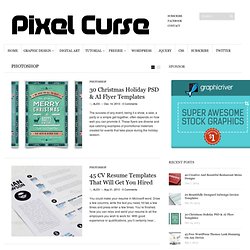 These flyers are diverse and eye-catching examples of promotional materials created for events that take place during the holiday season. 45 CV Resume Templates That Will Get You Hired You could make your resume in Microsoft word. Adobe Photoshop CS4 Basics Video Lecture Course. Fonts} :: Illustration & Design, Digital Scrapbooking, Free Fonts, Tutorials and more!&|&free fonts.
25 Helpful Tutorials for Lighting Effects in Photoshop. Photoshop allows designers with unlimited possibilities when it comes to creative effects, including lighting effects.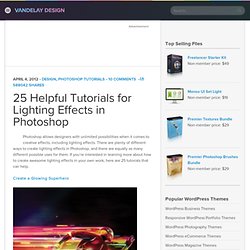 There are plenty of different ways to create lighting effects in Photoshop, and there are equally as many different possible uses for them. If you're interested in learning more about how to create awesome lighting effects in your own work, here are 25 tutorials that can help. Looking for hosting? - StumbleUpon. I get a lot of requests to release more seamless textures here on L&T, so this set is for you guys.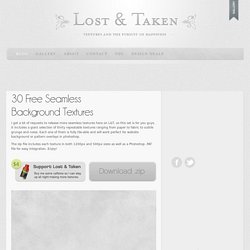 It includes a giant selection of thirty repeatable textures ranging from paper to fabric to subtle grunge and noise. Each one of them is fully tile-able and will work perfect for website background or pattern overlays in photoshop. The zip file includes each texture in both 1200px and 500px sizes as well as a Photoshop .PAT file for easy integration.
Enjoy! External Tip - 10 Advanced Photoshop Tutorials You Should See. In this category we want to give you an advice to other great sites, where you can get a lot of very useful information, inspirations and materials.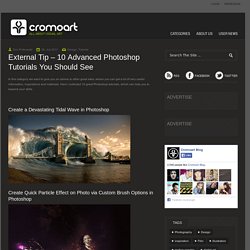 Here I collected 10 great Photoshop tutorials, which can help you to expand your skills. Create a Devastating Tidal Wave in Photoshop Create Quick Particle Effect on Photo via Custom Brush Options in Photoshop. Making Complex Selections in Photoshop - DesignFestival » For Web Design Trends.
Making precise selections in Photoshop is an essential skill that every designer needs.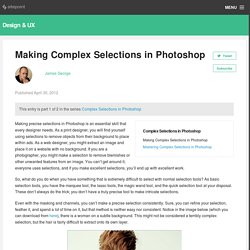 As a print designer, you will find yourself using selections to remove objects from their background to place within ads. As a web designer, you might extract an image and place it on a website with no background. If you are a photographer, you might make a selection to remove blemishes or other unwanted features from an image. You can't get around it; everyone uses selections, and if you make excellent selections, you'll end up with excellent work. So, what do you do when you have something that is extremely difficult to select with normal selection tools?
Achieving a Vintage Look Through Color Tones in Photoshop CS. By Guest Contributor Anna Gay Photographers are often striving for a "vintage" look in their photos, and even though there are endless ways of achieving a vintage look, there are a couple of characteristics to keep in mind.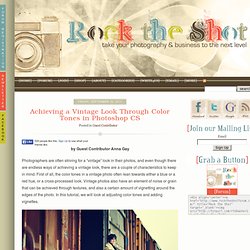 First of all, the color tones in a vintage photo often lean towards either a blue or a red hue, or a cross-processed look. Vintage photos also have an element of noise or grain that can be achieved through textures, and also a certain amount of vignetting around the edges of the photo. In this tutorial, we will look at adjusting color tones and adding vignettes. This photo is the result of adjusting the color curves, adding two vignettes, and a color fill, which we will walk through step-by-step.
---