Ipad2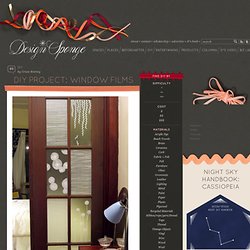 this month's material is a simple one…paint! obviously paint comes in many forms, and one of my favorite craft tools is the paint pen. they have come a long way over the years, and the newest paint pens provide a really clean, fluid line of paint and are great for drawing with. in our home we needed some window films to provide privacy, but we also wanted them to let light through. using contact paper and a white paint pen, i've created some decorative window films that are easy to change, replace, move, etc. if you don't feel super comfortable with your drawing skills, you can easily print out images or text and trace them onto the contact paper. happy crafting! -kate CLICK HERE for the full project after the jump! What You'll Need: 1. contact paper, clear (this is for lining drawers, you can find it at hardware or drug stores) 2. ruler 3. scissors or exacto 4. paint pen 5. tape Instructions: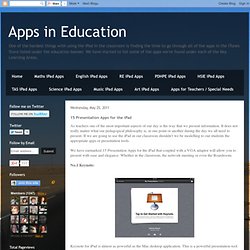 As teachers one of the most important aspects of our day is the way that we present information. It does not really matter what our pedagogical philosophy is, at one point or another during the day we all need to present. If we are going to use the iPad in our classroom shouldn't we be modelling to our students the appropriate apps or presentation tools.
Losing someone close to you is an extremely difficult experience. It can have different effects on people based on individual circumstances and beliefs. However, there is one universal language when it comes to losing someone you love, and that is the grieving process is absolutely necessary. While everyone grieves differently, it is important for people to grieve so that they can begin the process of healing, letting go and approaching the loss in a healthy manner.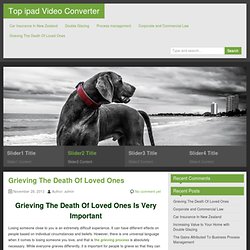 Watch a master iPad artist at work
iPod Touch & iPad Resources
The Wordle of this list! (Click image to enlarge) One of the most popular posts on Edudemic in 2010 was The 35 Best Web 2.0 Classroom Tools Chosen By You and I felt it might be time for an update to that list for 2011. In order to put together a list of the best Web 2.0 classroom tools, I polled my Twitter followers, Facebook fans (are they still called fans? Likes?)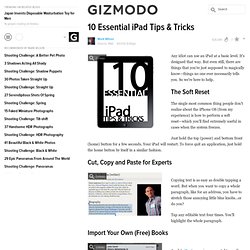 SExpand Any idiot can use an iPad at a basic level. It's designed that way. But even still, there are things that you're just supposed to magically know—things no one ever necessarily tells you.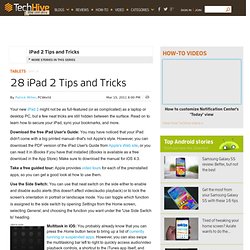 Your new iPad 2 might not be as full-featured (or as complicated) as a laptop or desktop PC, but a few neat tricks are still hidden between the surface. Read on to learn how to secure your iPad, sync your bookmarks, and more. Download the free iPad User's Guide: You may have noticed that your iPad didn't come with a big printed manual--that's not Apple's style. However, you can download the PDF version of the iPad User's Guide from Apple's Web site, or you can read it in iBooks if you have that installed (iBooks is available as a free download in the App Store).
With great new features like two video cameras, a faster processor and a Retina display, the new iPad is the world's best tablet device. It's also fully capable of running the latest version of Apple's iOS operating system and great apps like iMovie and GarageBand. Here we present 50 really useful iPad tips. We cover everything from customising your Home screen through to getting more from built-in apps like Mail and Safari. 10 best tablet PCs in the world today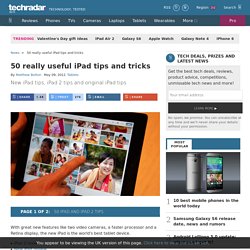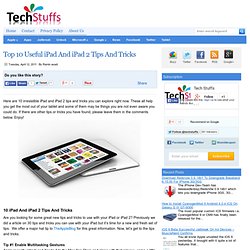 Top 10 Useful iPad And iPad 2 Tips And Tricks | Tech Stuffs
Top 10 Useful iPad And iPad 2 Tips And Tricks Tuesday, April 12, 2011 · By Ramin asadi Here are 10 irresistible iPad and iPad 2 tips and tricks you can explore right now. These all help you get the most out of your tablet and some of them may be things you are not even aware you could do. If there are other tips or tricks you have found, please leave them in the comments below.