Photography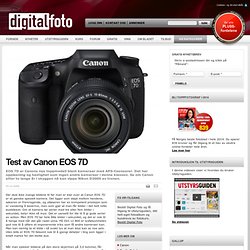 Der skal ikke mange bildene til før man er klar over at Canon EOS 7D er et ganske spesielt kamera. Det ligger som støpt mellom hendene, søkeren er fremragende, og utløseren har en kompetent presisjon som er vanskelig å beskrive, men som gjør at man får bilder i det helt rette øyeblikket. Om et kamera tar serier med tre eller fem bilder i sekundet, betyr ikke så mye. Det er uansett for lite til å gi gode serier av action. Men EOS 7D tar hele åtte bilder i sekundet, og det er nok til å henge med når det går raskt unna. På ISO 12 800 er lysfølsomheten god nok til å utføre et imponerende triks som få andre kameraer kan.
Test av Canon EOS 7D
Beyond Shotz
Photo Booth and Canons with cheap lenses dominate Tumblr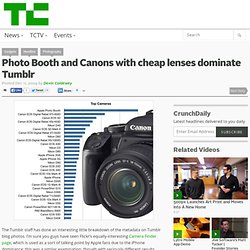 The Tumblr staff has done an interesting little breakdown of the metadata on Tumblr blog photos. I'm sure you guys have seen Flickr's equally-interesting Camera Finder page, which is used as a sort of talking point by Apple fans due to the iPhone dominance; this was a similar examination, though with seriously different results. Tumblr's analysis also takes a look at the lenses being used by the Canon users, a metric more interesting to gearheads than tech buffs. This kind of information is a dream come true for people who like to transmute raw data into conclusions.
Foto.no - Hovedsiden
Magnum Blog - the photo blog of Magnum Photos
Magnum Photos is a photographic cooperative of great diversity and distinction owned by its photographer members. With powerful individual vision, Magnum photographers chronicle the world and interpret its peoples, events, issues and personalities. The Magnum Photos library is a living archive updated daily with new work from across the globe.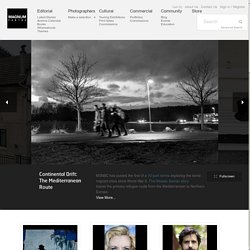 The East Was Tugging At My Soul
the home of photojournalism
How to Use Wordpress Widgets
Katelyn McCarter, the flagship artist of Christian indie label Dreamin' Out Loud Entertainment spent the week of August 25th – 29th recording vocals for her debut cd at Dark Horse Recording studios in Nashville, TN. At the helm was Producer Jonathan Crone and Producer Eric Copeland of Creative Soul productions. A total of 8 songs were completed for the 11 song project. Recording will continue in another week. Have a sneak peek at the action here…Nashville Recording Session Pics…http://www.flickr.com/photo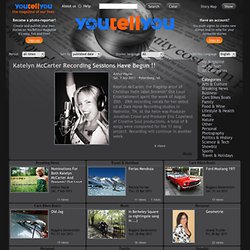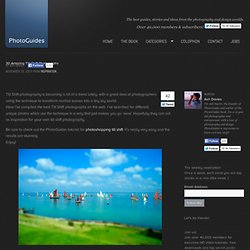 30 Amazing Tilt Shift Photographs By Ash Davies November 29, 2009 from Inspiration Tilt Shift photography is becoming a bit of a trend lately, with a great deal of photographers using the technique to transform normal scenes into a tiny toy world. Here I've compiled the best Tilt Shift photographs on the web.
30 Amazing Tilt Shift Photographs | Photo Guides
Website built by dennisoneil based on Photo Focus I
Scott Stulberg Photography
The world of professional photography has come a long way since the days of the darkroom and Ektachrome film. Although there are traditionalists who still swear by film photography, advances in technology have brought photography to a whole new level, both in process and product. In addition to innovation in photography equipment, there are many valuable resources online that are becoming essential tools for professional photographers.
5 Essential Sites for Professional Photographers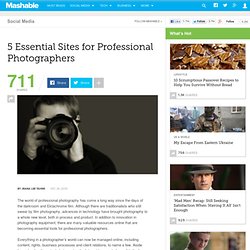 This post originally appeared on the American Express OPEN Forum, where Mashable regularly contributes articles about leveraging social media and technology in small business. At this time every year we find ourselves contemplating our shortcomings and using the New Year as an excuse to change our ways and better our lives. Why not also use this time of year wisely and make resolutions for your SMB? Instead of shooting for the stars, test out these five tips as sample resolutions to guide your SMB's social media and online strategies for 2010. 1.
5 New Year's Resolutions for SMBs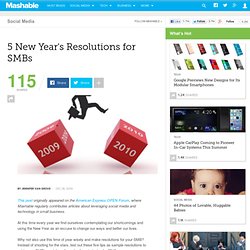 07 Apr 2014 Easily Unsubscribe from all LinkedIn Emails LinkedIn, the social network for professionals, sends too many email notifications and they also make it difficult for you to unsubscribe from these emails. There's an easy workaround though. The 10 HTML Codes You Need to Know for Writing on the Web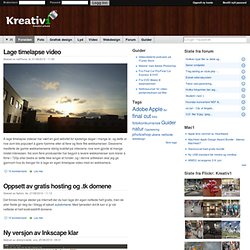 Lage timelapse video Skrevet av myPhone, tir, 31/08/2010 - 11:50 Å lage timelapse videoer har vært en god aktivitet for kjedelige dager i mange år, og dette er noe som ble populært å gjøre hjemme etter at flere og flere fikk webkameraer. Dessverre medførte de gamle webkameraene dårlig kvalitet på videoene, noe som gjorde at mange mistet interessen. Nå som flere produsenter har begynt å levere webkameraer som klarer å filme i 720p eller bedre er dette ikke lenger et hinder, og i denne artikkelen skal jeg gå gjennom hva du trenger for å lage en egen timelapse video med en webkamera. Oppsett av gratis hosting og .tk domene
Kreativ1.no | Nettportalen for kreative individer |
The Still Photograph: Embedding Images in Our M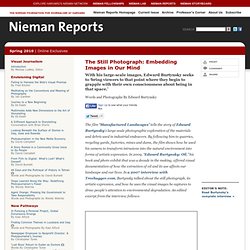 The film "Manufactured Landscapes" tells the story of Edward Burtynsky's large-scale photographic exploration of the materials and debris used in industrial endeavors. By following him to quarries, recycling yards, factories, mines and dams, the film shows how he used his camera to transform intrusions into the natural environment into forms of artistic expression. In 2009, "Edward Burtynsky: Oil," his book and photo exhibit that was a decade in the making, offered visual documentation of how the extraction of oil and its use affects our landscape and our lives. In a 2007 interview with Treehugger.com, Burtynsky talked about the still photograph, its artistic expression, and how he uses the visual images he captures to draw people's attention to environmental degradation. An edited excerpt from the interview follows: