Reaserch
Circuit-bent Furby
hair's natural recovery cycle - Google Scholar
Secret Life of Plants and Telepathy
Bartholomäus Traubeck
Céleste Boursier-Mougenot at Barbican Centre, London
1/3
Experimental PROOF - PLANTS can READ YOUR MIND & have Consciousness!!!
Dracaena Watering
Cleve Baxter - Plants can sense human intentions - YouTube#at=384#!
How To Communicate With Plants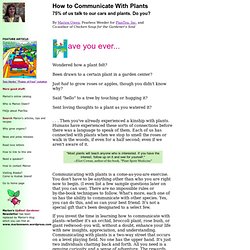 ave you ever...
plant perception (a.k.a. the Backster effect)
Plants chatter amongst themselves to spread information, a lot like humans and other animals, new research suggests.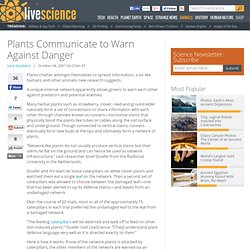 Plants Communicate to Warn Against Danger
Paul R. Ehrlich
Paul Ralph Ehrlich (born May 29, 1932) is an American biologist and educator who is the Bing Professor of Population Studies in the department of Biological Sciences at Stanford University and president of Stanford's Center for Conservation Biology . [ 2 ] By training he is an entomologist specializing in Lepidoptera (butterflies), but he is also a prominent ecologist and demographer. Ehrlich is best known for his dire warnings about population growth [ 3 ] and limited resources.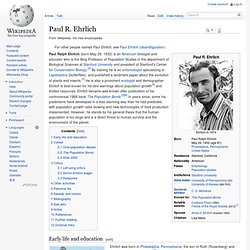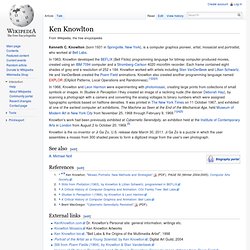 Kenneth C. Knowlton (born 1931 in Springville, New York ), is a computer graphics pioneer, artist, mosaicist and portraitist, who worked at Bell Labs . In 1963, Knowlton developed the BEFLIX (Bell Flicks) programming language for bitmap computer-produced movies, created using an IBM 7094 computer and a Stromberg-Carlson 4020 microfilm recorder.
Ken Knowlton
World on a Wire (1973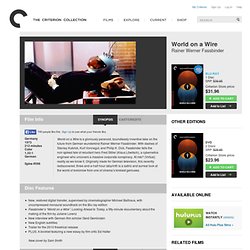 World on a Wire is a gloriously paranoid, boundlessly inventive take on the future from German wunderkind Rainer Werner Fassbinder. With dashes of Stanley Kubrick, Kurt Vonnegut, and Philip K. Dick, Fassbinder tells the noir-spiked tale of reluctant hero Fred Stiller (Klaus Löwitsch), a cybernetics engineer who uncovers a massive corporate conspiracy.
Data Garden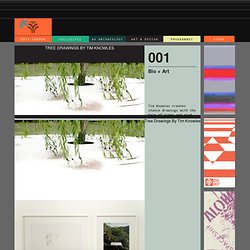 Tree Drawings By Tim Knowles
TREE DRAWINGS BY TIM KNOWLES | Data Garden
Pantomation: 1977-1979 | Data Garden
Chroma key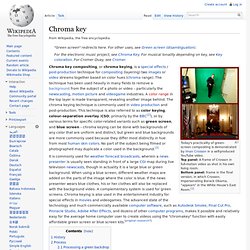 For the electronic music project, see Chroma Key .
JOHN CAGE PLAYS A CACTUS | Data Garden
Not to be confused with John Cale .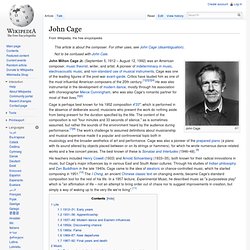 Stockhausen addresses "dehumanization" in contemporary music. | Data Garden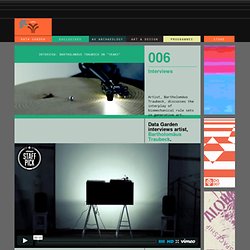 pearltrees • marcly • reaserch • Data Garden
Data Garden interviews artist, Bartholomäus Traubeck . For people that are seeing Years for the first time, can you give a brief description? It's basically a modified turntable that uses a camera as a pickup and that samples a microscopically small image of the year rings.
Radio Event No. 20: Rhododendron | Data Garden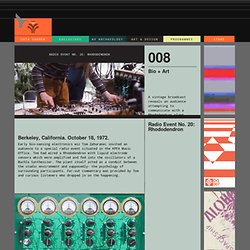 Radio Event No. 20: Rhododendron Early bio-sensing electronics wiz Tom Zahuranec invited an audience to a special radio event situated in the KPFA Music Office.
TEACHING A CACTUS THE JAPANESE ALPHABET | Data Garden
BIO-SENSING ART in the 1970s | Data Garden
Data Garden interviews bio-art pioneer Richard Lowenberg . The artist has exhibited internationally since the late '60s- trailblazing the fields of bio-sensing, video-media-performance arts, tele-community development, information ecology and bio-regional activism & planning.
bio-sensing electronics - Google Scholar
Radio Event No 13: "Bucket - Ful Mercury Walk" by Tom Zahuranec : Free Download & Streaming : Internet Archive
<div style="padding:5px; font-size:80%; width:300px; background-color:white; margin-left:auto; margin-right:auto; border:1px dashed gray;"> Internet Archive's<!--'--> in-browser audio player requires JavaScript to be enabled.
Mount Roraima ( Spanish : Monte Roraima [ˈmonte roˈɾaima] , also known as Tepuy Roraima and Cerro Roraima ; Portuguese : Monte Roraima [ˈmõtʃi ʁoˈɾajmɐ] ) is the highest of the Pakaraima chain of tepui plateau in South America . [ 4 ] :156 First described by the English explorer Sir Walter Raleigh in 1596, its 31 km 2 summit area [ 4 ] :156 is defended by 400-metre-tall cliffs on all sides.
Mount Roraima
The Secret Life of Plankton
Non-Euclidean geometry
Vampire Squid from Hell (3200 Feet Under Sea Level)
Bathysphere
William Beebe
Spermine
The Neuroscience Of Music | Wired Science 
OFFICE MASARU EMOTO
What the Bleep Do We Know!?™ & What the Bleep!? - Down the Rabbit Hole
TAKE ACTION FOR JAPAN -Emoto Peace Project-: 11.11.11 в 11:11 clearing cloud game 2
MAGNET MOTOR L ENERGIA INFINITA GRATIS ESISTE!!!!LEGGI !!
Schools of fish help squeeze more power from wind farms
Potato Power
Make electricity from Potato?
INDIGO CHILDREN - CHRYSTALLINE CHILDREN
REAL Telekinesis Training, How to do telekenisis, Eagle Warrior Training
28days
How To Move Matter Over Mind
See Energy in the Air
Learn to See the Human Aura in 5 Minutes
How To See AURAs
Resonance
Law of Attraction: Aligning with Vibrations
Inedia
Sathya Sai Baba