Sofware
SocialAction is a social network analysis tool that integrates visualization and statistics to improve the analytical process. A journal article about SocialAction was recently published in IEEE Computer Graphics and Applications.
SocialAction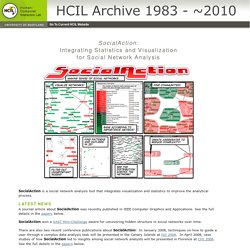 La production de certaines applications exige de pouvoir générer des graphes au sens recherche opérationelle du terme.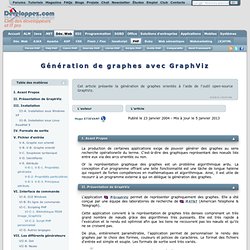 Gephi:Wiki
What is Medusa? Medusa is a front end (interface) to the STRING protein interaction database. It is also a general graph visualization tool.
Medusa
Parallel Sets
news [Pajek Wiki]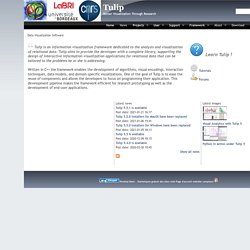 Tulip is an information visualization framework dedicated to the analysis and visualization of relational data. Tulip aims to provide the developer with a complete library, supporting the design of interactive information visualization applications for relational data that can be tailored to the problems he or she is addressing.
SocNetV - Social Networks Visualization and Analysis Software
Analytic Technologies
NETDRAW