Sofware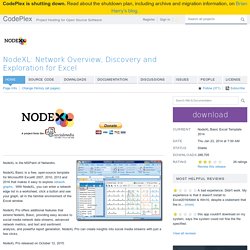 NodeXL is a free, open-source template for Microsoft® Excel® 2007, 2010 and 2013 that makes it easy to explore network graphs. With NodeXL, you can enter a network edge list in a worksheet, click a button and see your graph, all in the familiar environment of the Excel window. Visit the NodeXL Graph Gallery to see the wide variety of graphs that have been created by the NodeXL community. What's New A new Import from Twitter Users Network feature in the latest release replaces two older Twitter importers that became less useful when Twitter introduced strict rate limits. NodeXL will now automatically update itself when a new release becomes available.
SocialAction is a social network analysis tool that integrates visualization and statistics to improve the analytical process. A journal article about SocialAction was recently published in IEEE Computer Graphics and Applications. See the full details in the papers below. SocialAction won a VAST Mini-Challenge award for uncovering hidden structure in social networks over time. There are also two recent conference publications about SocialAction! In January 2008, techniques on how to guide a user through a complex data analysis task will be presented in the Canary Islands at IUI 2008.
SocialAction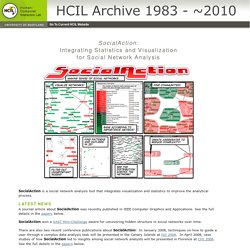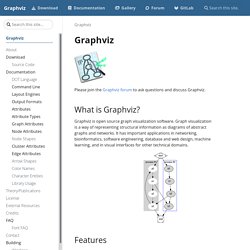 Available translations: Romanian, Russian, Russian (more natural?) Serbo-Croation What is Graphviz? Graphviz is open source graph visualization software. Graph visualization is a way of representing structural information as diagrams of abstract graphs and networks.
La production de certaines applications exige de pouvoir générer des graphes au sens recherche opérationelle du terme. C'est-à-dire des graphiques représentant des noeuds liés entre eux via des arcs orientés ou non. Or la représentation graphique des graphes est un problème algorithmique ardu. La conception d'un programme offrant une telle fonctionnalité est une tâche de longue haleine qui requiert de fortes compétences en mathématiques et algorithmique.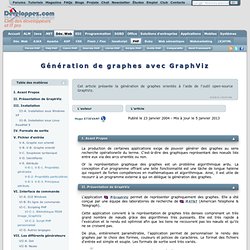 Gephi:Wiki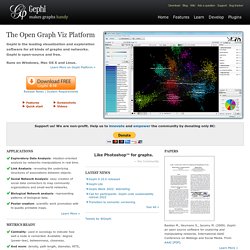 Applications Exploratory Data Analysis: intuition-oriented analysis by networks manipulations in real time. Link Analysis: revealing the underlying structures of associations between objects, in particular in scale-free networks. Social Network Analysis: easy creation of social data connectors to map community organizations and small-world networks. Biological Network analysis: representing patterns of biological data.
What is Medusa? Medusa is a front end (interface) to the STRING protein interaction database. It is also a general graph visualization tool.
Medusa
Parallel Sets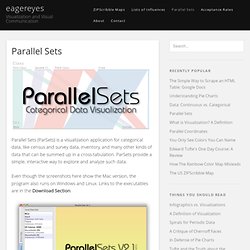 Parallel Sets (ParSets) is a visualization application for categorical data, like census and survey data, inventory, and many other kinds of data that can be summed up in a cross-tabulation. ParSets provide a simple, interactive way to explore and analyze such data. Even though the screenshots here show the Mac version, the program also runs on Windows and Linux. Links to the executables are in the Download Section.
news [Pajek Wiki]
Social Networks Visualizer (SocNetV) is a flexible and user-friendly tool for the analysis and visualization of Social Networks. It lets you construct networks (mathematical graphs) with a few clicks on a virtual canvas or load networks of various formats (GraphViz, GraphML, Adjacency, Pajek, UCINET, etc) and modify them to suit your needs. SocNetV also offers a built-in web crawler, allowing you to automatically create networks from all links found in a given initial URL. The application can compute basic network properties, such as density, diameter and distances (shortest path lengths), as well as more advanced structural statistics, such as node and network centralities (i.e. closeness, betweeness, graph), clustering coefficient, PageRank, etc. Various layout algorithms (i.e.
SocNetV - Social Networks Visualization and Analysis Software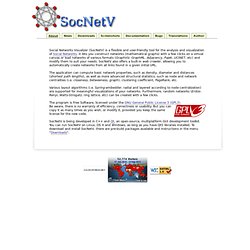 Welcome! Analytic Technologies publishes software for social network analysis and cultural domain analysis. The company is run by Roberta Chase and Steve Borgatti. Roberta handles operations while Steve writes the software. We are located in Lexington, KY. Basically, we offer one product for sale: UCINET (Windows software for analyzing social network data).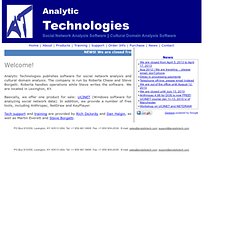 NETDRAW
Download GGobi for Windows, Mac and Linux Introduction GGobi is an open source visualization program for exploring high-dimensional data. It provides highly dynamic and interactive graphics such as tours, as well as familiar graphics such as the scatterplot, barchart and parallel coordinates plots.