Marcelovillari
Marcelo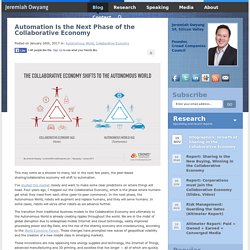 Slideshare: Embed or Download this ReportThe Collaborative Economy Movement Changes Business This report offers critical insight for big brands who are grappling with the emergence of the Collaborative Economy, and for the startups that are driving this growth. For those new to the term, the collaborative economy is a powerful, if nascent, movement in which people are getting the things from each other, it's a combination of trends like the sharing economy, maker movement, and co-innovation. That means that people go to a site like LendingClub to get funding for their new project, rather than a traditional bank. Or, they may go to a site like Etsy or Shapeways to get custom made goods, or go to a site like eBay to buy pre-owned goods, instead of buying new products from retailers. In each of these cases, the crowd is self-empowered to get what they need from each other.
Wow! So, Wiley had to push the book back a few weeks to deal with some last minute stuff (probably my fault), and so that gives me just a little more time to lay some groundwork. For YOU, that means if you're thinking of having an event and if you want to take advantage of the absolutely most affordable way to have me speak live and in person to your community and event, there's still time. Hire Me to Speak for Only 300 Books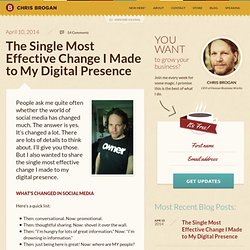 YouTube, Google+, LinkedIn Drive More Engaged Referrals Than Facebook, Twitter [STUDY] - Shareaholic looked a six months of data from more than 200,000 websites between September 2013 and February 2014 and discovered that the most engaged referral traffic comes from YouTube, which delivered 3 minutes 47 seconds and 2.99 page views per visitor. AllTwitter Google Tests Product Images Within Organic Listings - It seems Google is testing showing product images in the organic, free search result listings, for certain e-commerce sites. This was first spotted in a Moz thread for a site that sells ski equipment named evo.com.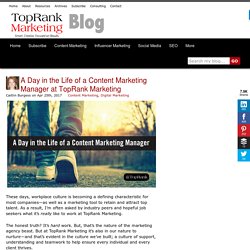 Why Marketing Is So Hard Marketing is hard. But the problem is that too many people think it isn't.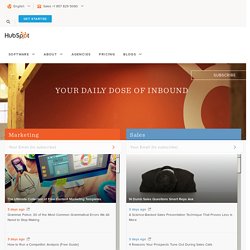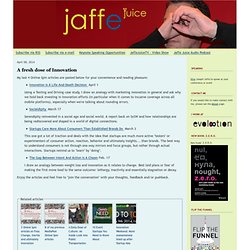 I began my thought leadership/writing career with a column on Mediapost and so it is fitting to return to the scene of the crime so to speak for a new weekly column on all things Innovation. My primary focus will be on technology-led innovation, which is about as wide and deep as the blue ocean (digital, social, mobile, emerging, startups etc), but I hope to also dial into true originality, disruptive thinking and creative flair as it relates to the ability to tell stories, surprise and delight (some might call it classic advertising...or at least my good friend Don would) Mediapost were very kind to write up this piece, which outlines my return to weekly thought leadership columns and also gives a pretty good update on my update so to speak.
Jaffe Juice