Marcelovillari
Marcelo
Social Media
Social Media - top 20 Blogs. Web Strategy by Jeremiah Owyang | Social Media, Web Marketing. Slideshare: Embed or Download this ReportThe Collaborative Economy Movement Changes Business This report offers critical insight for big brands who are grappling with the emergence of the Collaborative Economy, and for the startups that are driving this growth.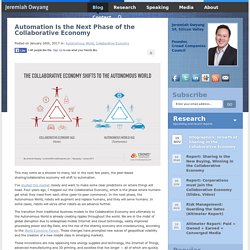 For those new to the term, the collaborative economy is a powerful, if nascent, movement in which people are getting the things from each other, it's a combination of trends like the sharing economy, maker movement, and co-innovation. That means that people go to a site like LendingClub to get funding for their new project, rather than a traditional bank. Or, they may go to a site like Etsy or Shapeways to get custom made goods, or go to a site like eBay to buy pre-owned goods, instead of buying new products from retailers.
In each of these cases, the crowd is self-empowered to get what they need from each other.
Pearltrees videos
Social Media. Chrisbrogan.com — Learn How Human Business Works - Beyond Social Media. Online Marketing Blog. Social media news, strategy, tools, and techniques. Online Copywriting and Content Marketing Strategies. Internet Marketing Blog | HubSpot. Jaffe Juice.
---