Education
Welcome
Web
10 Steps to Developing an Online Course: Walter Sinnott-Armstrong
Literacy Literacy is the ability to make sense of something, often generalized as the ability to read and write. In many ways, reading is reading, media is media, but in the same way a play places unique comprehension demands on a reader compared to a poem or a letter, so do digital media compared to classic media forms. In the 21st century, new literacies are emerging and digital media forms allow communication to be more nuanced than ever before. Digital Literacy
4 Principals Of Digital Literacy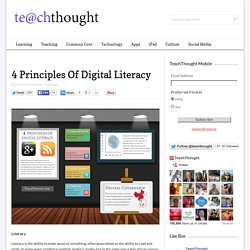 TOP 5 Educational iPad and iPhone Games
IGN the undisputed king of online gaming content recently published its top 25 iPad, iPhone games and it is well worth the read if you own an apple device and enjoy a good game. As an avid gamer and educator I have taken this a little further by identifying the top 5 educational gaming experiences on the iPhone and iPad. Now I am not interested in times table challenge games or blatant learning games I am talking about games that require you to think outside of the square in across a range of curriculum areas without even really knowing that you're participating in a learning experience. These are the games that will improve our memory, number facts and knowledge of the world and get us addicted through fun and challenging elements which keep us coming back for more. Take a look at my list an would love to hear your thoughts. Civilization Revolution - Build.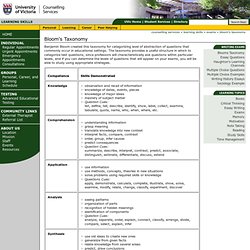 University of Victoria - Counselling Services
Benjamin Bloom created this taxonomy for categorizing level of abstraction of questions that commonly occur in educational settings. The taxonomy provides a useful structure in which to categorize test questions, since professors will characteristically ask questions within particular levels, and if you can determine the levels of questions that will appear on your exams, you will be able to study using appropriate strategies. * From Benjamin S. Bloom Taxonomy of educational objectives.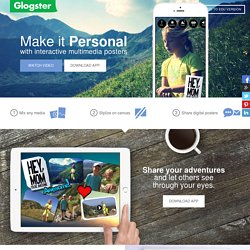 Glogster: make a poster online. It's free!
Glogster EDU is excited to announce that Glogster EDU Home is coming soon! EDU Home will bring all of the beloved features of EDU Premium, -its potential for creativity, fun, learning skills and sharing knowledge and ideas- into the home, with a product specially designed for homeschoolers, parents, care-givers and their children. Enjoy all the advantages of our school product in a smaller, more personal atmosphere, perfect for use in home instruction, or for creative, educational fun with kids.
Index to Group Activities, Games, Exercises & Initiatives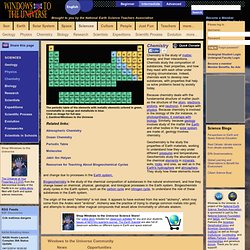 The periodic table of the elements with metallic elements colored in green, nonmetallic in orange and metalloids in blue. Click on image for full size L.Gardiner/Windows to the Universe Chemistry is the study of matter, energy, and their interactions. Chemists study the composition of substances, their properties, and how they react with each other under varying circumstances. Indeed, chemists work to develop new substances, with properties that help us solve problems faced by society today. Because chemistry deals with the fundamental structure of matter (such as the structure of the atom, electrons, protons, and neutrons), it overlaps with physics.
Chemistry
NSTA Learning Center
Earth Science - PhET Simulations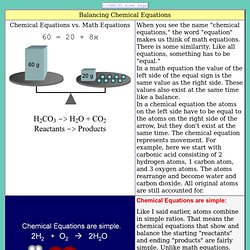 Balancing Chemical Equations
A trike body attaches to 3 wheels. Aluminum attaches to 3 chlorine atoms. Because of this similarity, the equation for making aluminum chloride has the same issues. We start with an unbalanced (skeleton) chemical equation. Al + Cl2 -> AlCl3 (short 1 chlorine at start) Al + 2Cl2 -> AlCl3 (ends up with extra chlorine) 2Al + 2Cl2 -> 2AlCl3 (short 2 chlorines at start) 2Al + 3Cl2 -> 2AlCl3 (all atoms match)
Bob's Place of Educational Links...Smartboard Links
Smart Board 137 Interactive Math Activities Smart Board 384 Geography Games Smart Board Activities Smart Board Activities from Jennifer Parker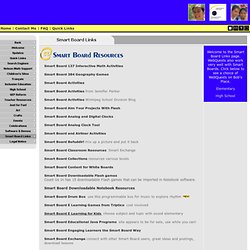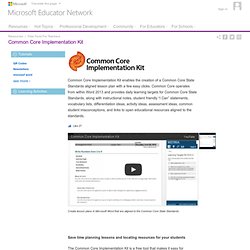 Lesson plans for teachers
Common Core Implementation Kit enables the creation of a Common Core State Standards aligned lesson plan with a few easy clicks. Common Core operates from within Word 2013 and provides daily learning targets for Common Core State Standards, along with instructional notes, student friendly "I Can" statements, vocabulary lists, differentiation ideas, activity ideas, assessment ideas, common student misconceptions, and links to open educational resources aligned to the standards. Save time planning lessons and locating resources for your students The Common Core Implementation Kit is a free tool that makes it easy for teachers to create Language Arts and Math lesson plans aligned to the Common Core State Standards all from within Microsoft Word 2013. Common Core consists of a series of course-specific Microsoft Word templates that access Common Core information through a Microsoft Office Task Pane that is displayed next to the lesson plan document.
Students
Visual dictionary
Coursekit
Education technology has many supporters in its movement to alter traditional teaching methods. This list of the top 50 education technology blogs includes writers, technicians and social media experts…but they all are teachers. The "movers" are teachers who facilitate learning among other teachers and in the classroom, the "shakers" teach new philosophies and innovations, and the folks "on the ground" offer news, tools and methods of using those tools in the classroom. This list is divided into those three categories, and each link within those categories is listed alphabetically. The links lead straight to the recently updated blogs, and the descriptions supply information about that blogger's achievements, including careers and jobs. Movers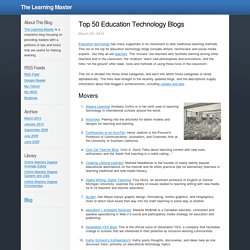 Top 50 Education Technology Blogs | The Learning Master
NEURO SCIENCES Find out more about our nervous system in 18 animated stops. Have a look! or watch the documentary The Mystery of Memory which provides a unique insight into the secrets of the brain's astounding ability to record and recall information, and includes interviews with some of today's most prominent scientists, such as Eric Kandel, 2000 Nobel Laureate in Physiology or Medicine. Watch "The Mystery of Memory" 29 min. In order to see the video you need Adobe Flash PlayerCopyright © Nobel Media AB 2009Credits: Kikim Media (production)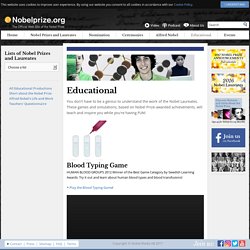 Educational Games
ClassTools.net: Create interactive flash tools / games for education
Convert and Resize Images With Just One Click
500+ Creative Lessons To Teach Almost Anything | Digital Delights for Learners | Scoop.it
Digital Literacy - Education
SMARTBoard Activities
Longwood Smartboard Lessons
SMARTer SMARTBoard™ Use
Prezi: The Zooming Presentation Editor
Top 25 Web 2.0 Sites for Education by David Kapuler
Discovery Education
10 essential iPad apps for high school students
Thanks to Scott McGlynn at teach2thefuture.net for this one. The free Dictionary.com app delivers trusted reference content from Dictionary.com and Thesaurus.com, including nearly 1,000,000 words and definitions and 90,000 synonyms and antonyms. No Internet connection is needed.
PEOI: Professional Educational Organization International
Students
index
Wordle is a toy for generating "word clouds" from text that you provide. The clouds give greater prominence to words that appear more frequently in the source text. You can tweak your clouds with different fonts, layouts, and color schemes. The images you create with Wordle are yours to use however you like. You can print them out, or save them to the Wordle gallery to share with your friends. Create your own.
Beautiful Word Clouds
Web Poster Wizard Home
Highland
Promethean
These resources are Flipchart files compressed into .zip format for quick downloading. Two operation function machine with options to hide numbers and set all operations and numbers. A virtual pinboard. Algebra for KS2 / KS3.
Khan Academy
Professional look and feel Poll Everywhere gives you the power to design and customize polls to your own specifications. Match your presentation template, use your organization's logo and color scheme, or let your own imagination run wild. A joy to use From creating your first poll in 30 seconds to importing multiple polls at a time to easily managing sub-users, Poll Everywhere puts the user first and makes it easy to create a rock star presentation.
Text Message (SMS) Polls and Voting, Audience Response System
Jing, instant screenshots and screencasts, home
DocsTeach
Education Materials
The 10 Best iPhone and iPad Apps for Art Teachers 2010
20 Interesting Ways* to use an iPad in the Classroom
Dabbleboard - Online whiteboard for drawing & team collaboration - Interactive whiteboard software
Worksheets, Lesson Plans, Teacher Resources, and Rubrics from TeAch-nology.com
Top 50 Education Technology Blogs
Top 50 Education Technology Blogs