Articles
Did the very first science fiction magazine appear in Russia in 1894?
There are probably several schools on this. One school (of which I'm a member) would be that God Emperor (the fourth book) basically jumped the shark (or maybe the shark was jumped somewhere in Children Of Dune, even) and that while Herbert may have been getting back into the driver's seat right before he died, Chapterhouse: Dune isn't really good enough to justify slogging through its two predecessors. So you can safely just read the first three books (Dune, Dune Messiah, Children Of Dune) and pretend the rest never happened.
5 Essential Frank Herbert Novels That Aren't About Dune
The Twenty Science Fiction Novels that Will Change Your Life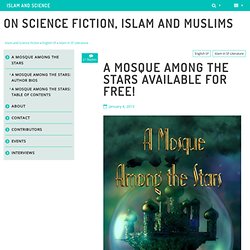 A Mosque Among The Stars available for free! | Islam and Science Fiction
A Mosque Among The Stars was the first anthology that dealt with the subject of Muslim characters and/or Islamic themes and Science Fiction. It was edited by me (Muhammad Aurangzeb Ahmad) and the Canadian Muslim author Ahmad Khan. It came out in 2007. Now that it has been years since it was released in printed form, we have decided to release A Mosque Among The Stars to the public as a Creative Commons Licensed (Attribution-NonCommercial-NoDerivs) book. This means that you can download it for free and share with others as long as you dont make any changes to it and also do it for free. So without much further ado here is where you can download the book.
The Greatest Science Fiction Porn Movies of All Time: 1961-1991 [NSFW]
Since you listed Barbarella and a few other not-quite-porn titles, you should also include the 1975 David Cronenberg classic Shivers, aka. "They Came from Within." Really, you can't go wrong with Cronenberg body horror, swinging 70's Canadian fashion, and a sentient venereal disease...
Was poet John Milton the father of science fiction?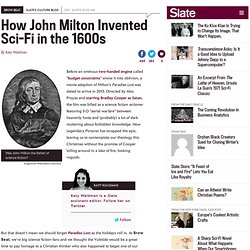 Image from Wikimedia Commons Before an ominous two-handed engine called "budget constraints" smote it into oblivion, a movie adaption of Milton's Paradise Lost was slated to arrive in 2013. Directed by Alex Proyas and starring Bradley Cooper as Satan, the film was billed as a science fiction actioner featuring 3-D "aerial warfare" between heavenly hosts and (probably) a lot of dark muttering about forbidden knowledge. Now Legendary Pictures has scrapped the epic, leaving us to contemplate our theology this Christmas without the promise of Cooper lolling around in a lake of fire, looking roguish. Katy Waldman is a Slate assistant editor.
"Aelita is a planetary romance in which Los, a Soviet scientist and inventor, travels to Mars and, with the help of a Red Army officer, overthrows the fascist civilization there and institutes a Communist paradise." - Well, this summary of the plot is, of course, wonderfully snappy with that added ironic underside of dismissive hindsight, but is utterly incorrect. As anyone who has actually read the soviet 'Princess of Mars' knows, the two protagonists - 'Los the engineer' and 'Gusev the red soldier of fortune' – are at odds from the start. Los is a moody dreamer, content to remain on decadent Mars and maybe make love to Aelita, while Gusev can't wait to stir up trouble. The Martian society (based on a conquest of locals by migrating Earth Atlanteans thousands of years ago) is dying, yet Gusev manages to infect the fatalist working underclass with the energy for an uprising, which quickly degenerates into chaos and is crushed.
Science Fiction Under Totalitarian Regimes, Part 2: Tsarist and Soviet Russia
Pulp Science Fiction Under German Totalitarianism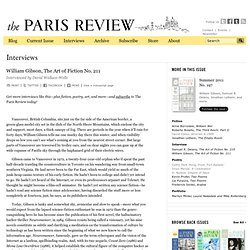 211, William Gibson
Get more interviews like this—plus fiction, poetry, art, and more—and subscribe to The Paris Review today! Vancouver, British Columbia, sits just on the far side of the American border, a green-glass model city set in the dish of the North Shore Mountains, which enclose the city and support, most days, a thick canopy of fog. There are periods in the year when it'll rain for forty days, William Gibson tells me one mucky day there this winter, and when visibility drops so low you can't see what's coming at you from the nearest street corner.
10 Literary Devices, And Where You Can Find Them in Science Fiction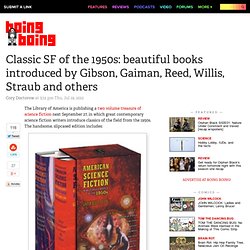 Classic SF of the 1950s: beautiful books introduced by Gibson, Gaiman, Reed, Willis, Straub and others
The Library of America is publishing a two volume treasure of science fiction next September 27, in which great contemporary science fiction writers introduce classics of the field from the 1950s. The handsome, slipcased edition includes: Volume 1: 1953–1956 * Frederik Pohl & C.
Original programme for the British premiere of Fritz Lang's Metropolis in 1927. The world's most valuable movie poster, for Fritz Lang's 1927 masterpiece Metropolis, is to be auctioned again after making a record $690,000 in 2005. Ephemera related to the film is notoriously scarce, with only four copies of the poster known to survive. Almost as uncommon is this amazing film programme produced for the London premiere at the Marble Arch Pavilion on March 21, 1927, one of only three copies that we have handled. Not only a list of cast and crew, it includes eleven short pieces on the making of the movie, commentary from the director and cast, and numerous production photographs and film stills, many attractively arranged as modernist collages.
Metropolis: A Rare Film Programme for Fraitz Lang's 1927 Masterpiece
Recovered 1927 Metropolis Film Program Goes Behind the Scenes of a Sci-Fi Masterpiece | Underwire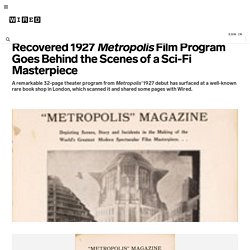 Fritz Lang's silent film masterwork Metropolis is probably the most influential sci-fi movie in history, and artifacts from the film are as valuable as they are rare — a single movie poster from the original release sold for $690,000 seven years ago, and is expected to fetch even more at an auction later this year. The program reveals the intriguing backstory behind the German sci-fi epic, as told from the perspective of Lang, his wife and collaborator Thea von Harbou, and several members of the cast and crew. In the yellowed pages above, Metropolis' wily mad scientist Rotwang, played by Rudolf Klein-Rogge, discusses artificial life, which includes a heavy discussion of robots. The word "robot" had only been introduced into the popular lexicon seven years earlier, in 1920.
Always Coming Home by Ursula K. Le Guin - Reviews, Discussion, Bookclubs, Lists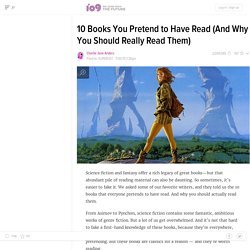 10 Science Fiction Novels You Pretend to Have Read (And Why You Should Actually Read Them)
Gravity's Rainbow is SF? Infinite Jest is not SF and neither is Jonathan Strange & Mr. Norrell (I gave this to a person I didn't much like for Xmas one year). Aside from those I've read all except Starmaker (started it recently but couldn't finish it. I loved LaFM when I read it years ago but now I'm too scared to revisit it), The Long Tomorrow (had not heard of it until now) and Dhalgren (couldn't finish it).
Here Are the 1960s Science Fiction Novels Everyone Should Read
SExpand First they tried to drag us back to the 1960s with Austin Powers. Now they're doing it again with Men in Black III, whose plot time-jumps to the 1969 Apollo launch.
The Victorian Hugos: 1891
How our predictions for the Year 2000 changed throughout the 20th Century
Re:Filling in swamplands, well, they didn't realize how marshes and other wetlands interacted with goundwater. We still aren't too good on that, but we are beginning to realize that if you drain all the swamps then the wells run dry before too long. "filling in all swamplands" and "chemically treating all water streams" Those are both things done in the mid-20th century, until it was realized that they were really, really idiotic things to do because the repercussions were so bad (exacerbating flooding, damaging water quality and contaminating whole ecosystems). Environmentalism grew as a response to this sort of stupidity. "livestock would be bred to basically be huge chunks of meat"
The War of the Worlds by H.G. Wells is credited as one of the most influential science fiction books ever written, having introduced ideas like super-advanced aliens coming to Earth and said aliens hating the shit out of us and trying to wipe us out. Even though it was published as a novel all the way back in 1898, it's seen as the blueprint for every alien invasion blockbuster released more than a century later. This article isn't about that book. In the same year, a writer named Garrett P.
The 6 Most Important Sci-Fi Ideas (Were Invented by a Hack)
The Victorian Hugos: 1890
Watch Arthur C. Clarke predict the internet and the iPads decades before they were invented
Self Atomising Machines: Hypnagogic Cyberpunk, Reality and Utopia | the shape of utopia to come
What do you do when you find weird racism in old science fiction books?
Bruce McCall Illustrates the Future That Wasn't
Ten Inventions Inspired by Science Fiction
Blade Runner cumple 30 años: curiosidades y vídeos de una obra irrepetible | Retrogeek
Did this blogger just invent a new subgenre of science fiction?
Thinking About Futurism
Before the Jetsons, Arthur Radebaugh Illustrated the Future
The Origins of Futurism
10 Ultra-Weird Science Fiction Novels that Became Required Reading
10 Weirdest Science Fiction Novels That You've Never Read
Science Fiction Society's massive library is out of this world
Did Philip K. Dick disclose the real Matrix in 1977?
Philip K. Dick rare interview in France, Part 1 - 1977
If it is realistic or plausible, then it is not science fiction
Why We Don't Like Creativity | Innovations
William Gibson - Official Website
Michael Synergy | nomadic utopianism
Science Fiction Conversations
The Complete History of Time Paradoxes
New invention brings us one step closer to an all-consuming, self-replicating grey goo
Take a vacation to Arrakis with Dune travel posters
10 Words You Might Think Came from Science (But Are Really From Science Fiction

)
Robert Heinlein's predictions for the Year 2000 (from 1952)
Science fiction writers have a job, and it's time to do it, says Neal Stephenson
Awesome graphic novels that even non-comics readers will love
The Death of Philip K. Dick and the Birth of Cyberpunk
Watch a complete 1990 documentary about cyberpunk, featuring a young William Gibson
The Victorian Hugos: 1887
When Will White People Stop Making Movies Like "Avatar"?
The many meanings of the dragon archetype in fantasy stories
I wrote 100 terrible short stories that I'm glad you'll never read
The Victorian Hugos: 1889
10 Weirdest Scientific Theories Proposed in Science Fiction
10 Futuristic Technologies That Will Never Exist
2011 Hugo Awards: A good night for time travel, artificial intelligence, and Asimov's Magazine
10 Science Fiction Books That Changed the Course of History
Hilariously optimistic 1954 magazine article proclaimed we'd all be piloting flying saucers by 1965
10 Most Far-Fetched Future Dystopias
The Best Science Fiction and Fantasy Books of 2011
Read Arthur C. Clarke's original "Hammer of God" short story online
Why does Edgar Rice Burroughs still matter?
Why Science Fiction Writers are Like Porn Stars
The 1986 infomercial for the Neuromancer movie that never was
Kim Jong-il is dead. Here's his monster movie.
City of Treelike Buildings | Paleofuture
Mutant Hunt = the best movie about robots doing drugs in human history
Your robots know that nature is a lie
An algorithm that makes robots appear more human
William Gibson explains why cyberpunk was made to be co-opted
211, William Gibson
Wired 1.04: Disneyland with the Death Penalty
Rudy Rucker interview: "All these years, and I'm still looking for the big aha."
10 Recent Novels About the Future of Videogames
1st Science Fiction Movie Filmed in Space Stays Underground | Richard Garriott, 'Man on a Mission,' & 'Apogee of Fear' | Space Tourism & Private Spaceflight
Your Picks: Top 100 Science-Fiction, Fantasy Books
Five Science Fiction Technology Predictions That Came True - All That Is Interesting
Hugo Gernsback
Document: The Symbolism Survey, Sarah Funke Butler
THE FIRST CON (1937)
Mondo 2000
The Encyclopedia of Science Fiction
Blog/Vlog » Ghost in the Shell 2: Innocence
Ray Bradbury, 19 frases para celebrar su cumpleaños 91
Under a 'Frankenstein' Moon: Astronomer Sleuths Solve Mary Shelley Mystery | Lord Byron Challenge & Mary Shelley Controversy | Moonlight & Moon Phases
Ray Bradbury Remembered: NASA Pays Video Tribute to Sci-Fi Legend