Oddities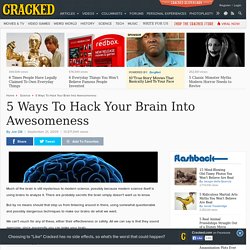 Much of the brain is still mysterious to modern science, possibly because modern science itself is using brains to analyze it. There are probably secrets the brain simply doesn't want us to know. But by no means should that stop us from tinkering around in there, using somewhat questionable and possibly dangerous techniques to make our brains do what we want. We can't vouch for any of these, either their effectiveness or safety. All we can say is that they sound awesome, since apparently you can make your brain...
It doesn't matter whether or not you believe in ghosts, there are some places in which none of us would want to spend a night. These places have well earned their reputations as being so creepy, tragic or mysterious (or all three) that they definitely qualify as "haunted." Places like... Aokigahara is a woodland at the base of Mount Fuji in Japan that makes The Blair Witch Project forest look like Winnie the Pooh's Hundred Acre Wood.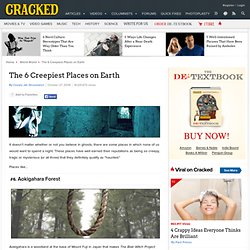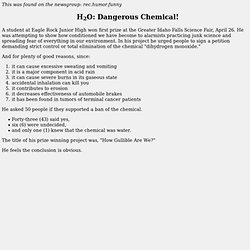 This was found on the newsgroup: rec.humor.funny A student at Eagle Rock Junior High won first prize at the Greater Idaho Falls Science Fair, April 26. He was attempting to show how conditioned we have become to alarmists practicing junk science and spreading fear of everything in our environment. In his project he urged people to sign a petition demanding strict control or total elimination of the chemical "dihydrogen monoxide." And for plenty of good reasons, since:
Embed This Infographic
Milk Trick
This is about the synchronicity number 23, and thus about the phenomena of synchronicity in general. To write about this topic objectively is impossible, as all experiences are necessarily subjective, involving as they do the element of consciousness, which cannot be instrumented.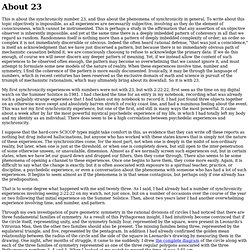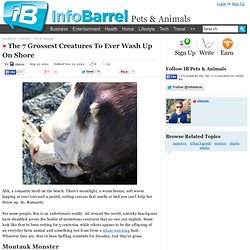 7 Grossest Creatures Washed Up On Shore
Ahh, a romantic stroll on the beach. There's moonlight, a warm breeze, soft waves lapping at your toes and a putrid, rotting carcass that smells so bad you can't help but throw up. So.
10 Interesting Facts