Arte-Escultura
Os Gémeos + Blu, Lisbon. Ben Heine - Art - The Blog. Large_murray_03_xl. GALERIE LAURENT GODIN. Fabio Viale. Sabi van Hemert. Evan Campbell. EvanCampbell on deviantART. Eckman Fine Art. Paper Cutting Art by Hina Aoyama: Inspiration by Karen Horton on design:related. February10 Details close.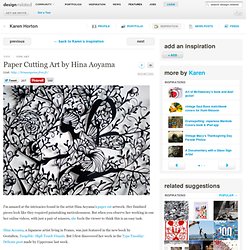 Hermosa y Creaciones Creative Origami. Origami is the art of paper folding.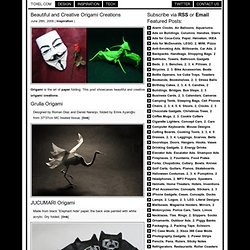 This post showcases beautiful and creative origami creations. Grulla Origami Designed by Roman Diaz and Daniel Naranjo, folded by Emre Ayaroğlu from 37*37cm MC treated tissue. [link] JUCUMARI Origami. Preciosos ejemplos de arte con papel. Dólar Bill Origami. Los capitanes de Esculturas de papel y papel, parte II. Over time, people have been using ordinary things revolving around us to create something unusual out of it and for example a very basic material such as paper.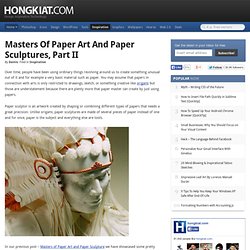 You may assume that papers in connection with arts is only restricted to drawings, sketch, or something creative like origami but those are understatement because there are plenty more that paper master can create by just using papers. Paper sculptor is an artwork created by shaping or combining different types of papers that needs a great precision. Unlike origami, paper sculptures are made of several pieces of paper instead of one and for once, paper is the subject and everything else are tools. In our previous post – Masters of Paper Art and Paper Sculpture we have showcased some pretty interesting paper art. Un Audi A7 hecho de papel :: AbadiaDigital.com - Aurora. Uphaa.com. 10 Ships with Unusual Large Cargo Heavy lift vessels are quite amazing vessels, built to load, carry and discharge large, unusual shaped cargoes (or even smaller vessels) that will simply not fit inside the holds of conventional vessels.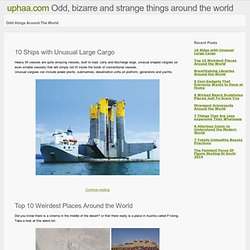 Unusual cargoes can include power plants, submarines, desalination units,oil platform, generators and yachts. Continue reading Top 10 Weirdest Places Around the World Did you know there is a cinema in the middle of the desert? Matt Cioffi | REINO VACÍO Usted está aquí, estamos en todas partes. Increíble Arte a partir de objetos de azar - Ilusión 360 - Arte más impresionantes del mundo , Diseño , Tecnología y Video.
French artist Bernard Pras remakes famous paintings through the use of daily objects.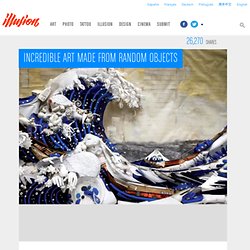 Fantastic! Notes about Pras (from bio): Bernard Pras. Ronit Baranga. Obra de Arte emula Tela de Araña. Como si de una enorme tela de araña se tratase la semana del diseño de Viena (Octubre del 2009) se vió adornada por una enorme estructura que parecía los tendones de un cuerpo orgánico anclándose a los pilares del recinto de exposiciones.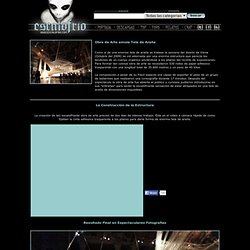 Para formar tan colosal obra de arte se necesitaron 530 rollos de papel adhesivo trasparente con una longitud total de 35.600 metros y un peso de 45 kilos. La composición a pesar de su frácil aspecto era capaz de soportar el peso de un grupo de bailarines que realizaron una coreografía durante 17 minutos. Después del espectáculo la obra de arte fue abierta al público y curiosos pudieron introducirse en sus "entrañas" para sentir la escalofriante sensación de estar atrapados en una tela de araña de dimensiones imposibles.
Mark Jenkins / / Instalaciones de calles. Mark Jenkins // Tape Sculpture. High Noon, 2014 The Easel, 2013 Break a Leg, 2013 Sleeper, 2013 Making Headway, 2013.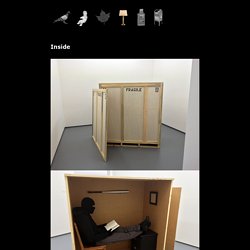 El mundo de 8 escultores hiperrealistas más destacados - Su fuente de inspiración - Francesco Mugnai. Three Studio JAPAN. Curiosidades s. p20. Muros - El rascado la superficie. Walls – Scratching the surface Alexandra Forte (aka Vhils) is Portuguese street artist living in London.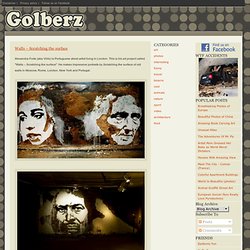 This is his art project called "Walls – Scratching the surface". 3D Portraits Made of Screws.
---