Psychology
Top 10 Common Faults In Human Thought. Humans The human mind is a wonderful thing.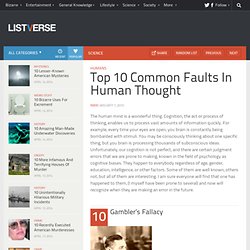 Cognition, the act or process of thinking, enables us to process vast amounts of information quickly. For example, every time your eyes are open, you brain is constantly being bombarded with stimuli. You may be consciously thinking about one specific thing, but you brain is processing thousands of subconscious ideas. Top 10 Thinking Traps Exposed. Our minds set up many traps for us.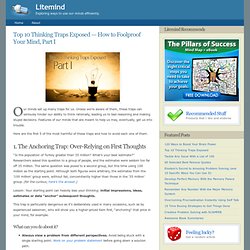 Unless we're aware of them, these traps can seriously hinder our ability to think rationally, leading us to bad reasoning and making stupid decisions. Features of our minds that are meant to help us may, eventually, get us into trouble. Here are the first 5 of the most harmful of these traps and how to avoid each one of them. 10 Simple Postures That Boost Performance. Psychological research suggests simple actions can project power, persuade others, increase empathy, boost cognitive performance and more… We tend to think of body language as something that expresses our internal states to the outside world.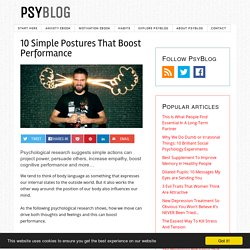 But it also works the other way around: the position of our body also influences our mind. As the following psychological research shows, how we move can drive both thoughts and feelings and this can boost performance. Tapping our powers of persuasion. Most psychologists will read this "Questionnaire" with Robert Cialdini, PhD.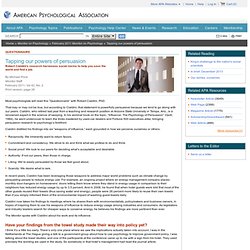 That may or may not be true, but according to Cialdini, that statement is powerfully persuasive because we tend to go along with our peers. Cialdini, who retired last year from a teaching and research position at Arizona State University in Tempe, Ariz., is a renowned expert in the science of swaying. 15 Styles of Distorted Thinking. Learned Helplessness. The Misconception: If you are in a bad situation, you will do whatever you can do to escape it.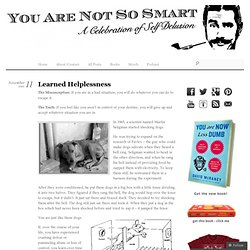 The Truth: If you feel like you aren't in control of your destiny, you will give up and accept whatever situation you are in. In 1965, a scientist named Martin Seligman started shocking dogs.
---