CRÍTICO
Electronic edition - open access digital humanities
Palestina y Oriente PróximoAriel Sharon, el final de un criminal de guerra Alain Gresh Colombia Entrevista al escritor colombiano y colaborador de Le Monde Diplomatique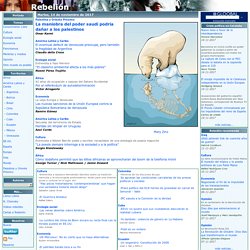 IBEROAMÉRICA ANTE LOS RETOS DEL SIGLO XXI. Número extraordinario dedicado al I Coloquio Internacional de Geocrítica (Actas del Coloquio) Benito Muiños Juncal Doctorando en Geografía Humana Universidad de Barcelona Resumen La discusión a partir de los datos estadísticos de las contradicciones entre la retórica neoliberal, pensamiento dominante en la década de los ochenta, y los resultados de sus políticas sobre los problemas sociales en Europa, América Latina e Estados Unidos es el objetivo de este trabajo.
Neoliberalismo y desigualdad social en Europa y América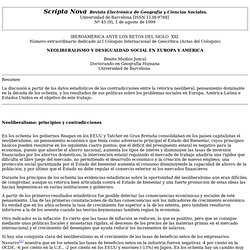 Gloobal - La cooperación en red
Listing over 1 million free books on the Web - Updated Thursday, January 16, 2014 Search our Listings -- New Listings -- Authors -- Titles -- Subjects -- Serials A public domain metadata gift for our 20th birthday -- Blog (Everybody's Libraries) -- Latest Book Listings A Celebration of Women Writers -- Banned Books Online -- Prize Winners Online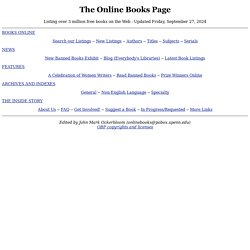 Blended Learning "mixes" online and classroom instruction to more effectively engage students. Does this approach work for liberal arts colleges as well as larger university settings? What resources are available for faculty to develop a blended course? This site is designed to help reduce start-up costs by making it easier for faculty to find and share information about materials and techniques that work for blended learning in a liberal arts college setting.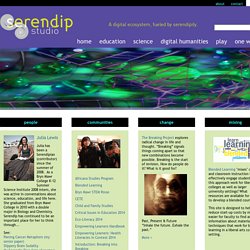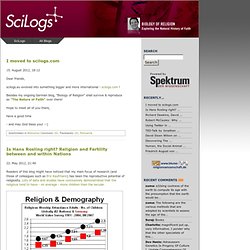 Biology of Religion
03. March 2012, 11:06 The online-magazine Evolution: This View of Life did get a new (and, if I might say, awesome) look. For example, the recommendation of John Jacob Lyons, who is a regular commentator here, about presenting the number of comments to each post has been fulfilled. You should check out the fresh page! More than ever, the brilliant team with active members such as Robert "@RobertMKadar" Kadar and Hadassah "@Haddie" Head is experimenting with new media possibilities such as videos.
Announcements Welcome to our site. Please note that this site is best viewed through Firefox 3.0, Safari 1.0, Opera 6.0, Netscape 6.0, Internet Explorer 8, Chrome 1.0, or more recent versions of any of these browsers. Please send any comments via our Contact form. Broadcast-Quality MP3 Please select the "Current Broadcast MP3" item under the "For Stations" button in the navigation bar above.
Between The Lines - Week Ending Sept. 30, 2011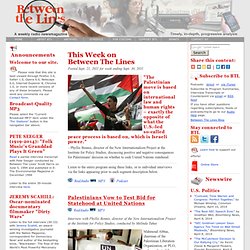 Inicio - Complejidad
Revista Complejidad es una publicación internacional dedicada al desarrollo de las complejidades del pensar en filosofía, estética, epistemología, poética, humanidades y política. Recomienzo de una revista única en su género que dio origen a muchas de las redes hoy existentes sobre complejidad y pensamiento complejo. En esta etapa su contenido da un giro importante hacia el estudio y la reflexión sobre la condición humana y sus desafíos del presente.
Science without theory, is Science without direction. Mission Statement: The Journal of Theoretics' mission is to advance scientific inquiry and knowledge by publishing credible peer-reviewed articles in the field of Theoretics, free of charge and accessible to all. Theoretics is the scientific field of endeavor which incorporates science, logic, and language, in order to develop, improve, and advance scientific theory. The better the theory development, the better the science. [The Journal of Theoretics is a nonprofit scientific peer-reviewed journal. ISSN: 1529-3548.]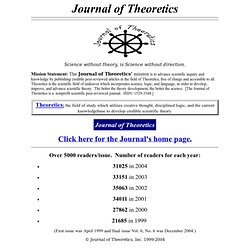 Journal of Theoretics - Nonprofit peer-reviewed Journal of scientifically credible theories from all disciplines. Original article.
"Take a look. No matter who you are, you are bound to find something that will drive you crazy." —The New York Times, January 14, 2014 "A forum for the world's most brilliant minds." bitacorARP - Sociedad para el Avance del Pensamiento Crítico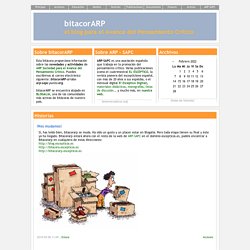 ARP-SAPC ha enviado la siguiente carta al defensor del lector del periódico "El País". El motivo de dicha misiva no es otro que la aparición de un artículo en dicho periódico en el cual se ensalza la homeopatía de forma sesgada, ya que en ningún momento se citan la multitud de trabajos científicos, que aseguran que los productos homeopáticos nunca han demostrado ser más efectivos que un placebo: Desde la Sociedad Para el Avance del Pensamiento Crítico , nos ponemos en contacto con usted ciertamente consternados por el tratamiento sesgado que se hace en el artículo publicado en su periódico el 6 de marzo de 2010 en la sección «Vida & artes» titulado « La homeopatía, ¿quimera o ciencia? ». Dicho artículo, bajo la apariencia de un texto periodístico imparcial y objetivo, termina ensalzando la homeopatía como un tratamiento que, en general, funciona, aunque no se conozca su modo de actuación.
The libertarian or "classical liberal" perspective is that individual well-being, prosperity, and social harmony are fostered by "as much liberty as possible" and "as little government as necessary." These ideas lead to new questions: What's possible? What's necessary? What are the practical implications and the unsolved problems?
What is Libertarian? | Institute For Humane Studies
The Asia-Pacific region encompasses an entire hemisphere: 8,000 miles across the Pacific, 55 countries, 60% of global population, and a majority of the planet's remaining resources. Yet even the most shocking events in the region receive little attention from media in the United States. Recent actions and policy shifts by the U.S., China, Russia, Japan, Korea and other Pacific nations—economic, military, trade, environment—have created profound negative […]
International Forum on Globalization
The New Atlantis Archive
Prairie dogs test neighbours' alertness with jumping display 08 January 2014 Are you paying attention? Prairie dogs use jumping display to probe how alert their neighbours are. Acrobatic birds aren't as energetic as they look 18 December 2013 Golden-collared manakins use just 5% of their daily energy expenditure wooing potential mates with energetic courtship displays. Bees work together to keep cluster cool 11 December 2013 Research published in the Royal Society journal Interface shows how bees work together to keep the temperature of the swarm constant.
The Unicist Research Institute
The Unicist Research Institute (TURI) is a private global decentralized research center specialized in complexity sciences focused on the research of the evolution of adaptive systems. It was the pioneer in complexity science research and became a global decentralized world-class research organization in the field of human adaptive systems. The unicist pragmatism, the unicist ontology based structuralism and the conceptual functionalism were developed at TURI to research the field of complex adaptive systems. More than 4,700 unicist ontological researches were developed since 1976 until July 2013 in the field of individual, institutional and social evolution. The main countries that originated these researches were: US, DE, UK, FR, JP, SE, CA, CH, IN, BR, AR, CAT, RU, CN, AU.