Macopa
Hay tanto por compartir!
Welcome to GrassPortal. Sunspotter. 3D Petrie Museum. Tour Builder. Free News, Magazines, Newspapers, Journals, Reference Articles and Classic Books - Free Online Library. Prefiero la versión original de Pearltrees. Geocube - The world of Geography at your fingertips. Zeitgeist. Zeit·geist | Pronunciation: 'tsIt-"gIst, 'zIt | Function: noun | Etymology: German, from Zeit (time) + Geist (spirit) | Date: 1884 | Meaning: the general intellectual, moral, and cultural climate of an era.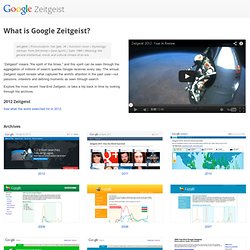 "Zeitgeist" means "the spirit of the times," and this spirit can be seen through the aggregation of millions of search queries Google receives every day. The annual Zeitgeist report reveals what captured the world's attention in the past year—our passions, interests and defining moments as seen through search. SHOW®/WORLD - A New Way To Look At The World. Worldwide Airport Coverage Map. Rapid Response | EOSDIS - Earth Data Website. Visualize and download 100+ NRT products from MODIS, AIRS, and OMI for a variety of hazards and disasters categories.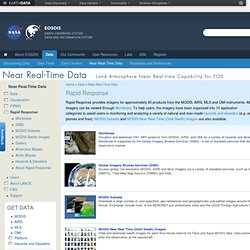 Worldview is supported by the Global Imagery Browse Services (GIBS) - a set of standard services that delivers imagery in a highly responsive manner. Access global, full-resolution MODIS, AIRS and MLS imagery via a variety of standard services, such as Web Map Tile Services (WMTS), Tiled Web Map Service (TWMS) and KML. Drones Over Dolphin Stampede and Whales off Dana Point and Maui. CrowdVoice.org. Flightradar24.com - Live flight tracker! Live Ships Map - AIS - Vessel Traffic and Positions.
The Ark Experience | Noah Official Movie Site | March 28, 2014. La evolución de la Web. Cardboard & Paper. STATISTIQUES DIVERSES 1. IUCN International Union for Conservation of Nature. Digital Dead Sea Scrolls. Espejoenigma. Animals.
CULTURA. GOOGLE. SABER + CAMPAÑAS. ORGANISMOS. AYUDAS.
---
macopa Sep 1 2011

Gracias por la bienvenida. Reconozco que soy lenta para responder pero estoy aprendiendo. Espero mejorar en el uso de este sitio sensacional. Gracias de nuevo¡

macopa Sep 1 2011

Estoy interesada en compartir los sitios que me resultan interesantes o de alguna utilidad y de tamáticas diversas. También comparto algunas de las cosas que simplemente me delitan. Estoy aprendiendo a moverme en Pearltrees y espero mejorar cada día a fin de que mis pearls sean útiles a alguien. La colaboración desinteresada puede hacer de este un mundo mejor.
---