Macopa
Hay tanto por compartir!
Sunspotter
3D Petrie Museum
Geocube - The world of Geography at your fingertips
Zeitgeist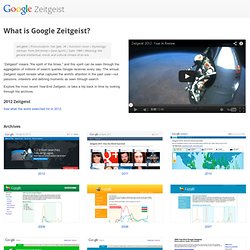 zeit·geist | Pronunciation: 'tsIt-"gIst, 'zIt | Function: noun | Etymology: German, from Zeit (time) + Geist (spirit) | Date: 1884 | Meaning: the general intellectual, moral, and cultural climate of an era. "Zeitgeist" means "the spirit of the times," and this spirit can be seen through the aggregation of millions of search queries Google receives every day. The annual Zeitgeist report reveals what captured the world's attention in the past year—our passions, interests and defining moments as seen through search.
Worldwide Airport Coverage Map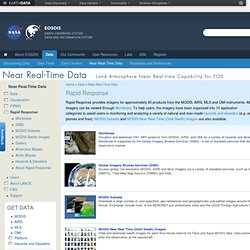 Visualize and download 100+ NRT products from MODIS, AIRS, and OMI for a variety of hazards and disasters categories. Worldview is supported by the Global Imagery Browse Services (GIBS) - a set of standard services that delivers imagery in a highly responsive manner. Access global, full-resolution MODIS, AIRS and MLS imagery via a variety of standard services, such as Web Map Tile Services (WMTS), Tiled Web Map Service (TWMS) and KML.
Rapid Response | EOSDIS - Earth Data Website
Drones Over Dolphin Stampede and Whales off Dana Point and Maui
The Ark Experience | Noah Official Movie Site | March 28, 2014
IUCN International Union for Conservation of Nature