Sheet Music, MP3's
Chubby Sparrow Music. The search page. Play hymns and folk songs with easy guitar chords. Free Sheet Music for Celtic Harp. Finding Free Sheet Music for Celtic Harp on the Web ~ What You Need to Know First There are two kinds of legally available free sheet music on the Web: ~ tunes in the public domain ~ original arrangements or compositions posted generously by the arranger or composerClassical music, Celtic tunes and folk tunes are usually in the public domain.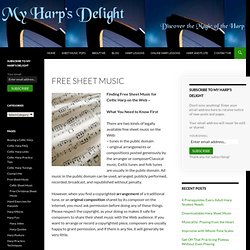 All music in the public domain can be used, arranged, publicly performed, recorded, broadcast, and republished without penalty. However, when you find a copyrighted arrangement of a traditional tune, or an original composition shared by its composer on the internet, you must ask permission before doing any of these things. David Mallett - Garden Song - Last.fm.
SHEET MUSIC. Easybyte.org. Melody's Traditional Music & Harp Shoppe. Free Piano Music! Level Two. Alphabetical List of the pieces on these pages.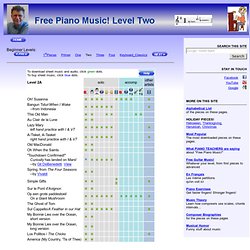 HOLIDAY PIECES! Halloween, Thanksgiving,Hanukkah, Christmas Most PopularThe most downloaded pieces on these pages. What PIANO TEACHERS are saying about "Free Piano Music! " Free Guitar Music! Learn Piano Online at the key-notes Virtual Piano Studio by Albert Frantz. Melody's Traditional Music & Harp Shoppe. Janet Lanier. NooshinWiddess1.pdf. Free Bach Music for Piano, the Lovely and Easy Prelude in C in Original Form. Such lovely Bach music as the Prelude in C is music every piano student should eventually have in their repertoire.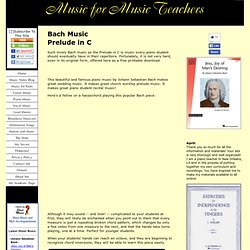 Fortunately, it is not very hard, even in its original form, offered here as a free printable download. This beautiful and famous piano music by Johann Sebastian Bach makes great wedding music. Eea_bach_prelude_in_c.mp3 (audio/mpeg Object) Sylvia Woods Harp Center. Jim Bottorff's Banjo Page. Jim Bottorff's Beginner's Play-Along Songs EASY PLAY ALONG SONGS - Beginner's click here Return to Home Page Scroll to bottom of this page The following songs have chord structures that should be easy for Beginner's to follow.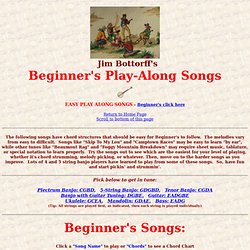 Distinctive Notes - providing music & scripts. Each hymn listed is available in 3 different keys.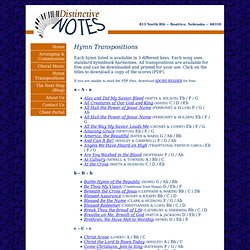 Each song uses standard hymnbook harmonies. All transpositions are available for free and can be downloaded and printed for your use. Click on the titles to download a copy of the scores (PDF). If you are unable to read the PDF files, download ADOBE READER for free. a - A - a. Public domain hymns free music lyrics and chords.
---