October 2011
Colorful swirled cupcakes | Chica and Jo. With as many ways as there are to decorate cupcakes, they can be really boring if you just slap some plain icing on them.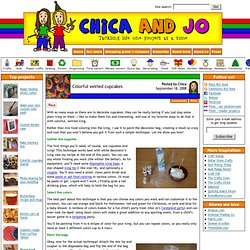 I like to make them fun and interesting, and one of my favorite ways to do that is with colorful, swirled icing. Rather than mix food coloring into the icing, I use it to paint the decorator bag, creating a result so crazy and cool that you won't believe you got it from such a simple technique. Let me show you how! Gather the supplies. The Mountain. 40 Things That Will Make You Feel Old: Pics, Videos, Links, News. Dear Photograph - StumbleUpon. Body Language Basics - Syncrat Publishing. Throughout history it has been an advantage if an individual can read body language.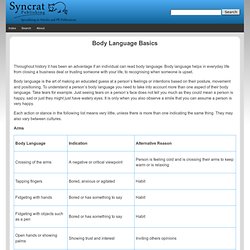 Body language helps in everyday life from closing a business deal or trusting someone with your life, to recognising when someone is upset. Body language is the art of making an educated guess at a person's feelings or intentions based on their posture, movement and positioning. To understand a person's body language you need to take into account more than one aspect of their body language. Take tears for example. Just seeing tears on a person's face does not tell you much as they could mean a person is happy, sad or just they might just have watery eyes. Class of '11 has 66 Native American students. By The Record June 06, 2011 - 12:00 AM STOCKTON - This year, 66 Native American students graduated from eight Stockton Unified high schools, according to Dale Fleming, who coordinates the district's Title VII program at the Native American Indian Center at Edison High School.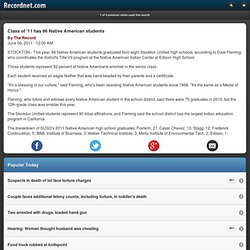 Those students represent 92 percent of Native Americans enrolled in the senior class. Each student received an eagle feather that was hand-beaded by their parents and a certificate. Bay Area Teacher Placements. All of our sub-regions are great places in which to teach and live, each with its own unique benefits: Oakland: Listed as number five by The New York Times in "The 45 Places to Go in 2012," Oakland is known for its social justice history, economic and cultural diversity, and strong sense of community.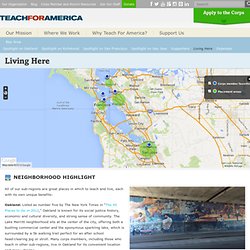 The Lake Merritt neighborhood sits at the center of the city, offering both a bustling commercial center and the eponymous sparkling lake, which is surrounded by a 5k walking trail perfect for an after school head-clearing jog or stroll. Many corps members, including those who teach in other sub-regions, live in Oakland for its convenient location and many charms. Richmond: Corps members living in Richmond enjoy easy access to numerous outdoor recreational spaces, including the most-developed portions of the San Francisco Bay Trail. The Youth Career Coach Inc. | Home. Marco Tempest: The magic of truth and lies (and iPods) Police Brutalize, Dismantle Occupy Oakland Camp - Occupy Oakland.
This morning at 5am over 500 police in riot gear from cities all over central California brutally attacked the Occupy Oakland encampment at 14th & Broadway.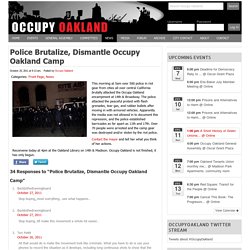 The police attacked the peaceful protest with flash grenades, tear gas, and rubber bullets after moving in with armored vehicles. Apparently the media was not allowed in to document this repression, and the police established barricades as far apart as 11th and 17th. The girl who silenced the world for 5 minutes. (Part 5) Indigenous Native American Prophecy (Elders Speak part 5) (Part 4) Indigenous Native American Prophecy (Elders Speak part 4) (Part 3) Indigenous Native American Prophecy (Elders Speak part 3) (Part 2) Indigenous Native American Prophecy (Elders Speak part 2) (Part 1) Indigenous Native American Prophecy (Elders Speak part 1)
---