E-books
George Orwell: Animal Farm: A Fairy Story
MR JONES of the Manor Farm, had locked the hen-houses for the night, but was too drunk to remember to shut the pop-holes. With the ring of light from his lantern dancing from side to side he lurched across the yard, kicked off his boots at the back door, drew himself a last glass of beer from the barrel in the scullery, and made his way up to bed, where Mrs Jones was already snoring. As soon as the light in the bedroom went out there was a stirring and a fluttering all through the farm buildings. Word had gone round during the day that old Major, the prize Middle White boar, had had a strange dream on the previous night and wished to communicate it to the other animals. It had been agreed that they should all meet in the big barn as soon as Mr Jones was safely out of the way.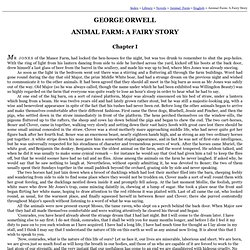 Necessary Illusions: Contents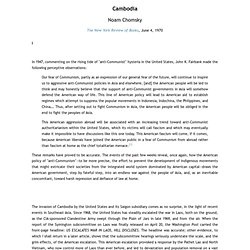 Cambodia
In 1947, commenting on the rising tide of "anti-Communist" hysteria in the United States, John K. Fairbank made the following perceptive observations: Our fear of Communism, partly as an expression of our general fear of the future, will continue to inspire us to aggressive anti-Communist policies in Asia and elsewhere, [and] the American people will be led to think and may honestly believe that the support of anti-Communist governments in Asia will somehow defend the American way of life. This line of American policy will lead to American aid to establish regimes which attempt to suppress the popular movements in Indonesia, Indochina, the Philippines, and China….
In North Vietnam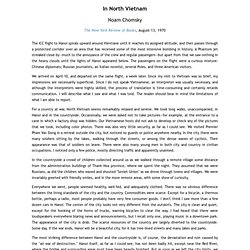 The ICC flight to Hanoi spirals upward around Vientiane until it reaches its assigned altitude, and then passes through a protected corridor over an area that has received some of the most intensive bombing in history. A Phantom jet streaked close by—much to the annoyance of the crew and regular passengers—but apart from that we saw nothing in the heavy clouds until the lights of Hanoi appeared below. The passengers on the flight were a curious mixture: Chinese diplomats; Russian journalists, an Italian novelist, several Poles, and three American visitors. We arrived on April 10, and departed on the same flight, a week later.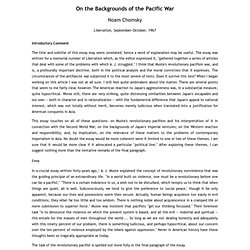 195609--.pdf (objeto application/pdf)
Introductory Comment The title and subtitle of this essay may seem unrelated; hence a word of explanation may be useful. The essay was written for a memorial number of Liberation which, as the editor expressed it, "gathered together a series of articles that deal with some of the problems with which A.
A Visit to Laos
I arrived in Vientiane in late March, 1970, with two friends, Douglas Dowd and Richard Fernandez, expecting to take the International Control Commission plane to Hanoi the following day. The Indian bureaucrat in charge of the weekly ICC flight immediately informed us, however, that this was not to be. The DRV delegation had returned from Pnompenh to Hanoi on the previous flight after the sacking of the Embassy by Cambodian troops (disguised as civilians), and the flight we intended to take was completely occupied by passengers scheduled for the preceding week. Efforts by the DRV and American embassies were unavailing, and, after exploring various farfetched schemes, we decided, at first without much enthusiasm, to stay in Vientiane and try our luck a week later. Vientiane is a small town, and within hours we had met quite a few members of the Western community—journalists, former IVS workers in Laos and South Vietnam, and other residents.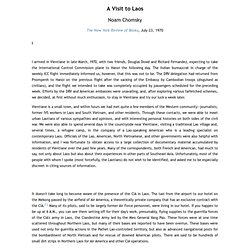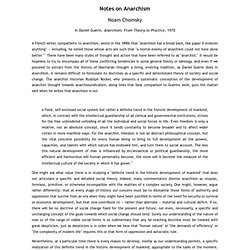 Notes on Anarchism
A French writer, sympathetic to anarchism, wrote in the 1890s that "anarchism has a broad back, like paper it endures anything" -- including, he noted those whose acts are such that "a mortal enemy of anarchism could not have done better." 1 There have been many styles of thought and action that have been referred to as "anarchist." It would be hopeless to try to encompass all of these conflicting tendencies in some general theory or ideology. And even if we proceed to extract from the history of libertarian thought a living, evolving tradition, as Daniel Guérin does in Anarchism, it remains difficult to formulate its doctrines as a specific and determinate theory of society and social change. The anarchist historian Rudolph Rocker, who presents a systematic conception of the development of anarchist thought towards anarchosyndicalism, along lines that bear comparison to Guérins work, puts the matter well when he writes that anarchism is not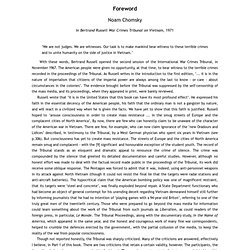 Foreword
'We are not judges. We are witnesses. Our task is to make mankind bear witness to these terrible crimes and to unite humanity on the side of justice in Vietnam.' With these words, Bertrand Russell opened the second session of the International War Crimes Tribunal, in November 1967. The American people were given no opportunity, at that time, to bear witness to the terrible crimes recorded in the proceedings of the Tribunal.
After Pinkville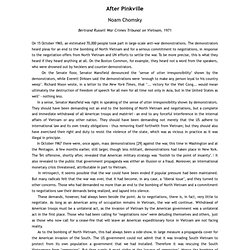 On 15 October 1965, an estimated 70,000 people took part in large-scale anti-war demonstrations. The demonstrators heard pleas for an end to the bombing of North Vietnam and for a serious commitment to negotiations, in response to the negotiation offers from North Vietnam and UN efforts to settle the war. To be more precise, this is what they heard if they heard anything at all. On the Boston Common, for example, they heard not a word from the speakers, who were drowned out by hecklers and counter-demonstrators. On the Senate floor, Senator Mansfield denounced the 'sense of utter irresponsibility' shown by the demonstrators, while Everett Dirksen said the demonstrations were 'enough to make any person loyal to his country weep'.
In a recent essay, Conor Cruise O'Brien speaks of the process of "counterrevolutionary subordination," which poses a threat to scholarly integrity in our own counterrevolutionary society, just as "revolutionary subordination," a phenomenon often noted and rightly deplored, has undermined scholarly integrity in revolutionary and post-revolutionary situations. He observes that "power in our time has more intelligence in its service, and allows that intelligence more discretion as to its methods, than ever before in history," and suggests that this development is not altogether encouraging, since we have moved perceptibly towards the state of "a society maimed through the systematic corruption of its intelligence." He urges that "increased and specific vigilance, not just the elaboration of general principles, is required from the intellectual community toward specific growing dangers to its integrity." 1
The Menace of Liberal Scholarship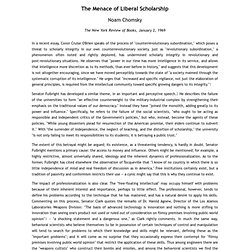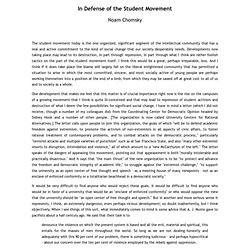 The student movement today is the one organized, significant segment of the intellectual community that has a real and active commitment to the kind of social change that our society desperately needs. Developments now taking place may lead to its destruction, in part through repression, in part through what I think are rather foolish tactics on the part of the student movement itself. I think this would be a great, perhaps irreparable, loss.
In Defense of the Student Movement
On Resistance
Several weeks after the demonstrations in Washington, I am still trying to sort out my impressions of a week whose quality is difficult to capture or express. Perhaps some personal reflections may be useful to others who share my instinctive distaste for activism, but who find themselves edging toward an unwanted but almost inevitable crisis. For many of the participants, the Washington demonstrations symbolized the transition "from dissent to resistance." I will return to this slogan and its meaning, but I want to make clear at the outset that I do feel it to be not only accurate with respect to the mood of the demonstrations, but, properly interpreted, appropriate to the present state of protest against the war.
May Day, living up to all expectations, got the worst reviews of any demonstration in history. It was universally panned as the worst planned, worst executed, most slovenly, strident and obnoxious peace action ever committed. So wrote Mary McGrory, a perceptive columnist and long-time dove. [1] But Mayday was not designed to win accolades in the press; rather it was designed to help end the war, a different purpose. The demonstrators, Miss McGrory wrote, many of whom "had shaved and spruced up for Eugene McCarthy…hope that the people will eventually make the connection between a bad war and a bad demonstration and they think they've provided an additional reason for getting out. They've introduced the element of blackmail into the situation.
Mayday: The Case for Civil Disobedience
Secrets, Lies and Democracy
Overview PART I: Old Wine, New Bottles Chapter One: The Great Work of Subjugation and Conquest [1] Chapter Two: The Contours of World Order Chapter Three: North-South/East-West PART II: High Principles
Year 501: Contents
Cocina macrobiótica - lacocinadeile 2º LIBROS NUEVOS
sacred texts
http://www.sacred-texts.com/sbe/index.htm by ludmilaquinteros Nov 13
Tolstói o Dostoievski - George Steiner - Google Libros
Cultural & Social Anthropology - Download free content from Arizona... - StumbleUpon