SPACE OMG SHINY SPARKLING STARS LOL
100,000 Stars. 50_Years_Space_Exploration1.jpg (JPEG Image, 3861 × 1706 pixels) - Scaled (33%) Athene's Theory of Everything. 13 more things that don't make sense. Cookies on the New Scientist website close Our website uses cookies, which are small text files that are widely used in order to make websites work more effectively.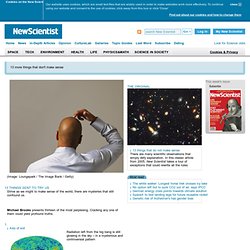 To continue using our website and consent to the use of cookies, click away from this box or click 'Close' Find out about our cookies and how to change them Log in. LMS - HEX - | Moltee. Eclipse_final_med.jpg (JPEG Image, 2200x1402 pixels) Chromoscope - View the Universe in different wavelengths.
The Top 5 Astronomical Events to Witness Before You Die | Fun Lists - Top 10 Lists. In the age of internet, television, and Lady Gaga, it's easy to ignore the dazzling displays the sky gives us every night.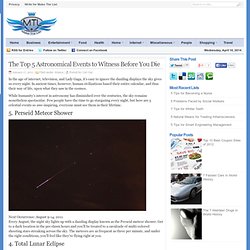 In ancient times, however, human civilizations based their entire calendar, and thus their way of life, upon what they saw in the cosmos. While humanity's interest in astronomy has diminished over the centuries, the sky remains nonetheless spectacular.
---