ART
ArchDaily | Broadcasting Architecture Worldwide. Interior Design Ideas, Modern Design Pictures & Architecture Blog Magazine. Flow: The Beauty of Ink. uKybe.jpg (JPEG Image, 851 × 315 pixels) NJgVP.jpg (JPEG Image, 500 × 735 pixels) - Scaled (80. What is DAZ Studio. Unleash the Artist Within Everything you need to start creating your own stunning artwork is waiting for you right here $249.00Free Design amazing digital art with this popular 3D figure customization, posing, and animation tool.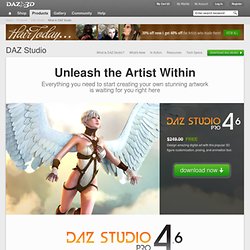 What is DAZ Studio? DAZ Studio is a feature rich 3D figure customization, posing, and animation tool that enables anyone to create stunning digital illustrations and animations. The Illustration & Design World of Zach Johnsen. 4500 Square Feet Tropical House on a Very Small Lot But With a Garden. Lessons. Drawspace Pro Lessons are designed for artists of all levels and educators, and are logically organized into resources and activities.
Eventually, all lessons and E-books authored by Brenda Hoddinott will be available here: four to eight brand new lessons and newly-revised older lessons are being added every month! Upgrade Now: Download all 248 lessons and 4 e-books! Drawingstuff.jpg (JPEG Image, 700 × 5000 pixels) The Cool Hunter - Architecture. Imagine the renovation dilemmas.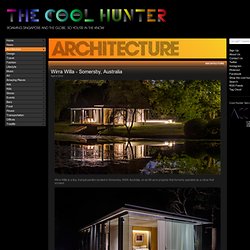 A huge penthouse of a converted 1930s office building in TriBeCa, New York, is to be turned into a functioning home for a family with three teenagers. In fact, we can not quite imagine the issues that faced Steven Harris Architects when the family showed up, literally, at the doorstep of the celebrated architect and asked if he'd like to work on their home. Art 1. Optical Design.
Blossom Light by Ewa Sendecka. The Blossom Light The Blossom Light by designer Ewa Sendecka features four modular LED components that can be bent and molded thanks to the flexible construction of the tubing that encases the power cable (the same used in gooseneck microphone holders).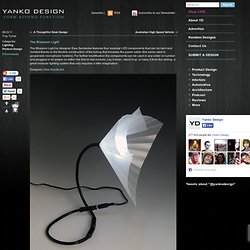 For further modification the components can be used in any order or number and plugged in for power on either the first or last module. Lay it down, stand it up, or hang it from the ceiling- a great modular lighting system that only requires a little imagination. Designer: Ewa Sendecka. Cirrata - Octopus Lamp by Markus Johansson. Octopoddy Lamp Unexpected experiences and surprises wait deep down on the ocean floor.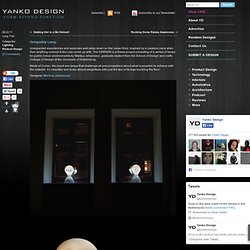 Inspired by a creature more alien than anything science fiction can come up with. The CIRRATA is a thesis project consisting of a series of lamps for public indoor environments by Markus Johansson, graduate student from the School of Design and crafts College of Design at the University of Gothenburg. Made of Corian, the result are lamps that challenge all preconceptions about what is possible to achieve with the material. Before I Die. What is important to you 2011 After Candy Chang lost someone she loved, she went through a long period of grief and depression.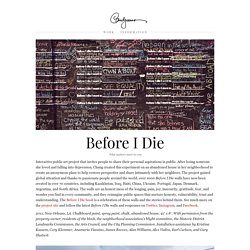 With time she felt gratitude for the time they had together and eventually she found clarity in her life by contemplating death so much. But she struggled to maintain this perspective. It's easy to get caught up in the day-to-day and forget what really matters to you. I-Heart-Math_210-l.jpg (JPEG Image, 600x400 pixels) LMS - HEX - | Moltee. Bottle Lantern – Lamp for Campers by Alexandra Hart & Trey Williams. Better Than Fireflies in a Bottle I remember camping trips where we would carry an extra jar, just to catch fireflies and make glow-in-the-dark lamps.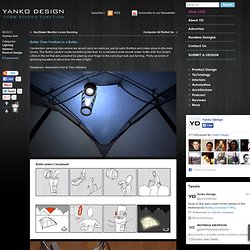 The Bottle Lantern looks something like that. It's a standard wide-mouth water bottle with four bright LEDs in the lid that are powered by placing your finger in the carrying hook and turning. Thirty seconds of spinning equates to about four minutes of light. Shuttle-Endeavour-sts130-nuit.jpg (JPEG Image, 1920x1277 pixels) Chroma Watch - Bestsellers. Chroma is a 38mm diameter (1.50 inch) unisex watch utilizing Swiss parts.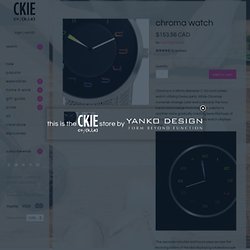 While Chromas numerals change color every second, the hour hand colors merge from one color palette to another more gradually creating beautiful hues of the color spectrum. See how this watch displays time: The seconds minutes and hours pass across the evolving colors of the dial displaying a kaleidoscope Munsell measurement (the Munsell Measurement is the standard measure of three dimensions of color: tone, value and color purity). There are no visible lugs, providing a seamless connection from band to watch case.
Barrel-monster-434x499-755052.jpg (JPEG Image, 434x499 pixels) 049.jpg (JPEG Image, 12830x597 pixels) O1ZVr.jpg (JPEG Image, 640x479 pixels)
---