AI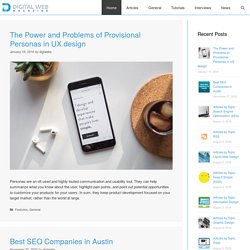 This week Time To Change In: Articles It's the end of the year; a time for nostalgia and looking back on the past year. Nick Finck, Digital Web Magazine's founder and publisher, recalls where we've been, what we've achieved, and discusses the potential for dramatic change in where we are going as a publication. This is your chance to influence the future structure and focus of Digital Web.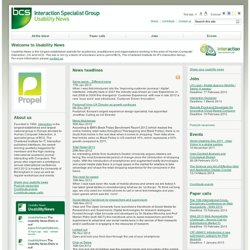 Founded in 1984, Interaction is the longest-established and largest national group in Europe devoted to Human-Computer Interaction. A specialist group of BCS, The Chartered Institute for IT, Interaction publishes Interfaces, the award-winning quarterly magazine for members and the high-ranking international academic journal Interacting with Computers. The group also organises a prestigious annual international conference (HCI 2012 is hosted by University of Birmingham in July) as well as regular workshops and events.
Usability News
articles Ergonomie, utilisabilité, architecture de l'information... Des articles théoriques et pratiques sur l'ergonomie informatique, avec une spécialisation dans les méthodes pour le web. » Tous les articles Quelle ergonomie pour le drag & drop ?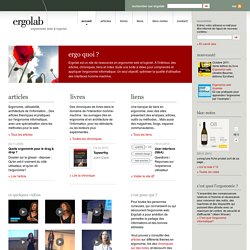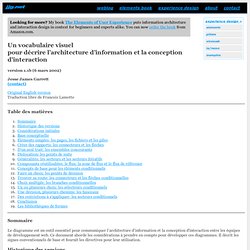 Jesse James Garrett: Visual Vocabulary for Information Architecture (French)
Looking for more? My book The Elements of User Experience puts information architecture and interaction design in context for beginners and experts alike. You can now order the book from Amazon.com. version 1.1b (6 mars 2002) Jesse James Garrett (contact)
What Testing Won't Tell You What do users think and feel while setting up an online store? This week, Lynsey Thornton from Shopify tells us what the Shopify team learned while investigating this very question.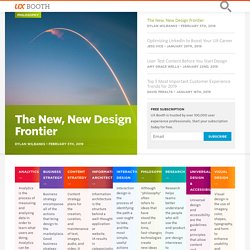 User Experience Project
Global Countdown is a hugely successful multiplayer educational game commissioned by Telenor in Norway and developed by Rayon, Hybris and Thue & Selvaag. It has been deployed in five different locations in Norway and will soon open in Islamabad, Pakistan. The game teaches teens that visit Telenor about information technology and communication. The game is an installation that takes up a fairly large room. The room consists of a big screen, one game master PC, 4 president Tablet PCs, 4 group big screens, 8 Advisor Tablet PCs and 12 PDAs.
Pour des professionnels, la nécessité d'effectuer son travail avec efficacité et rapidité est une réalité assez évidente. Les domaines de l'UX (User eXperience = expérience utilisateur) n'échappent évidemment pas à cette règle, d'où l'élaboration de diverses techniques pour mettre en place des processus d'évaluation/conception UX qui prennent moins de temps, donc moins d'argent. Certains experts anglo-saxons appellent ces méthodes « Quick UX reviews« , « Quick UX heuristics« , « the Quick UX way » etc. Check-list ergonomique Les ergonomes ont mis au point divers critères d'utilisabilité et s'appuient sur ces critères, notamment pour concevoir des outils d'évaluation, de type check-list ergonomique.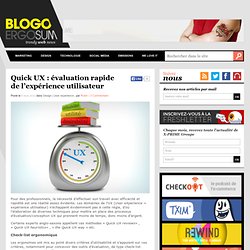 I have used this model for some time now, time to reveal it to the critical eyes of fellow practitioners. It is a model that tries to explain "what is user experience?" PDF Version The Model should be explained from the inside.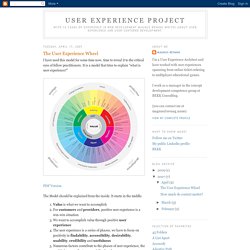 The User Experience Wheel
Ergonomie web, IHM & UX
Les designers (et les "persuasion architects" au passage... si, si, ce métier existe !) utilisent les théories psycho-sociales pour améliorer les taux de conversion et d'engagement (entre autres) sur leurs sites. J'avoue j'utilise aussi ces théories dans mon métier... Voici une liste sur les techniques de manipulation que chacun d'entre nous en tant qu'utilisateur et consommateur devrait connaître. Bon, même en les connaissant, il est plutot difficile de ne pas se faire avoir quand même.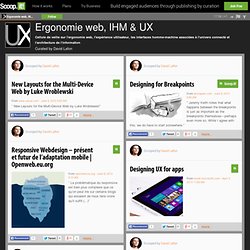 11 UI Patterns Resources | Susana Vilaça
March 9, 2011 Below are some UI Patterns resources that I find useful in my everyday wrok life. Hope you find it useful 1. Quince Quince is a beautiful website that allows you to search for patterns in an unusual way.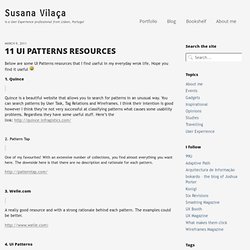 Pattern Tap 5,174 Patterns Sort By | Type | Style | Device Show Filters Hide Filters
Blueprint is a CSS framework, which aims to cut down on your development time. It gives you a solid foundation to build your project on top of, with an easy-to-use grid, sensible typography, useful plugins, and even a stylesheet for printing. Download Now
Susana Vilaça - Live Thoughts on the Web
Today "Web" is very different from what it was few years ago. It is better, but far more challenging – you can no longer ignore things like usability, information architecture and design. That's why wireframing has received so much attention lately.
Guidelines, Tools and Resources For Web Wireframing
Advertisement If there is a commonly reoccurring need for a particular solution, there is a great probability that someone has – by now – solved that need and has finished the legwork involved in researching and constructing something that resolves it. At the very least, you will find documentation on general solutions to related problems that will enable you to gain insight on best practices, effective techniques, and real-world examples on the thing you are creating. A design pattern refers to a reusable and applicable solution to general real-world problems. For example, a solution for navigating around a website is site navigation (a list of links that point to different sections of the site), a solution for displaying content in a compact space are module tabs.
Productive Web Design With… Adobe Illustrator? - Smashing Magazine
The CSS of Design Storytelling: Context, Spine, and Structure