AI
Usability News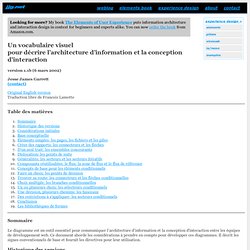 Jesse James Garrett: Visual Vocabulary for Information Architecture (French)
Looking for more? My book The Elements of User Experience puts information architecture and interaction design in context for beginners and experts alike. You can now order the book from Amazon.com. version 1.1b (6 mars 2002) Jesse James Garrett (contact)
User Experience Project
Pour des professionnels, la nécessité d'effectuer son travail avec efficacité et rapidité est une réalité assez évidente. Les domaines de l'UX (User eXperience = expérience utilisateur) n'échappent évidemment pas à cette règle, d'où l'élaboration de diverses techniques pour mettre en place des processus d'évaluation/conception UX qui prennent moins de temps, donc moins d'argent. Certains experts anglo-saxons appellent ces méthodes « Quick UX reviews« , « Quick UX heuristics« , « the Quick UX way » etc. Check-list ergonomique Les ergonomes ont mis au point divers critères d'utilisabilité et s'appuient sur ces critères, notamment pour concevoir des outils d'évaluation, de type check-list ergonomique.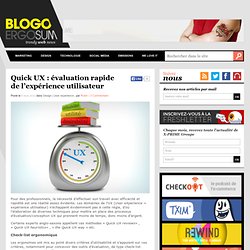 I have used this model for some time now, time to reveal it to the critical eyes of fellow practitioners. It is a model that tries to explain "what is user experience?" PDF Version The Model should be explained from the inside.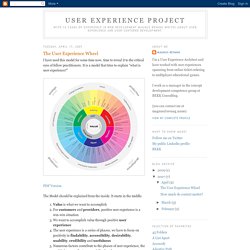 The User Experience Wheel
Ergonomie web, IHM & UX
11 UI Patterns Resources | Susana Vilaça
March 9, 2011 Below are some UI Patterns resources that I find useful in my everyday wrok life. Hope you find it useful 1. Quince Quince is a beautiful website that allows you to search for patterns in an unusual way.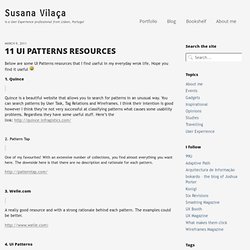 Susana Vilaça - Live Thoughts on the Web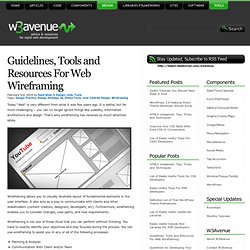 Today "Web" is very different from what it was few years ago. It is better, but far more challenging – you can no longer ignore things like usability, information architecture and design. That's why wireframing has received so much attention lately.
Guidelines, Tools and Resources For Web Wireframing
Advertisement If there is a commonly reoccurring need for a particular solution, there is a great probability that someone has – by now – solved that need and has finished the legwork involved in researching and constructing something that resolves it. At the very least, you will find documentation on general solutions to related problems that will enable you to gain insight on best practices, effective techniques, and real-world examples on the thing you are creating. A design pattern refers to a reusable and applicable solution to general real-world problems. For example, a solution for navigating around a website is site navigation (a list of links that point to different sections of the site), a solution for displaying content in a compact space are module tabs.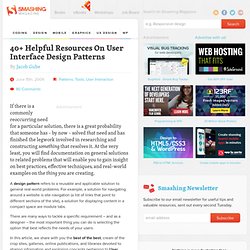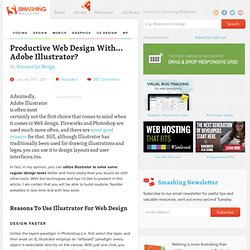 Advertisement Admittedly, Adobe Illustrator is often most certainly not the first choice that comes to mind when it comes to Web design. Fireworks and Photoshop are used much more often, and there are some good reasons for that. Still, although Illustrator has traditionally been used for drawing illustrations and logos, you can use it to design layouts and user interfaces, too. In fact, in my opinion, you can utilize Illustrator to solve some regular design tasks better and more easily than you would do with other tools. With the techniques and tips I'd like to present in this article, I am certain that you will be able to build modular, flexible websites in less time and with less work.
Productive Web Design With… Adobe Illustrator? - Smashing Magazine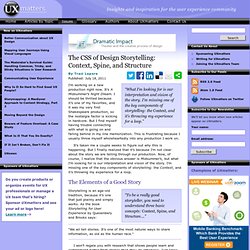 By Traci Lepore Published: July 18, 2011 "What I'm looking for is our interpretation and vision of the story. I'm missing one of the key components of storytelling: the Context, and it's throwing my experience for a loop." I'm working on a new production right now. It's A Midsummer's Night Dream.
The CSS of Design Storytelling: Context, Spine, and Structure