Fashion
Design Crush & Tipped Out. Adele Oh I love it!!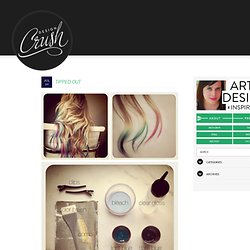 I am blonde, but not sure I would dare do this to my own hair!!!! 07-20-11 » 10:03 am » Addie I absolutely LOVE this…. and if something went wrong, all you have to do is cut it off… Although, from experience, coloring blonde hair is not as great as you would expect… the color fades way faster than you would think b/c when you bleach darker hair, it kind of damages it, so the color really soaks into the hair, with blonde hair, it isnt damaged, so it doesnt soak in as well…Im such a nerd, sorry 07-20-11 » 10:08 am » Paige Seriously wishing I was blonde right about now to do this to my tips! Or would it still look cool with brown hair? 07-20-11 » 10:10 am » Kelly i'm dark brown and would try it if my hair were a bit a longer – i say go for it! The Look - 6 secrets I learned at makeup artist school.
Total-beauty TODAY Style TODAY Jan. 12, 2012 at 9:50 AM ET Totalbeauty.com / By Sharon Yi, TotalBeauty.com.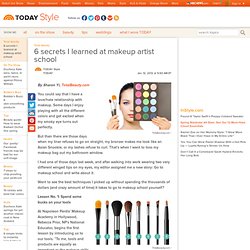 - StumbleUpon. Its just love on we heart it / visual bookmark #8843333. Reporting an entry If this image belongs to you or is your intellectual property, please submit a copyright notification instead of reporting it.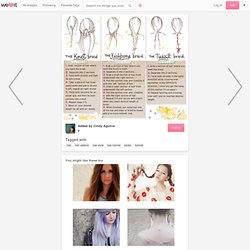 We encourage users to report abusive images and help us moderate the content on We Heart It. But please keep in mind that reporting images that are not abusive is against our terms of service and can get your account blocked. 10 of the Best Drug Store Beauty Buys. I have an apology to make: I used to be one of those girls behind the makeup counter of a big, fancy department store selling you over-priced beauty products.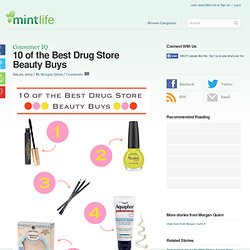 While I won't say which brand I worked for, I can tell you that my uniform consisted of all black and way too much makeup. Hey, it was the 90's, after all. Well, I'm here to make amends. Because, you see, not all department store makeup is better than the drug store version. In fact, a lot of drug store makeup is way better than the junk being sold in the department stores. Tape trick-for perfect winged liner. Happy Monday to ya….hope y'all had a fabulous weekend!!!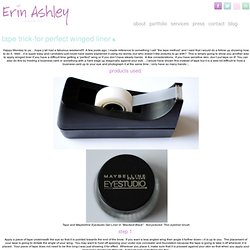 A few posts ago, I made reference to something I call "the tape method" and I said that I would do a follow up showing how to do it. Well…it is super easy and I probably just could have easily explained it using my words–but who doesn't like pictures to go with? This is simply going to show you another way to apply winged liner if you have a difficult time getting a "perfect" wing or if you don't have steady hands. A few considerations: If you have sensitive skin, don't put tape on it! Ivy Wrapped Chunky Asymetrical Necklace by OneStitchDesigns.
Fair isle cuffed combat boot $29.10 in NATURAL - Boots. Boot up and go for a stroll in the final days of winter with this selection of super-hot and cheap boots for women.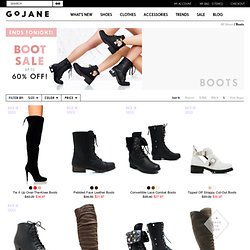 Everyone knows that the best part of winter is the footwear, so we've curated a selection designed for those late-winter to early-spring days where the weather is stuck somewhere between snowy gloom and sun-soaked hope. All of our cheap boots blend fashion and function, with couture-inspired elements adorning sensible shoes, leaving you with a stylish and protective suit of armor. Inspired by looks that donned the red carpet at Spring Fashion Week, our selection includes everything from pretty punk combat boots to thigh-high platform boots. High-heeled boots and flat boots alike display funky patterns, chain-link metallics and bold buckles, adding that extra finishing touch to all of your everyday outfits.
---