Music
1 - harmonics of 55hz
A musical realization of the motion graphics of John Whitney as described in his book "digital harmony" Animation and music by Jim Bumgardner of krazydad.com and the wheel of lunch . Jim makes free puzzles , including sudoku , killer sudoku , kakuro , mazes , and thousands of other puzzles . Music box variations: var. 0 - chromatic - 48 tines var. 1 - harmonics of 55hz var. 2 - harmonics of 20hz var. 3 - harmonics of 48hz, reversed var. 4 - harmonics of 48hz, palindrome var. 5 - chromatic - 88 tines var. 6 - microtones var. 7 - harmonics - 120 tines, reversed var. 8 - chromatic - 88 organ pipes, rev. var. 9 - chromatic - 88 bars, rev. var. 10 - chromatic - 64 pipe cyrpto calliope var. 11 - minute waltz - 60 keys, 60 seconds var. 12 - chromatic - prime numbers only var. 13 - chromatic - non-primes only var. 14 - stereo var. 15 - stereo - 120 var. 16 - stereo - 210 var. 17 - hand cranked var. 18 - stereo drone (new) var. 19 - stereo sonar (new) var. 20 - bell carol (new)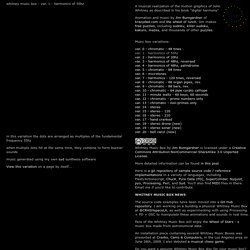 Whisperings: Solo Piano Radio
Music in Our World Parts/Chapters
Oops I Did It Again: The Original
Oops I Did It Again: The Original "Oops! I Did It Again" was recorded in April, 1932 in a Chicago studio, most likely Nearlie's or West and Forth. Cut for the Decca label by Louis Armstrong and elements of Zilner Randolph's touring group, "Oops!" failed to make the chart impact of "All of Me," another side recorded in the same session, and soon fell out of print. The song remained all-but-forgotten until sixty years later when a young Britney Spears sent her interpretation of the Armstrong tune all the way to the top of the charts. Supermasterpiece presents the Satchmo original , newly remastered from the wax cylinder.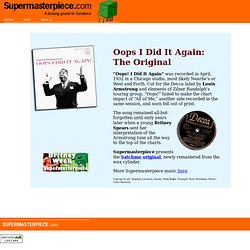 Фото и рисунки, арт и креативная реклама
Andrew Bird - Section 8 City
Inc.
sad playlist
The Pop History Dig » Beatles "All You Need is Love"
merryxmas
37 Cello Parts
MusicPhilosophy2-10