Self Help
Get flash to fully experience Pearltrees
It's Tuesday morning at 8 a.m. Two San Francisco entrepreneurs are pitching their ventures to potential investors today. They'd both agree that this is one of the most important days of their lives.
Are you someone who likes to grow? Do you constantly seek to improve yourself and become better? If you do, then we have something in common. I'm very passionate about personal growth.
Albert Einstein's was estimated at 160, Madonna 's is 140, and John F. Kennedy's was only 119, but as it turns out, your IQ score pales in comparison with your EQ, MQ, and BQ scores when it comes to predicting your success and professional achievement. IQ tests are used as an indicator of logical reasoning ability and technical intelligence. A high IQ is often a prerequisite for rising to the top ranks of business today.
It's a free web application for anyone who's interested in this kind of training. In fact, the source code is freely available. Unfortunately, the latest version of Silverlight 2 isn't installed on this computer. In order to do this training application, you'll have to install Silverlight.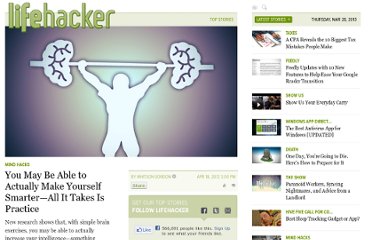 New research shows that, with simple brain exercises, you may be able to actually increase your intelligence—something scientists previously thought impossible. The proof is far from concrete yet, but quite a bit of new evidence suggests that your IQ may be more fluid than originally thought. A study done in 2008 tested children using a "Dual N-Back" game, in which you had to remember longer and longer sequences of things as the game continues, much like Simon (for you 80s kids out there). The researchers found that this game actually targets a fluid part of the brain: . . .the deceptively simple game, it turns out, targets the most elemental of cognitive skills: "working" memory.
Lifehacker reader Gabriel Wyner was tasked with learning four languages in the past few years for his career as an opera singer, and in the process landed on "a pretty damn good method for language learning that you can do in limited amounts of spare time." Here's the four-step method that you can use, too (and you don't have to invest hundreds in a language course like Rosetta Stone). This is the method I've used to learn four languages (Italian, German, French and now Russian); it's the method that got me to C1 fluency in French in about 5 months, and I'm currently using it with Russian (and plan on reaching C1 equivalent fluency by September). I go in four stages. The stages will take different amounts of time for different languages and depend on how much time you have available per day, naturally.
1. Be a Quitter Before any kind of endeavor, whether it's a new job or a financial investment, come up with some golden rules.
Retraining our focus onto optimism and positivity can help change the physiology of our brains. It's our nature to fixate on bad news, a phenomenon known to psychologists as negativity bias Negative encounters tend to leave stronger impressions than positive ones Rather than rehash missteps, spotlight successes and steer conversations toward solutions ( Oprah.com ) -- You sit down with your boss for your annual review. Despite mostly positive feedback, a single criticism lodges in your head and leaves you feeling lousy all week long.
Planning to Live Your Life Your Way Many people feel as if they're adrift in the world. They work hard, but they don't seem to get anywhere worthwhile. A key reason that they feel this way is that they haven't spent enough time thinking about what they want from life, and haven't set themselves formal goals. After all, would you set out on a major journey with no real idea of your destination?