iPad
iPads in Schools. Blooms Taxonomy with Apps. After seeing the chart on of Bloom's Taxonomy on bloomsapps, I thought I could make a more thorough table.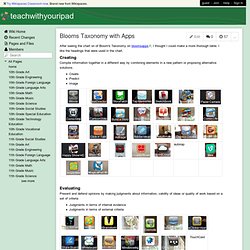 I like the headings that were used in the chart. Creating Compile information together in a different way by combining elements in a new pattern or proposing alternative solutions.CreatePredictImage Evaluating. Bloomin' Apps. This page gathers all of the Bloomin' Apps projects in one place.Each image has clickable hotspots and includes suggestions for iPad, Google, Android, and Web 2.0 applications to support each of the levels of Bloom's Revised Taxonomy.I have created a page to allow you to share your favorite Web 2.0, iOS, or Android app with others.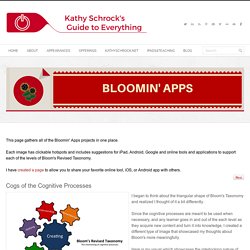 Cogs of the Cognitive Processes Option 1 I was recently reflecting on the triangular shape the Bloom's taxonomies utilize. Since the cognitive processes are meant to be used when necessary, and any learner goes up and down the categories as they create new knowledge, I was thinking another type of image might be more explanatory.Here is my draft of the idea of the "interlocking of the cognitive processes" or the "Cogs of Cognition".
Bloomsapps. Using Blooms Taxonomy in education is a highly effective way to scaffold learning for the students.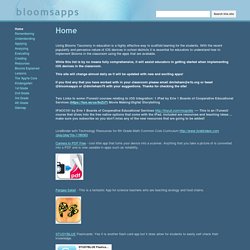 With the recent popularity and pervasive nature of iOS devices in school districts it is essential for educators to understand how to implement Blooms in the classroom using the apps that are available. While this list is by no means fully comprehensive, it will assist educators in getting started when implementing iOS devices in the classroom. iPad Apps to Meet 14 Learning Objectives. This evening Greg Kulowiec shared with me an excellent iPad project that he and Beth Holland recently published for Ed Tech Teacher. iPad As... is a large selection of high-quality iPad-apps designed to meet fourteen different learning objectives.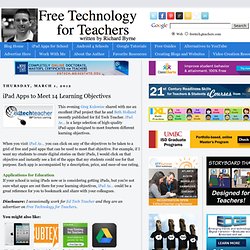 When you visit iPad As... you can click on any of the objectives to be taken to a grid of free and paid apps that can be used to meet that objective. For example, if I want my students to create digital stories on their iPads, I would click on that objective and instantly see a list of the apps that my students could use for that purpose. Each app is accompanied by a description, price, and ease-of-use rating. Applications for Education If your school is using iPads now or is considering getting iPads, but you're not sure what apps are out there for your learning objectives, iPad As... could be a great reference for you to bookmark and share with your colleagues. Free Speech - Augmentative & Alternative Communication App. The Give Speech Foundation recently launched a free iPad app designed to assist students who have Autism and other speech and communication impairments.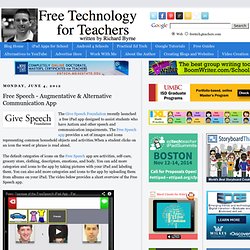 The Free Speech app provides a set of images and icons representing common household objects and activities.When a student clicks on an icon the word or phrase is read aloud. The default categories of icons on the Free Speech app are activities, self-care, grocery store, clothing, descriptors, emotions, and body. Pack for iPad: Our List of the Best iPad Apps. If you're an engineer/scientist type, grab GraphiX48 for an on-screen version of the HP48GX calculator.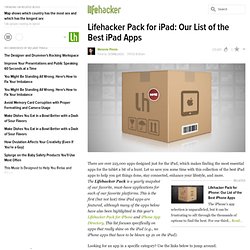 Sure, buttons and RPN are old school, but if you long for the days when a calulator was a tool rather than an arithmetic short cut this is the app for you. Another useful app is Genius Scan. It's technically an iPhone app, but is even better with the new iPad. It allows you to take a picture of a document or page then drag a rubber-band box to the edges, after which it de-perspectives the page and applies fairly smart contrast, brightness, and gamma enhancements to make a good B&W photocopy of the document. The non-pro version lets you send the resulting image to email and any other installed app which accepts PDFs*; the $2.99 pro version lets you print or send directly to box, dropbox, evernote, or google drive.
---