iPad
After seeing the chart on of Bloom's Taxonomy on bloomsapps, I thought I could make a more thorough table. I like the headings that were used in the chart. Creating Compile information together in a different way by combining elements in a new pattern or proposing alternative solutions.CreatePredictImage Evaluating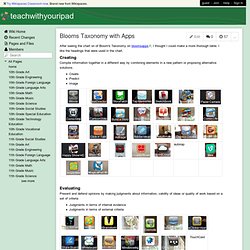 This page gathers all of the Bloomin' Apps projects in one place.Each of the images has clickable hotspots and includes suggestions for iPad, Google, Android, and Web 2.0 applications to support each of the levels of Bloom's Revised Taxonomy.The use of the triangle shape for Bloomin' apps projects was not used to help clear up the misunderstanding that the levels are hierarchical andthe top levels only make up a tiny portion of the cognitive processes.I have created a page to allow you to share your favorite Web 2.0, iOS, or Android app with others. Option 1 I was recently reflecting on the triangular shape the Bloom's taxonomies utilize. Since the cognitive processes are meant to be used when necessary, and any learner goes up and down the categories as they create new knowledge, I was thinking another type of image might be more explanatory.Here is my draft of the idea of the "interlocking of the cognitive processes" or the "Cogs of Cognition". Option 2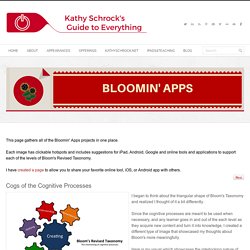 Using Blooms Taxonomy in education is a highly effective way to scaffold learning for the students. With the recent popularity and pervasive nature of iOS devices in school districts it is essential for educators to understand how to implement Blooms in the classroom using the apps that are available. While this list is by no means fully comprehensive, it will assist educators in getting started when implementing iOS devices in the classroom.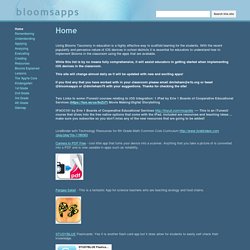 iPad Apps to Meet 14 Learning Objectives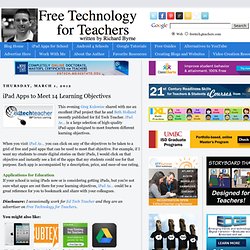 This evening Greg Kulowiec shared with me an excellent iPad project that he and Beth Holland recently published for Ed Tech Teacher. iPad As... is a large selection of high-quality iPad-apps designed to meet fourteen different learning objectives. When you visit iPad As... you can click on any of the objectives to be taken to a grid of free and paid apps that can be used to meet that objective. For example, if I want my students to create digital stories on their iPads, I would click on that objective and instantly see a list of the apps that my students could use for that purpose. Each app is accompanied by a description, price, and ease-of-use rating. Applications for Education If your school is using iPads now or is considering getting iPads, but you're not sure what apps are out there for your learning objectives, iPad As... could be a great reference for you to bookmark and share with your colleagues.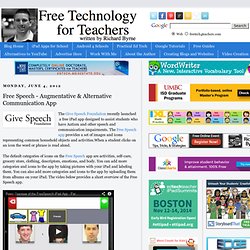 Free Speech - Augmentative & Alternative Communication App
The Give Speech Foundation recently launched a free iPad app designed to assist students who have Autism and other speech and communication impairments. The Free Speech app provides a set of images and icons representing common household objects and activities.When a student clicks on an icon the word or phrase is read aloud. The default categories of icons on the Free Speech app are activities, self-care, grocery store, clothing, descriptors, emotions, and body. You can add more categories and icons to the app by taking pictures with your iPad and labeling them.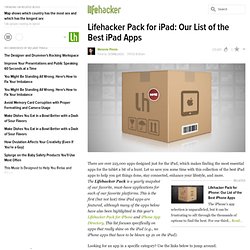 Pack for iPad: Our List of the Best iPad Apps
There are over 225,000 apps designed just for the iPad, which makes finding the most essential apps for the tablet a bit of a hunt. Let us save you some time with this collection of the best iPad apps to help you get things done, stay connected, enhance your lifestyle, and more. The Lifehacker Pack is a yearly snapshot of our favorite, must-have applications for each of our favorite platforms. This is the first (but not last) time iPad apps are featured, although many of the apps below have also been highlighted in this year's Lifehacker Pack for iPhone and iPhone App Directory. This list focuses specifically on apps that really shine on the iPad (e.g., no iPhone apps that have to be blown up 2x on the iPad). Looking for an app in a specific category?