Linux Distributions
Download Knoppix Live CD or DVD, Get Documentation and Help. What is KNOPPIX?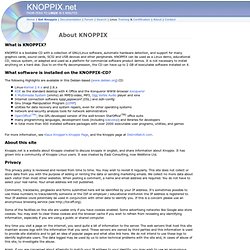 KNOPPIX is a bootable CD with a collection of GNU/Linux software, automatic hardware detection, and support for many graphics cards, sound cards, SCSI and USB devices and other peripherals. KNOPPIX can be used as a Linux demo, educational CD, rescue system, or adapted and used as a platform for commercial software product demos. It is not necessary to install anything on a hard disk. Arch Linux. Gentoo Linux -- Gentoo Linux News. The Universal Operating System. Xubuntu.
DistroWatch.com: Put the fun back into computing. Use Linux, BSD. Flash Linux. Linuxtracker | The Premier Linux BitTorrent Website. Linux Live for CD & USB. PlayStation2-Linux.com. Welcome to Linux From Scratch! PfSense Open Source Firewall Distribution - Home.
---