TRAVEL
Women's Tactical Pants. 2011: The Birth of a Miles and Points Addict! - Extra Pack of Peanuts. 2011 was an especially interesting year for me in regards to miles and points; namely because before March of last year, I had absolutely no idea how frequent flyer programs worked, didn't own a credit card, and probably had too much time on my hands.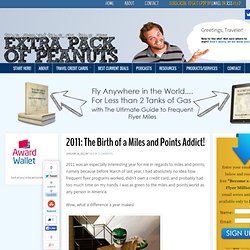 I was as green to the miles and points world as any person in America. Wow, what a difference a year makes! Boy was I green before 2011! The Genesis. The Gear Page - Powered by vBulletin. Belize Vacations, Tours, Resorts, News, Hotels, Travels, Flights, Weather, Maps, Real Estate.
Fly. Road. Train. Travel Life. Where to go. Fest300 | World's Best Festivals. Best kayaking schools.
---