Tech Tools
Get flash to fully experience Pearltrees
Mounting a USB device inside a virtual machine is often a tool that you cannot go without.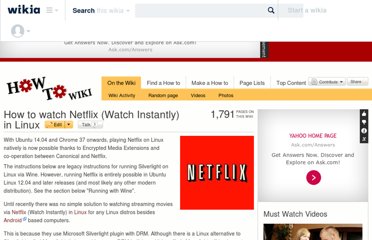 Running Netflix is entirely possible in Ubuntu Linux 12.04 (and most likely any other modern distribution). See the section below "Running with Wine".
This may seem a bit of inside baseball, but it's a fairly interesting fact for folks looking forward to thin-and-light Win8 devices running ARM chips rather than Intel.
If the stench from your cat's litter box is a bit too much for you to take, consider rigging together an exhaust system using a 120mm computer case fan, a 12vdc power supply, 4" flexible dryer duct, a few steel tomato cans, and other bits found in most households. This fan is designed to operate by switch, but you can also add an Arduino relay switch to turn it on and off by motion. Back in 2008 Gina covered a guy who combined a bathroom exhaust fan with a motion detector and a Mac Mini that activated the exhaust fans for 15 minutes starting 5 minutes after the motion detector triggered.