Not Everyday Sites
Minecraft is a game about breaking and placing blocks. At first, people built structures to protect against nocturnal monsters, but as the game grew players worked together to create wonderful, imaginative things. It can also be about adventuring with friends or watching the sun rise over a blocky ocean. It's pretty.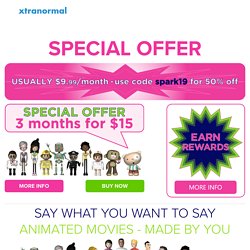 Create online Make movies in minutes from any web browser anywhere. Express your opinion Share a joke with friends Bring creative ideas to life Send unique invites or greetings Sign Up for your FREE account Create on your desktop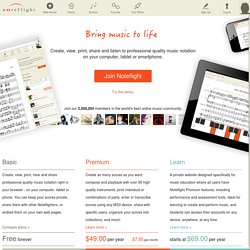 Your music, everywhere. Create music notation right in your browser and be part of the world's best music composition community. More... Noteflight® is an online music writing application that lets you create, view, print and hear professional quality music notation right in your web browser. Write music on your computer, tablet or smartphone, share with other users, or embed in your own pages. Sign up for a free account, or purchase a Noteflight Crescendo subscription to take your creativity to the next level.Try the demo.
Skip to Navigation Skip to Content Geocaching is the real-world treasure hunt that's happening right now, all around you. There are 2,296,092 active geocaches and over 6 million geocachers worldwide. Learn more about geocaching and how you can join the adventure. How to Go Geocaching: Search for Nearby Geocaches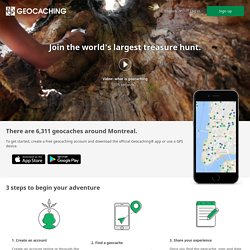 BracketMaker.com is a web-based service for creating, maintaining, and publishing tournament brackets for sports and recreational events, worldwide video game competitions via the Internet, and many more types of competitions. It also includes a predictions feature for friendly contests. You can have a typical bracket set up in less than five minutes, and after each round you simply select the winners and watch them advance in the bracket automatically.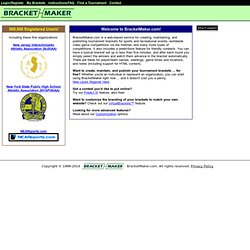 Tournament Brackets
Random Sites, Generators, and Databases
Home - Lillabridge Life
Dear Pandora Visitor, We are deeply, deeply sorry to say that due to licensing constraints, we can no longer allow access to Pandora for listeners located outside of the U.S., Australia and New Zealand. We will continue to work diligently to realize the vision of a truly global Pandora, but for the time being we are required to restrict its use. We are very sad to have to do this, but there is no other alternative. We believe that you are in Canada (your IP address appears to be 198.27.81.81).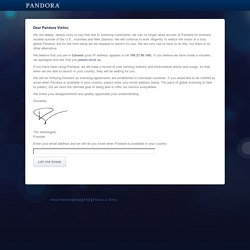 Wordle is a toy for generating "word clouds" from text that you provide. The clouds give greater prominence to words that appear more frequently in the source text. You can tweak your clouds with different fonts, layouts, and color schemes. The images you create with Wordle are yours to use however you like.