General Lang articles
How the visual language of comics could have its roots in the ice age | Science | The Observer. Neil Cohn's love of comic strips began in his family's attic.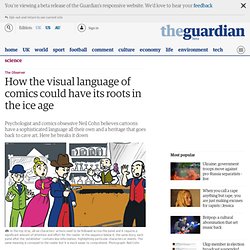 In one of his earliest memories, he recalls his dad climbing the stairs and pulling down a box of 1960s Batman and Superman books that he had stashed away from his own childhood. To Cohn's four-year-old self, it was as if they'd been imported from a strange and foreign place. Geordie, Brummie or Scouse: What are Britain's best accents? Darth Vader issued a warning to the young people of Bristol last week.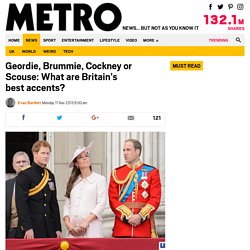 The Sith Lord had an important message for them: change your accent. When it was announced that the city would host the first of the auditions for the upcoming Star Wars film at the weekend, David Prowse, the actor who played Vader in the original movies, said local thesps from his hometown might want to alter how they speak if they hope to get a part. When filming the original movies, Prowse's voice was famously and hilariously used to record dialogue on set, before being swapped later in post-production by the more menacing tones of James Earl Jones. Hunger Games: Catching Fire: A textual analysis of Suzanne Collins' novels, and Twilight and Harry Potter too.
Photo by Murray Close/Lionsgate, Inc.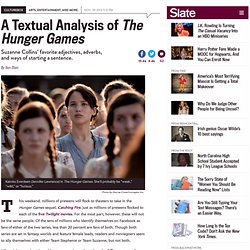 This weekend, millions of preteens will flock to theaters to take in the Hunger Games sequel, Catching Fire, just as millions of preteens flocked to each of the five Twilight movies. For the most part, however, these will not be the same people. Of the tens of millions who identify themselves on Facebook as fans of either of the two series, less than 20 percent are fans of both. Is it wrong to jokily call someone 'mental'? 26 September 2013Last updated at 08:09 ET Magazine Monitor A collection of cultural artefacts Asda has apologised for selling a "mental patient fancy dress costume" but is the term mental - regularly used in a jokey fashion - offensive, asks Damon Rose of BBC Ouch.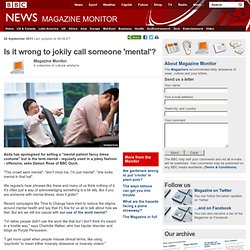 "The crowd went mental", "don't mind me, I'm just mental", "she looks mental in that hat". We regularly hear phrases like these and many of us think nothing of it. It's often just a way of acknowledging something is a bit silly. Does Geography Influence How a Language Sounds? Languages spoken at high altitudes are more likely to contain a certain kind of sound made using short bursts of air, according to a new study.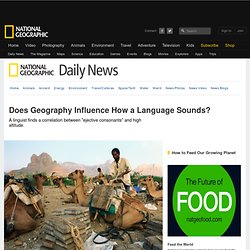 The study, published online June 12 in the journal PLoS ONE, is the first to show that geography can influence how a language sounds. "I had this hypothesis that [certain sounds] might be more common at high altitudes," said study author Caleb Everett, an anthropological linguist at the University of Miami. "I was not at all convinced that I would find the evidence for it, but when I actually looked at the data, the distribution was pretty overwhelming.
" EastEnders turning Glaswegians Cockney says TV study. 9 September 2013Last updated at 19:08 ET Researchers looking at how television viewing can lead to accent changes have claimed Glaswegian fans of EastEnders are picking up Cockney dialect.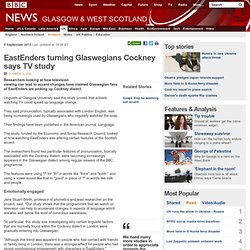 Linguists at Glasgow University said the study proved that actively watching TV could speed up language change. They said pronunciation, typically associated with London English, was being increasingly used by Glaswegians who regularly watched the soap. Their findings have been published in the American journal, Language. The study, funded by the Economic and Social Research Council, looked at how watching EastEnders was altering certain features of the Scottish accent. More than one in 5 Britons alter natural accent. Language and words in the news – 22nd February. This post contains a selection of links related to language and words in the news.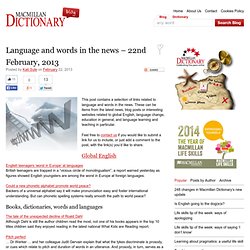 These can be items from the latest news, blog posts or interesting websites related to global English, language change, education in general, and language learning and teaching in particular. Feel free to contact us if you would like to submit a link for us to include, or just add a comment to the post, with the link(s) you'd like to share. Global English English teenagers 'worst in Europe' at languages British teenagers are trapped in a "vicious circle of monolingualism", a report warned yesterday as figures showed English youngsters are among the worst in Europe at foreign languages. 8 New and Necessary Punctuation Marks. Grinches, green eggs, and drawings of fantastic beasts: the language of Dr Seuss. This week it's the birthday of Dr Seuss, the pen-name of Theodor Seuss Geisel.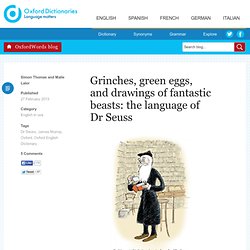 An American writer of hugely successful books for children, he was born in Springfield, Massachusetts, in 1904. And to Think That I Saw it on Mulberry Street (1937) introduced his iconic visual and verbal style, which was further extended in the 'Beginner Book' series, of which The Cat in the Hat (1957) was the first book. Legend has it that Dr Seuss wrote the best-selling Green Eggs and Ham (1960) on a bet that he could not write a children's book using only 50 different words. Perhaps paradoxically, his wild, fluid 'nonsense' rhymes and surreal cartoon-drawings are designed to help children learn the discipline of reading. Dr Seuss gets a few mentions in the Oxford English Dictionary, notably in the etymology for Grinch, meaning 'a spoilsport or killjoy; (more generally) an ill-tempered, unpleasant person', from his 1957 book The Grinch that Stole Christmas.
Don't get your Alans in a twist | Mind your language | Media. Among the hundreds of languages and dialects spoken in east London, there is one that should have a preservation order slapped on it.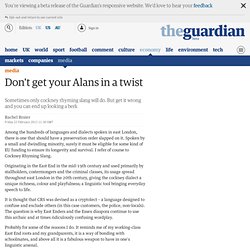 Spoken by a small and dwindling minority, surely it must be eligible for some kind of EU funding to ensure its longevity and survival. I refer of course to Cockney Rhyming Slang. Originating in the East End in the mid-19th century and used primarily by stallholders, costermongers and the criminal classes, its usage spread throughout east London in the 20th century, giving the cockney dialect a unique richness, colour and playfulness; a linguistic tool bringing everyday speech to life. It is thought that CRS was devised as a cryptolect – a language designed to confuse and exclude others (in this case customers, the police, non-locals). Language tip of the week: tell. In this weekly post, we bring more useful content from the Macmillan Dictionary to English language learners.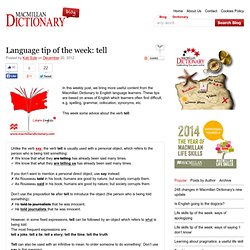 These tips are based on areas of English which learners often find difficult, e.g. spelling, grammar, collocation, synonyms, etc. This week some advice about the verb tell: Downton Soup: The Words of Downton Abbey, Season 3. If you're like us, you've been closely following the trials and tribulations of the Granthams and those who serve them. Like last season, Ben Zimmer and Ben Schmidt have been busy catching the anachronisms.
Zimmer recently noticed a doozy – steep learning curve – while Schmidt found such out-of-place terms as ritual humiliation and shenanigans. We've also been collecting words and phrases from the show, some perfectly ordinary, others more unusual, and all with interesting stories about how they came to be. Spoilers may follow. UPDATE: Two terms from the season finale have been included. R u tryin to b formal? Nowadays, it's hard for us to imagine a life without mobile phones. Texting and instant messaging are as much, if not more, a part of our daily life as phone calls and emails. For example, since 2008 in the USA there has been a huge increase in the amount of texts sent, with teenagers using their phones to text much more than to talk and half of them able to do so blindfolded!
Kentucky 'kicks ass': Taking pride in plain speaking. 4 February 2013Last updated at 19:16 ET By Jon Kelly BBC News Magazine, Washington DC A campaign is under way to rebrand the US state of Kentucky as a place that "kicks ass". How did the once-profane term become so widely permissible? It commands your attention like... well, a swiftly-directed boot to the rear. There are those who might consider the phrase obscene. But in the United States, the verb to "kick ass" - like the adjective, "kick-ass" - is widely considered appropriate for general conversation. Keith Chen: language that forecasts weather — and behavior. By Keith Chen How are China, Estonia and Germany different from India, Greece and the UK?
To an economist, one answer is obvious: savings rates. Germans save 10 percentage points more than the British do (as a fraction of GDP), while Estonians and Chinese save a whopping 20 percentage points more than Greeks and Indians. Economists think a lot about what drives people to save, but many of these international differences remain unexplained.
In a recent paper of mine, I find that these countries differ not only in how much their residents save for the future, but also how their native speakers talk about the future. Letters of Note. The pun conundrum. 16 January 2013Last updated at 04:26 ET To pun or not to pun, that is the question. The lowest form of wordplay, or an ancient art form embraced by the likes of Jesus and Shakespeare, asks Sally Davies. Kapow! The language of comics. Same love; different lyrics | Mind your language | Media.
---