A suivre
Gallery
HitFilm: All-in-one video editing, visual effects and 3D compositing for indie filmmakers - FXhome
Over 150 visual effects The most powerful 3D particle engine in its class, dynamic lens flares, procedural fire and lightning and much more. Nothing else comes close. Find out more about visual effects » Genuine 3D compositing Advanced 2D and 3D compositing with professional green screen keying, camera solving, feature tracking and 3D model rendering.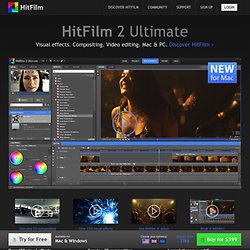 Bientôt au Cinéma
Marmoset | We make better, locally grown pixels.
Ouya : la console open source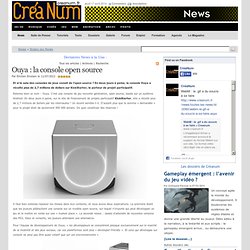 Et si le salu des consoles de jeux venait de l'open source ? En deux jours à peine, la console Ouya a récolté plus de 2,7 millions de dollars sur KickStarter, le porteur de projet participatif. Retenez bien ce nom : Ouya. C'est une console de jeu nouvelle génération, open source, basée sur un système Android. En deux jours à peine, sur le site de financement de projets participatif KickStarter, elle a récolté plus de 2,7 millions de dollars par les internautes !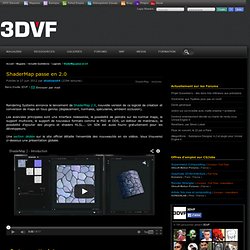 Rendering Systems annonce le lancement de ShaderMap 2.0, nouvelle version de ce logiciel de création et conversion de maps en tous genres (displacement, normales, spéculaires, ambient occlusion). Les avancées principales sont une interface redessinée, la possibilité de peindre sur les normal maps, le support multicore, le support de nouveaux formats comme le PSD et DDS, un éditeur de matériaux, la possibilité d'ajouter des plugins et shaders HLSL... Un SDK est aussi fourni gratuitement pour les développeurs. Une section dédiée sur le site officiel détaille l'ensemble des nouveautés en six vidéos.
ShaderMap passe en 2.0
Normal Map Generator and Normal Painting Application: Create and Convert Textures to Shader Maps used in Computer Graphics.
30 Geeky Artworks Created Using Microsoft Excel
Microsoft Excel, my boss loves it, I hate it to bits. It's deadly effective as a tool to organize data, but it's overwhelmingly boring as well. Honestly, what can I do with Microsoft Excel? Previously, there was only Microsoft Paint and heck, Minesweeper in my Windows 98 work computer.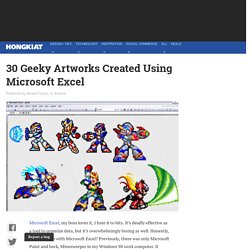 _v3
For decades 3D Artist have been attracted to intuitive modeling with Simple Primitives as well as the uniquely robust and powerful characteristics of Geometric Booleans. Unfortunately barriers remained between those systems and the ultimate goal, a High Quality Mesh The results were unreliable, inelegant systems, limited in scope.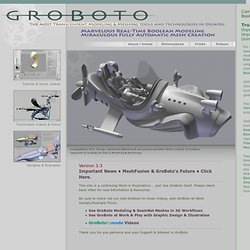 La banque d'images iStockPhoto propose un plugin pour plusieurs des logiciels de la nouvelle CS6 d'Adobe. Ce qui facilite la recherche d'images sans sortir des logiciels en question. « L'équipe iStock est toujours à l'affût de solutions innovantes pour aider les clients à optimiser leur travail créatif », explique Michael Cook, Directeur des produits pour iStockphoto. « Fournir un accès rapide à notre collection et une manipulation aisée des images directement au sein des outils qu'ils utilisent quotidiennement est un moyen de leur faciliter le flux de travaux et de leur procurer une expérience globale plus fluide ». Effectivement, l'intégration des plugins directement dans les logiciels tend à se démocratiser depuis quelques temps. Récemment, on a vu Blurb proposer un plugin pour InDesign et un autre pour LightRoom 4. Fotolia s'était quant à lui associé à la communauté DeviantART, et propose également un plugin pour Microsoft Office.
iStockPhoto propose un plugin pour Adobe CS6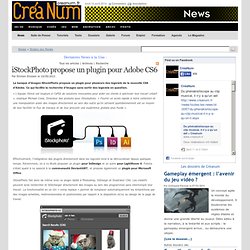 Blueprint Skateboards
www.davidgould.com
Download Faceware 3.0 : Image Metric
Comparatif Internet par satellite par volume de transfert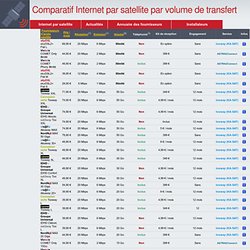 (1) Débits en émission et réception maximal possible selon le FAI, non garanti. (2) Volume maximal de données transférées par mois, la notion d'illimité est à la discretion du fournisseur d'accès. (3) Vers les fixes en France Metropolitaine et autres destinations selon conditions du FAI. Tarifs fournis par les fournisseurs d'accès satellite ou collectés sur leur site. Dernière mise à jour : 09/04/2014 SkyDSL skyDSL2+ Flat L Kit de connexion en option (voir conditions et différents tarifs sur Le site de SkyDSL. Vivéole COMET Only illimité Pas facile de mettre ce blog à jour quand on ne dispose pas d'une connexion à internet permanente. Il nous faut passer d'un point Wifi à un autre et à chaque fois, ce n'est pas très pratique. Nous avons fait le choix d'investir dans une .Le vendeur du camping-car avait déjà installé ce genre de chose, mais avec un Kit Alden. Après vérification, l'abonnement internet par Alden ne nous convenait pas, il était plutôt adapté à celui qui va se servir de sa connexion que 2 mois dans l'année.
Internet par satellite… ça ne fonctionne pas encore | Fée du voyage
Thea Render Gallery
Eat Sheep
Sheep were bred at record rates in the early 60′s after a direct relationship was realized between getting a good night sleep and the amount of sheep in the world. With the ability to count sheep into the thousands people were getting more sleep then they could ever dream of. So many sheep were bred and bred strong. Many sheep had to survive in the desert, winter tundra, and even on the moon (with space helmets of course). Basically anywhere there was room, sheep were bred. Unfortunately this has gotten out of control and there is now an over abundance of sheep around the world, endangering productivity and has provided a surplus of warm wool sweaters.
Articulation Home Page
Produced by Kornhaber for Carnegie Hall, the Ensemble ACJW perform an orchestral mash-up of over 43 Cartoon Theme Songs! Without the animated visual clues added to the video we probably wouldn't have been able to distinguish all the theme's included in the medley. How many did you recognise? Check your guesses against the list below, but don't cheat! 1. Avatar: The Last Airbender 00:00 2.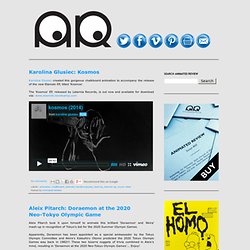 Animated Review
Mitsuba is a research-oriented rendering system in the style of PBRT, from which it derives much inspiration. It is written in portable C++, implements unbiased as well as biased techniques, and contains heavy optimizations targeted towards current CPU architectures. Mitsuba is extremely modular: it consists of a small set of core libraries and over 100 different plugins that implement functionality ranging from materials and light sources to complete rendering algorithms. In comparison to other open source renderers, Mitsuba places a strong emphasis on experimental rendering techniques, such as path-based formulations of Metropolis Light Transport and volumetric modeling approaches. Thus, it may be of genuine interest to those who would like to experiment with such techniques that haven't yet found their way into mainstream renderers, and it also provides a solid foundation for research in this domain.
Mitsuba Renderer Overview on Vimeo
Impression 3D : le low-cost haute résolution en approche
Les prix des imprimantes 3D ont beau baisser, les systèmes dont le prix est accessible aux passionnés ou professionnels ne proposent qu'une qualité largement inférieure à celle des services en ligne spécialisés : en particulier, la résolution d'impression est souvent très faible. La situation est cependant en train d'évoluer, comme en témoigne L'imprimante 3D Veloso, qui a fait son apparition sur le site de crowdfunding Indiegogo.Le système du crowdfunding, pour rappel, consiste à faire appel aux internautes pour financer un projet, en fixant un objectif de budget : si les promesses de dons dépassent le seul, elles sont converties en dons effectifs et le projet peut se concrétiser. Le Veloso 3D Printer ne s'appuie pas sur un filament de matière plastique chauffé, comme la plupart des imprimantes low-cost, ni même sur de la poudre : c'est de la résine liquide qui est employée.
Désolé, seuls les membres enregistrés peuvent participer. Posté le 09/04/2014 à 13h 07mi 14s Lecaramel : Un Club ZBrush & Co en ligne ? http://[..
Imprimante 3D, ça bouge du coté de chez Junior !
.:Bienvenue sur World of Crack - Contourner un blocage par proxy:.
Convert Kinect scans to 3D models with ReconstructMe
CWS Bois pour Solidworks - Solution de création de pièces - métiers du bois et de l'ameublement
Une imprimante 3D « grand public »
A propos des matériaux de Sculpteo | Impression 3D
Boniface : le site pédagogique
Freeware - Sculptris 1.0
Shop
National Gallery of Art NGAkids STILL LIFE interactive
Demos | BioMotionLab
Replica Panerai Wooden Box-box,Box-box,Cases Replica ,replica Panerai
33% de réduction à La Varangue du Lagon
Kevin Karsch's Homepage
Motion capture à la main QUMA
ICT Graphics Lab