Preschool
Make an apple tree the toddler way
Our closest apple orchard is about 100 miles away . It is sad that we as a family have NEVER gone apple picking. May be one of these days..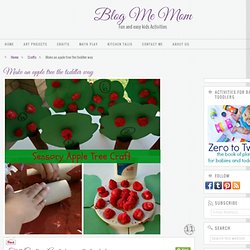 Naturally Educational: Lesson Plans, Activities, and Crafts for Early Childhood Education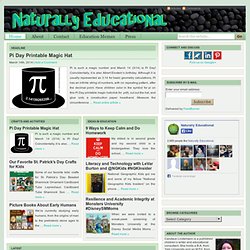 Pi is such a magic number and March 14 (3/14) is Pi Day! Coincidentally, it is also Albert Einstein's birthday. Although it is usually represented as 3.14 for basic geometry calculations, Pi has an infinite string of numbers, with no repeating pattern, after the decimal point. Have children color in the symbol for pi on this Pi Day printable magic hat(click for .pdf), cut out the hat, and glue onto a construction paper headband. Measure the circumference … Read entire article »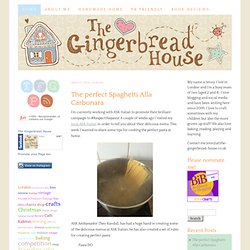 the gingerbread house
Dyeing eggs for Easter I know my children don't have a clue about Easter but that hasn't stopped us enjoying some Easter crafting. Yesterday we tried our hands at decorating and dyeing hard boiled eggs. This was actually quite quick so the children were able to follow the whole process. I thought I'd share it here as my two really enjoyed it.
thinlyspread.co.uk | Stretched but not snapped
How to Make Easter Bonnets I do love an Easter parade, I like all the pagan undertones as the bonnets with their bunnies and chicks and all the symbols of new life, fertility and abundance adorn heads across the land! We make Easter bonnets...
Jennifer's Little World blog - Parenting, craft and travel
Recently launched in the UK, the Nomad ChargeCard and the Nomad ChargeKey are the world's smallest and most portable USB charging cables. Available as a lightning cable (to charge the iPhone 5/5s/5c, Lightning iPad and iPad Mini) or a Micro USB Cable (to charge many other types of smartphone, including Android and Windows) they are a great way to ensure that you always have a way to keep your devices charged. I was sent a Nomad ChargeCard and a Nomad ChargeKey to review on the blog.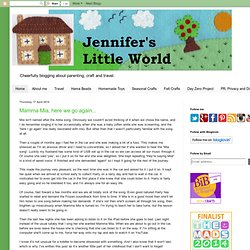 Carrots Are Orange — Dedicated to Developing Little Spirits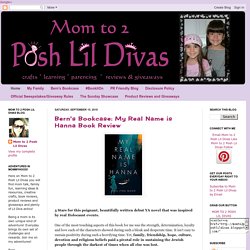 Aluminum foil is such a fun canvas on which to create art. In the past we have explored it using frozen paint and my personal favorite - sharpie markers! We had such a blast with it that I wasn't at all surprised when the Lil Divas suggested we do it again but this time to create spectacular Aluminum Foil Easter Egg Art. This was an easy, no prep activity for us which is my main requirement these days. We had all the materials needed on hand (aluminum foil, sharpies and scissors) and within a few minutes the Lil Divas were settled on our table, creating fabulous Foil Egg Art.
Mom to 2 Posh Lil Divas
Days to World Animal Day [tminus t="2012-10-04" style="carbonlite"]World Animal Day[/tminus] Day-7 This is going to be a quick one.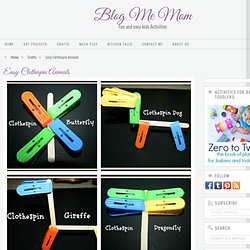 Easy clothespin animals
Learning to tell time is very exciting for young children. While they most likely can read a digital clock and announce the time they see by simply calling out the numbers, they may not really know what those numbers mean. By learning to read an analog clock, children gain an understanding of the relationship between minutes and hours.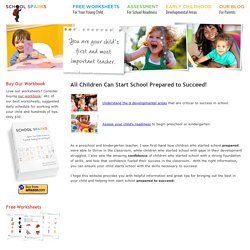 photo gallery - play sets/44258 Indian Family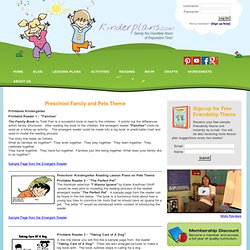 Kindergarten-Preschool Family and Pets Theme
Printables Kindergarten Printable Reader 1 - "Families" The Family Book by Todd Parr is a wonderful book to read to the children. It points out the differences within family structures.
To review all of the numbers, colors and shapes we learned as we went through our Letter of the Week curriculum, I made some fun review games! Note: If you missed it, don't forget to do the A-Z Review also! Number Review: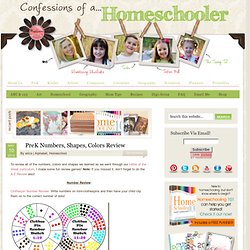 Ideas for improving fine motor skills in Pre-K/ Preschool children. Find more fine motor ideas on the Fine Motor Skills Resource Page Fine Motor Skills is one of the main areas I sought to improve in my Pre-K classroom this past year (2008-09).
*~> The Virtual Vine <~*
Welcome to The Virtual Vine! The Virtual Vine is a resource for Early Childhood teachers, preschool through second grade. It's a site filled with ideas and activities to make teaching and learning FUN through themes and units, displays, literacy and math connections.
An invitation to play tutorial
I have been seeing a lot of "Invitations to Play" across the web and on Facebook. The photos being shared are beautiful and inspiring to look through but there are many things to consider when creating an invitation to play… Defining the Invitation to Play Simply stated, an invitation to play is arranging the environment so that it "invites" young children to come to an area in your classroom to explore, investigate, question, examine, participate, touch, feel, and manipulate through as much independent play as the materials can possibly allow. An invitation to play should… Capture a child's curiosityBe intentional in design and purposeBe appropriate for the age of children you teachInclude materials that the children can freely touch, manipulate, and explore
Welcome to our website where we share our learning about developing children's mathematical graphics in the Early Years. Visit the About section to find out all about our learning network and how it has led to the development of this site. Do you need help planning PSRN in the Early Years and in particular, developing children's mathematical mark making?
Early Years Maths
It's hot… so hot… When it's hot, or even when it's not, one of my standby, easy and fun sensory activities is ice play. The only thing you need for this activity is a little forward thinking, some containers, some water, and some fun things to freeze into ice blocks.
picklebums.com —
creative play, art, craft, preschooler, toddler, cooking, early learning experiences, books, christian
Ladybug's Teacher Files
Bookmarks for Bookworms — Simple Kids
dschurma Shop - baby-birds-preschool-pack | Teachers Notebook
Mommy Lessons 101: Five Little Shamrocks -- Free Printables
Play Create Explore: Busy Bags
Back to School
Modern DIY supplies coming to Target
Toddler Approved!
My Creative Family
Bunny Hand Puppets