Preschool
Make an apple tree the toddler way
Naturally Educational: Lesson Plans, Activities, and Crafts for Early Childhood Education
the gingerbread house
thinlyspread.co.uk | Stretched but not snapped
Jennifer's Little World blog - Parenting, craft and travel
Carrots Are Orange — Dedicated to Developing Little Spirits
Mom to 2 Posh Lil Divas
Easy clothespin animals
photo gallery - play sets/44258 Indian Family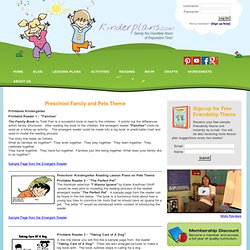 Kindergarten-Preschool Family and Pets Theme
Printables Kindergarten
PreKinders: Website for Pre-K & Preschool Teachers
To review all of the numbers, colors and shapes we learned as we went through our Letter of the Week curriculum , I made some fun review games! Note: If you missed it, don't forget to do the A-Z Review also! Number Review :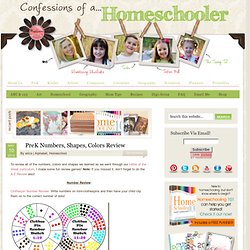 Ideas for improving fine motor skills in Pre-K/ Preschool children. Find more fine motor ideas on the Fine Motor Skills Resource Page Fine Motor Skills is one of the main areas I sought to improve in my Pre-K classroom this past year (2008-09).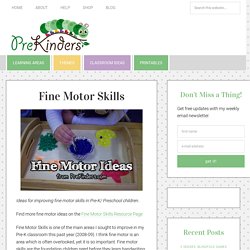 *~> The Virtual Vine <~*
An invitation to play tutorial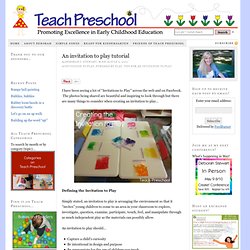 I have been seeing a lot of "Invitations to Play" across the web and on Facebook. The photos being shared are beautiful and inspiring to look through but there are many things to consider when creating an invitation to play… Defining the Invitation to Play Simply stated, an invitation to play is arranging the environment so that it "invites" young children to come to an area in your classroom to explore, investigate, question, examine, participate, touch, feel, and manipulate through as much independent play as the materials can possibly allow. An invitation to play should… Capture a child's curiosity Be intentional in design and purpose Be appropriate for the age of children you teach Include materials that the children can freely touch, manipulate, and explore
Early Years Maths
picklebums.com —
creative play, art, craft, preschooler, toddler, cooking, early learning experiences, books, christian
Ladybug's Teacher Files
Bookmarks for Bookworms — Simple Kids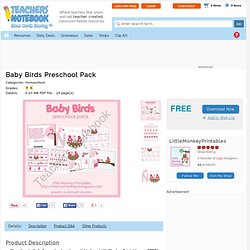 dschurma Shop - baby-birds-preschool-pack | Teachers Notebook
Thanks for stopping by and taking a peek at Little Monkey Printables. As a former second grade teacher, I love helping children learn! Now I'm at home with my little ones (4, 3, and 1), and we're having fun learning together at home! I'm all for hands-on activities, and we do plenty in our house. It's always nice, though, to have some structured work, especially for my 4 year old.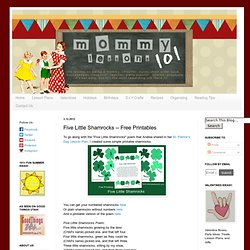 Mommy Lessons 101: Five Little Shamrocks -- Free Printables
To go along with the "Five Little Shamrocks" poem that Andrea shared in her St. Patrick's Day Lesson Plan , I created some simple printable shamrocks. You can get your numbered shamrocks here Or plain shamrocks without numbers here And a printable version of the poem here Five Little Shamrocks Poem: Five little shamrocks growing by the door.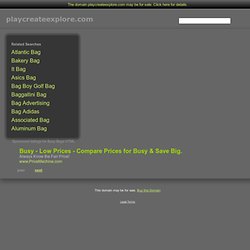 Play Create Explore: Busy Bags
I have a busy bag collection. A busy bag is a simple, age appropriate activity that can be pulled out and easily assembled and completed by your child for when you just need a few minutes of uniterrupted time but don't want to stick them in front of the TV! For more information, click HERE On this page I'll be posting the busy bags that I make for L. Web Weaving Clothesline Busy Bag
I've loved looking at all of your beautiful and creative rooms these last few weeks! After working like an animal in my classroom this past week (in between all of those meetings/trainings of course) my room is complete. I've carried over the apple theme that I started last year. That made things a lot easier- although it didn't stop me from buying an insane amount of new things!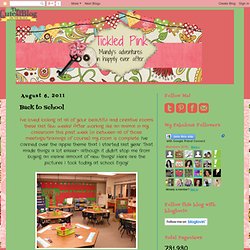 Back to School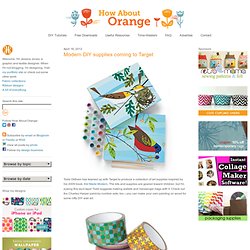 Todd Oldham has teamed up with Target to produce a collection of art supplies inspired by his 2009 book, Kid Made Modern . The kits and supplies are geared toward children, but I'm eyeing this duct tape! Todd suggests making wallets and messenger bags with it. Check out the Charley Harper paint-by-number sets, too—you can make your own painting on wood for some nifty DIY wall art.
Modern DIY supplies coming to Target
Toddler Approved!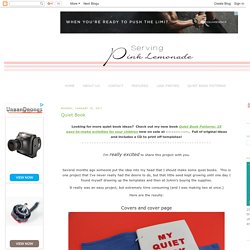 Quiet Book
I'm really excited to share this project with you. Several months ago someone put the idea into my head that I should make some quiet books. This is one project that I've never really had the desire to do, but that little seed kept growing until one day I found myself drawing up the templates and then at JoAnn's buying the supplies.
My Creative Family
As I was making these sweet bunny hand puppets I realized that my attachment to them had grown beyond my usual care and attention and had blossomed into full blown love! They just seem to have such personalities! I found myself getting a little carried away, actually naming each one and fabricating little story lines about them. (Maybe I need to get out more!) But enough about my eccentricities, let me introduce to you (clockwise from top left): Daffodil, Daisy, Marigold, Peppermint, Pansy, Petunia, Carrot, and Sunny, my Bunny Hand Puppets!
Bunny Hand Puppets
This set of 20 sea creature felt-covered magnets makes a great gift for a child or an adult who loves the ocean. The tiny magnet inside each creature is super powerful which makes this a really useful present, a whimsical take on a bulletin board. Materials To make 20 magnets: Wool Felt Bundle in Dahlia 1 piece of Wool Felt in each of the following colors: Black, Ecru, Lime, and Turquoise Embroidery Thread in colors to match the felt Two 10-piece packages of 8mm Super Magnets (20 magnets total). You can find them here (they are the third item from the top, all the way to the left) One 15 x 15-inch light blue magnetic board available online here Download and print Felt Aquarium Magnets Template here