Social Networks
Lee Henderson / Pinterest. Home on DailyBooth.
Multi Platform
Random. Easily Publish Gorgeous Magazines. Find a community : "games design" - Stribe. On stribe.com you can discover communities and websites involved in your line of business.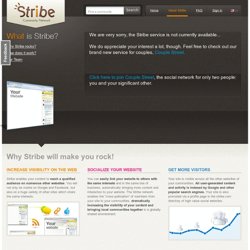 Once you have joined or created a community, we provide you with a single line of Javascript code that you can copy and paste into your web pages to embed this community into your own website and become a part of it. Your visitors will begin to see the community activity taking place and will participate in it without leaving your website. Language Learning with Livemocha | Learn a Language Online - Free! My Opera - Latest news, blogs & photos. Lee Henderson. Meet new people. Make new friends. Share your interests and passions at LifeKnot. Ockin on deviantART. DeviantART: where ART meets application!
Casting Calls, Art & Photography Contest & Dance Auditions, Online Talent Search, Portfolio for New Artists, Models, Music Marketing, Tips on How To Become Famous. Market Yourself to Casting Directors Don't have an agent, but still want to get into major auditions?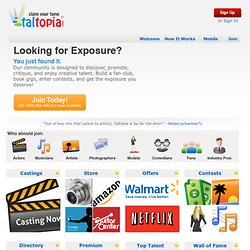 It's possible to get into those auditions without an agent if you market yourself directly to casting directors. The best way to market to a casting director is by regular mail. If you can get the attention of the person who opens the mail, a casting director just may call you to come in for an audition. Facebook.
Empire Avenue. Twitter / Home. Reddit: the front page of the internet. Front page. Your Likes. Dashboard.
---