Social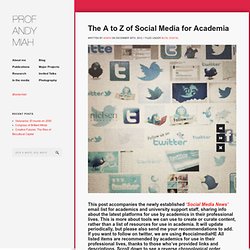 This post accompanies the newly established 'Social Media News' email list for academics and university support staff, sharing info about the latest platforms for use by academics in their professional lives. This is more about tools we can use to create or curate content, rather than a list of resources for use in academia. It will update periodically, but please also send me your recommendations to add. If you want to follow on twitter, we are using #socialmediaHE All listed items are recommended by academics for use in their professional lives, thanks to those who've provided links and descriptions.
Social media, impact factors and how to get writing: Our most popular blogs of the year | Impact of Social Sciences
What were the top papers of 2012 on social media? : Nature News Blog
The best of @e1evation for the week ending 7/21/2012 (with images, tweet) · e1evation
Getting Started: Social Media for Academics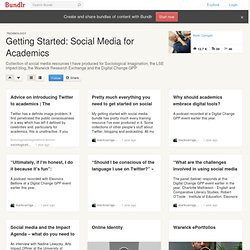 Twitter has a definite image problem. It first penetrated the public consciousness in a way which has left it defined by celebrities and, particularly for academics, this is unattractive. If you want to persuade academics to use it, it's important to illustrate that the academic twittersphere (I hate the term but have yet to come across a better one) has some quite specific characteristics.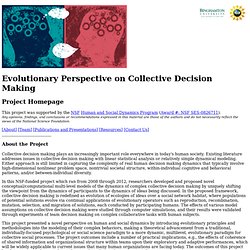 This project was supported by the NSF Human and Social Dynamics Program ( Award #: NSF SES-0826711 ). Any opinions, findings, and conclusions or recommendations expressed in this material are those of the authors and do not necessarily reflect the views of the National Science Foundation. [About] [Team] [Publications and Presentations] [Resources] [Contact Us]
Evolutionary Perspective on Collective Decision Making: Project Homepage
Video: 140 characters to success: The new frontier of #partnering strategy @work « partneringNEWS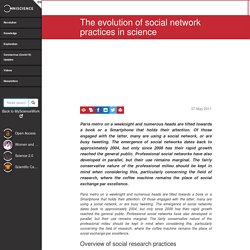 The evolution of social network practices in science
Paris metro on a weeknight and numerous heads are tilted towards a book or a Smartphone that holds their attention. Of those engaged with the latter, many are using a social network, or are busy tweeting. The emergence of social networks dates back to approximately 2004, but only since 2008 has their rapid growth reached the general public. Professional social networks have also developed in parallel, but their use remains marginal.
Time to tweet : Naturejobs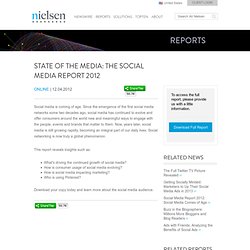 Social media is coming of age. Since the emergence of the first social media networks some two decades ago, social media has continued to evolve and offer consumers around the world new and meaningful ways to engage with the people, events and brands that matter to them. Now, years later, social media is still growing rapidly, becoming an integral part of our daily lives. Social networking is now truly a global phenomenon.
The "social" side of digital science
Digital Toolbox
My Opera - Latest news, blogs & photos