Libraries
Short stories at east of the web. Banned Books Online. Presents Welcome to this special exhibit of books that have been the objects of censorship or censorship attempts.
The books featured here, ranging from Ulysses to Little Red Riding Hood, have been selected from the indexes of The Online Books Page. (See that page for more than a million more online books!) This page is a work in progress, and more works may be added to this page over time. 100 Best Novels « Modern Library. Mental_floss Blog » What 10 Classic Books Were Almost Called. Remember when your high school summer reading list included Atticus , Fiesta , and The Last Man in Europe ?
You will once you see what these books were renamed before they hit bookshelves. 1. F. Scott Fitzgerald went through quite a few titles for his most well-known book before deciding on The Great Gatsby . Part I: England Your England. As I write, highly civilized human beings are flying overhead, trying to kill me.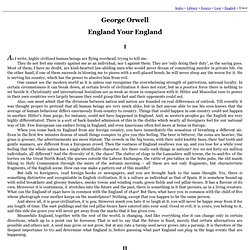 They do not feel any enmity against me as an individual, nor I against them. They are 'only doing their duty', as the saying goes. Most of them, I have no doubt, are kind-hearted law-abiding men who would never dream of committing murder in private life. Fairy Tales Collection. The Online Literature Library. Bookyards.com » The Library To The World.
Free News, Magazines, Newspapers, Journals, Reference Articles and Classic Books - Free Online Library. 100 Places to Find Your Next Great Read. By Caitlin Smith Whether you're into classics, mysteries, or a fluffy romance novel, it can sometimes be a challenge to find new books to fall in love with.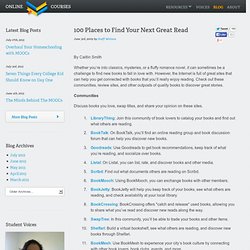 However, the Internet is full of great sites that can help you get connected with books that you'll really enjoy reading. Marquis de Sade Electronic Library. Free etexts by the one and only Marquis de Sade.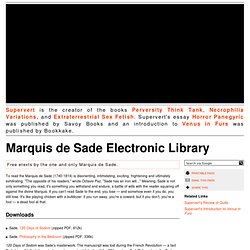 To read the Marquis de Sade (1740-1814) is disorienting, intimidating, exciting, frightening and ultimately exhilirating. "The opposite of his readers," wrote Octavio Paz, "Sade has an iron will... " Meaning, Sade is not only something you read, it's something you withstand and endure, a battle of wills with the reader squaring off against the divine Marquis. If you can't read Sade to the end, you lose — and somehow even if you do, you still lose. It's like playing chicken with a bulldozer: if you run away, you're a coward, but if you don't, you're a fool — a dead fool at that.
---