Foods!
Chakchouka (Shakshouka) Recipe
Arabic Pita Bread
arabic pita bread recipe
Labneh with Za'atar
It's sunny today! It's bright, beautiful, dare I say it…waaarrrmm (when you stand in direct sunlight for at least five minutes). So, Ameen and I have decided to seize the day (well, it could only be a few hours knowing our weather patterns) and clean the gutters!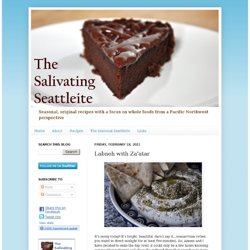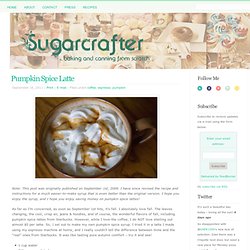 Pumpkin Spice Latte
September 16, 2011 | Print | E-mail | Filed under coffee , espresso , pumpkin Note: This post was originally published on September 1st, 2009. I have since revised the recipe and instructions for a much easier-to-make syrup that is even better than the original version.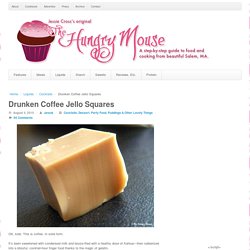 OK, kids: This is coffee.
Syrian Za'atar Recipe
Syrian Za'atar Notes
fried eggplant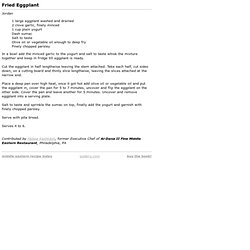 In a bowl add the minced garlic to the yogurt and salt to taste whisk the mixture together and keep in fridge till eggplant is ready.
Today's dish is simply deep fried cauliflower. Deep frying vegetables is a unique method of Levantine cuisine ... I wrote the last sentence and immediately realised that it is not that unique.
One Hundred and One Mezze: 17. Fried Cauliflower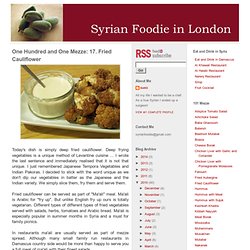 Sprinkle both sides of eggplant slices with salt; then place in a bowl and cover with water.
Vegetarian + Vegan Recipes - Vegetables - Eggplant - Bathinjan Maqlee Falasteeni (Palestinian Fried Eggplant)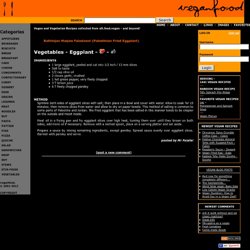 Tabbouleh
Much of what gets called Tabbouleh bears little resemblance to what Lebanese Tabbouleh is. When I moved to France and began eating in traditional Lebanese restaurants, I was served bowls heaped with fresh herbs, a few tomato chunks, and very, very few bits of bulgur (cracked wheat.)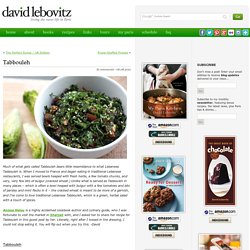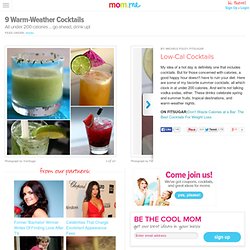 9 Warm-Weather Cocktails - Low-Cal Cocktails
My idea of a hot day is definitely one that includes cocktails. But for those concerned with calories, a good happy hour doesn't have to ruin your diet. Here are some of my favorite summer cocktails, all which clock in at under 200 calories. And we're not talking vodka sodas, either.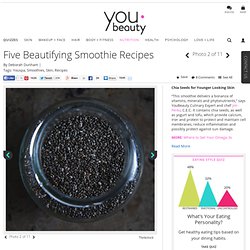 Getting a gorgeous, glowing complexion doesn't only mean slathering on sunblock or the latest antioxidant serum (though that helps, too). It also means paying attention to your diet. By tossing nutrient-rich fruits, vegetables and other goodies into your blender, you can nab more beautifying foods that will nourish your skin from the inside, out.
Smoothie Recipes for Skin – YouBeauty.com
Hi, my name is Himani and I'm a sugar addict. But the only thing that holds me back from devouring a sinful concoction is if it looks super cute. You know… because cute desserts deserve to live longer than the ugly ones (I'm going to some sort of sugar-y hell for that one).
Ingredients
Veggie Burgers with Mushrooms Recipe : Food Network Kitchens
Ingredients 1 bone-in chicken breast (about 1 1/2 pounds), halved 2 medium carrots, sliced diagonally into 2-inch pieces 1 bay leaf Kosher salt 6 cups low-sodium chicken broth 2 tablespoons unsalted butter 1 large onion, very thinly sliced 1 teaspoon sugar 1 1/2 teaspoons Madras curry powder 1/3 cup jasmine rice 3 tablespoons finely chopped fresh mint 3 tablespoons chopped fresh dill 1 lemon, cut into wedges
Ingredients 2 teaspoons canola oil 1/2 small red onion, diced (1 cup) 1 red bell pepper, seeded and diced 1 cup drained, rinsed canned black beans, preferably low-sodium 1/4 teaspoon chili flakes Salt and freshly ground black pepper 4 eggs and 4 egg whites 1/3 cup (about 1 1/2-ounce) shredded pepper Jack cheese Cooking spray 4 (10-inch) whole-wheat tortillas (burrito-size) 1/4 cup reduced-fat sour cream 1/4 cup salsa 1 large tomato, (4 ounces) seeded and diced 1 small avocado (4 ounces), cubed Hot sauce
Breakfast Burrito Recipe : Ellie Krieger : Recipes
Creme Brulee Recipe : Alton Brown : Recipes
Ingredients 1 quart heavy cream 1 vanilla bean, split and scraped 1 cup vanilla sugar, divided 6 large egg yolks 2 quarts hot water Directions
me gusta / Must try this!
Spinach Dip
Peanut Butter Breakfasts
Simply Prepared Quick & Easy Recipes, Menus & Meals on Epi