Foods!
Ginger and Milk Drink recipe | Lebanese Recipes | by Tarla Dalal | Tarladalal.com | #22613
arabic pita bread recipe
Syrian Za'atar Recipe
Syrian Za'atar Notes My brother is the best cook in the family, and used to travel on business. After his supply of Za'atar (he got on his travels) ran out, I found this recipe and made some for him. He was highly complimentary, claiming it was better than what he had previously.
Chakchouka (Shakshouka) Recipe
fried eggplant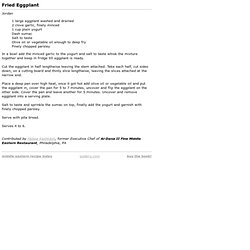 Jordan 1 large eggplant washed and drained 2 clove garlic, finely minced 1 cup plain yogurt
Tabbouleh
Much of what gets called Tabbouleh bears little resemblance to what Lebanese Tabbouleh is. When I moved to France and began eating in traditional Lebanese restaurants, I was served bowls heaped with fresh herbs, a few tomato chunks, and very, very few bits of bulgur (cracked wheat.) Unlike what is served as Tabbouleh in many places – which is often a bowl heaped with bulgur with a few tomatoes and bits of parsley and mint flecks in it – the cracked wheat is meant to be more of a garnish, and I've come to love traditional Lebanese Tabbouleh, which is a green, herbal salad with a touch of spices. Anissa Helou is a highly acclaimed cookbook author and culinary guide, who I was fortunate to visit the market in Sharjah with, and I asked her to share her recipe for Tabbouleh in this guest post by her. Literally, right after I tossed in the dressing, I could not stop eating it. You will flip out when you try this.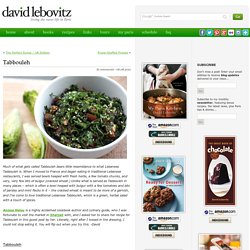 Today's dish is simply deep fried cauliflower. Deep frying vegetables is a unique method of Levantine cuisine ... I wrote the last sentence and immediately realised that it is not that unique.
One Hundred and One Mezze: 17. Fried Cauliflower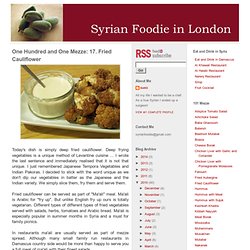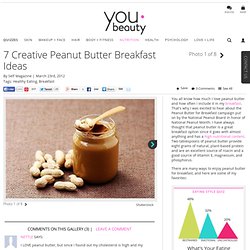 You all know how much I love peanut butter and how often I include it in my breakfast. That's why I was excited to hear about the Peanut Butter for Breakfast campaign put on by the National Peanut Board in honor of National Peanut Month. I have always thought that peanut butter is a great breakfast option since it goes with almost anything and has a high nutritional content.
Peanut Butter Breakfasts
Directions Heat the canola oil in a large nonstick skillet over a medium-high heat. Cook the onions and peppers until onions are softened and peppers are slightly charred, about 8 minutes.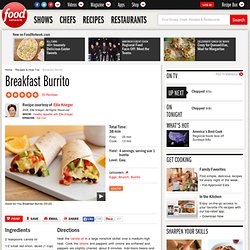 Breakfast Burrito Recipe : Ellie Krieger : Recipes
Simply Prepared Quick & Easy Recipes, Menus & Meals on Epi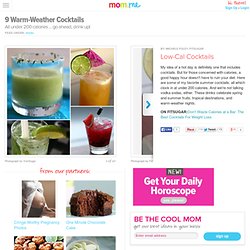 9 Warm-Weather Cocktails - Low-Cal Cocktails
My idea of a hot day is definitely one that includes cocktails. But for those concerned with calories, a good happy hour doesn't have to ruin your diet. Here are some of my favorite summer cocktails, all which clock in at under 200 calories.
me gusta / Must try this!
Drunken Coffee Jello Squares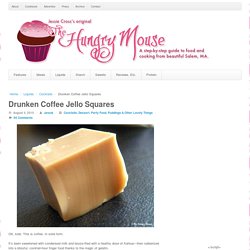 OK, kids: This is coffee. In solid form. It's been sweetened with condensed milk and booze-ified with a healthy dose of Kahlua—then rubberized into a blissful, cocktail-hour finger food thanks to the magic of gelatin. (If you know me, you know how much I love coffee, so you can imagine how excited I was when I came across the recipe.) Now, you have to like Jello, or Jello-like food, for this to work.
Creme Brulee Recipe : Alton Brown : Recipes
Directions Preheat the oven to 325 degrees F. Place the cream, vanilla bean and its pulp into a medium saucepan set over medium-high heat and bring to a boil. Remove from the heat, cover and allow to sit for 15 minutes. Remove the vanilla bean and reserve for another use.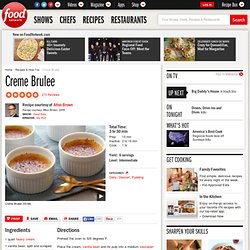 No Bake Granola Cakes
Big changes are happening over on my workouts page and even bigger changes are happening with my marathon training plans. February has been a challenge for me, I was losing muscle, motivation, and forgetting why I began running in the first place. My passion was slowly exiting. A couple days ago I decided I needed to switch things up, I needed to ask for help. [Something I dislike doing, but need to realize that it's okay to get a hand with things and let people in]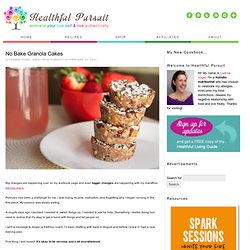 Getting a gorgeous, glowing complexion doesn't only mean slathering on sunblock or the latest antioxidant serum (though that helps, too). It also means paying attention to your diet. By tossing nutrient-rich fruits, vegetables and other goodies into your blender, you can nab more beautifying foods that will nourish your skin from the inside, out.
Smoothie Recipes for Skin – YouBeauty.com
Hi, my name is Himani and I'm a sugar addict. But the only thing that holds me back from devouring a sinful concoction is if it looks super cute. You know… because cute desserts deserve to live longer than the ugly ones (I'm going to some sort of sugar-y hell for that one).
Desserts That Are Almost Too Cute To Eat « Pretty Please Us Blog: Your guide to fashion, beauty, style & everything else in between.
There's a very good reason why it's called the Happy Shake! Though this creamy blend tastes like a delicious dessert, it's chock-full of spinach, berries and super happy foods, like raw chocolate and maca. The Happy Shake is a meal replacement. It's a key place to start when trying to lose excess weight, increase energy levels, and get healthier and happier. Before you get started, keep in mind the Happy Shake is more about technique than anything else.
Stacy Stowers
Veggie Burgers with Mushrooms Recipe : Food Network Kitchens
Directions Combine the chicken, carrots, bay leaf and a pinch of salt in a medium saucepan. Add 3 cups broth and bring to a boil; immediately reduce the heat to low, cover and cook until the chicken is just firm, about 20 minutes.
Curried Chicken and Rice Soup Recipe : Food Network Kitchens
Spinach Dip Photo Credit Getty Images
Spinach Dip
How To Make Barista-Worthy Coffee At Home
12 Easy ways to prepare Yummy Coffee | Vijay For Victory
Homemade Coffee Creamer
Pumpkin Spice Latte