Foods!
Ginger and Milk Drink recipe | Lebanese Recipes | by Tarla Dalal | Tarladalal.com | #22613
arabic pita bread recipe
Labneh with Za'atar
It's sunny today! It's bright, beautiful, dare I say it…waaarrrmm (when you stand in direct sunlight for at least five minutes). So, Ameen and I have decided to seize the day (well, it could only be a few hours knowing our weather patterns) and clean the gutters!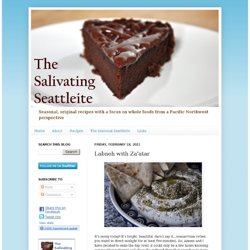 Syrian Za'atar Recipe
Syrian Za'atar Notes
Chakchouka (Shakshouka) Recipe
fried eggplant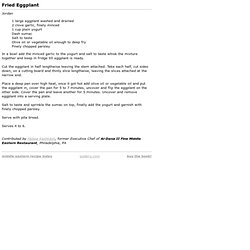 Jordan
Sprinkle both sides of eggplant slices with salt; then place in a bowl and cover with water.
Vegetarian + Vegan Recipes - Vegetables - Eggplant - Bathinjan Maqlee Falasteeni (Palestinian Fried Eggplant)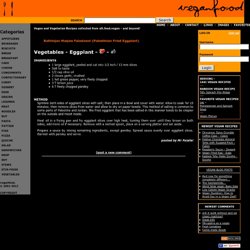 Tabbouleh
Much of what gets called Tabbouleh bears little resemblance to what Lebanese Tabbouleh is. When I moved to France and began eating in traditional Lebanese restaurants, I was served bowls heaped with fresh herbs, a few tomato chunks, and very, very few bits of bulgur (cracked wheat.)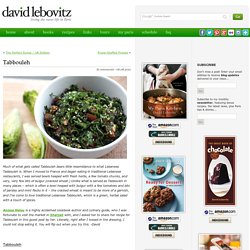 Today's dish is simply deep fried cauliflower. Deep frying vegetables is a unique method of Levantine cuisine ... I wrote the last sentence and immediately realised that it is not that unique.
One Hundred and One Mezze: 17. Fried Cauliflower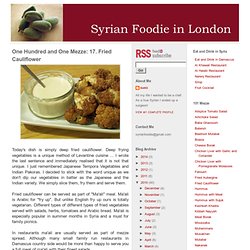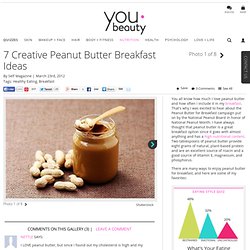 You all know how much I love peanut butter and how often I include it in my breakfast. That's why I was excited to hear about the Peanut Butter for Breakfast campaign put on by the National Peanut Board in honor of National Peanut Month. I have always thought that peanut butter is a great breakfast option since it goes with almost anything and has a high nutritional content.
Peanut Butter Breakfasts
Ingredients 2 teaspoons canola oil 1/2 small red onion, diced (1 cup) 1 red bell pepper, seeded and diced 1 cup drained, rinsed canned black beans, preferably low-sodium 1/4 teaspoon chili flakes Salt and freshly ground black pepper 4 eggs and 4 egg whites 1/3 cup (about 1 1/2-ounce) shredded pepper Jack cheese Cooking spray 4 (10-inch) whole-wheat tortillas (burrito-size) 1/4 cup reduced-fat sour cream 1/4 cup salsa 1 large tomato, (4 ounces) seeded and diced 1 small avocado (4 ounces), cubed Hot sauce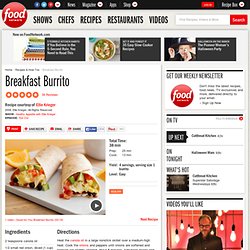 Breakfast Burrito Recipe : Ellie Krieger : Recipes
Simply Prepared Quick & Easy Recipes, Menus & Meals on Epi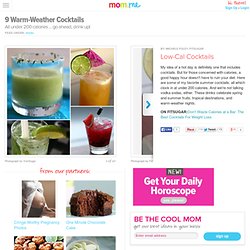 9 Warm-Weather Cocktails - Low-Cal Cocktails
My idea of a hot day is definitely one that includes cocktails. But for those concerned with calories, a good happy hour doesn't have to ruin your diet. Here are some of my favorite summer cocktails, all which clock in at under 200 calories.
me gusta / Must try this!
Drunken Coffee Jello Squares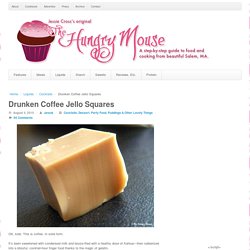 OK, kids: This is coffee.
Creme Brulee Recipe : Alton Brown : Recipes
Ingredients 1 quart heavy cream 1 vanilla bean, split and scraped 1 cup vanilla sugar, divided 6 large egg yolks 2 quarts hot water Directions
No Bake Granola Cakes
Big changes are happening over on my workouts page and even bigger changes are happening with my marathon training plans.
Getting a gorgeous, glowing complexion doesn't only mean slathering on sunblock or the latest antioxidant serum (though that helps, too). It also means paying attention to your diet. By tossing nutrient-rich fruits, vegetables and other goodies into your blender, you can nab more beautifying foods that will nourish your skin from the inside, out.
Smoothie Recipes for Skin – YouBeauty.com
Hi, my name is Himani and I'm a sugar addict. But the only thing that holds me back from devouring a sinful concoction is if it looks super cute. You know… because cute desserts deserve to live longer than the ugly ones (I'm going to some sort of sugar-y hell for that one).
Desserts That Are Almost Too Cute To Eat « Pretty Please Us Blog: Your guide to fashion, beauty, style & everything else in between.
Step # 1 Liquid Base. Melody starts with 1/2 cup water.
Stacy Stowers
Veggie Burgers with Mushrooms Recipe : Food Network Kitchens
Curried Chicken and Rice Soup Recipe : Food Network Kitchens
Spinach Dip
How To Make Barista-Worthy Coffee At Home
12 Easy ways to prepare Yummy Coffee | Vijay For Victory
Homemade Coffee Creamer
Pumpkin Spice Latte