Foods!
Paleo Table - Paleo Candied Pecans. I first had this yummy treat at a book club meeting when my non-paleo friend, Elaine, very thoughtfully researched and made this recipe.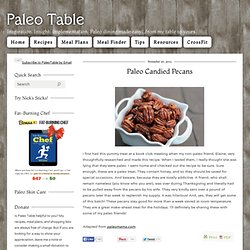 When I tasted them, I really thought she was lying that they were paleo. I went home and checked out the recipe to be sure. Sure enough, these are a paleo treat. They contain honey, and so they should be saved for special occasions. And beware, because they are totally addictive. Paleo Cinnamon Coconut Breakfast Bowl | The Lean Clean Eating Machine. I have long been intrigued by the quinoa breakfast bowl recipes I have seen on Pinterest, but considering I have been trying to lower the amount of grains in my diet, I never got around to trying one out.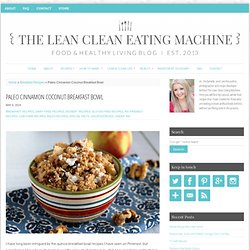 As of late, I've been guilty of eating more than I should when it comes to quinoa, millet, buckwheat, etc., so I decided to back off a bit and revert to my standard diet of mainly fruit, veggies and the occasional lean meat for dinner. While I do love a hearty breakfast, I feel so weighed down after a bowl of oatmeal that I almost feel as if I could get back in bed. Obviously, this is not a great way to start the day, so it's a rare occasion where I'll have grains for breakfast, but I can't say that I don't miss the comfort you get from a bowl of oatmeal. I wanted to find a way to get my hearty breakfast fix that wouldn't slow me down, but initially, this was a seemingly impossible feat.
Naked Granola | The Lean Clean Eating Machine. Naked Granola, eh?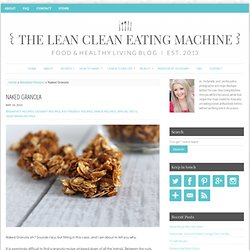 Sounds racy, but fitting in this case, and I am about to tell you why. It is seemingly difficult to find a granola recipe stripped down of all the 'extra's.' Between the nuts, dried fruits, coconut shreds and the like, most granola recipes rack up some shockingly high calorie values that aren't even necessary. Aside from the calories, these extra's also significantly up the fat and sugar content of granola, making this sweet snack more fitting as a dessert, or better yet, a rarity in your diet. Naked Granola | The Lean Clean Eating Machine. Sugar-Free Coconut Vanilla Ice Cream. Did you know that you can make ice cream without sugar?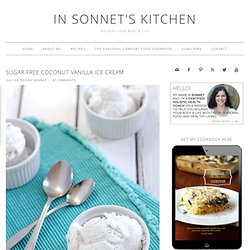 No, I'm not talking about replacing sugar for splenda or using alternative sweeteners (e.g. stevia, maple syrup, etc). I'm talking about ice cream without ANY sugar. Seriously. I've been on an anti-sugar dessert kick. Roasted eggplant and garlic salad | the crankin' kitchen! Roasted eggplant and roasted garlic salad.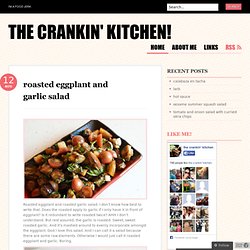 I don't know how best to write that. Does the roasted apply to garlic if I only have it in front of eggplant? Is it redundant to write roasted twice? Cream Of Celery Soup. Cream Of Celery Soup Across Umbria every weekend throughout the summer of fall, there are many sagre or food festivals taking place.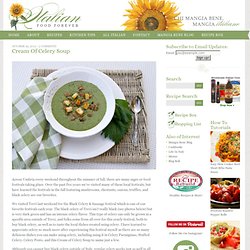 Over the past five years we've visited many of these local festivals, but have learned the festivals in the fall featuring mushrooms, chestnuts, onions, truffles, and black celery are our favorites. Homemade Herbed Paleo Mayonnaise. I'll be honest with you guys.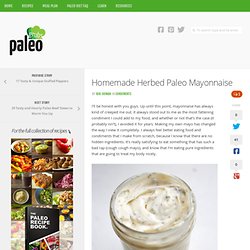 Up until this point, mayonnaise has always kind of creeped me out. It always stood out to me as the most fattening condiment I could add to my food, and whether or not that's the case (it probably isn't), I avoided it for years. Making my own mayo has changed the way I view it completely. I always feel better eating food and condiments that I make from scratch, because I know that there are no hidden ingredients. It's really satisfying to eat something that has such a bad rap (cough cough mayo), and know that I'm eating pure ingredients that are going to treat my body nicely. The Secret to Homemade Mayo? Patience. | theclothesmakethegirl.
Jun 3, 2010 Posted by Melissa Joulwan on Jun 3, 2010 in Dressings/Sauces, Recipes | 355 comments The Secret to Homemade Mayo?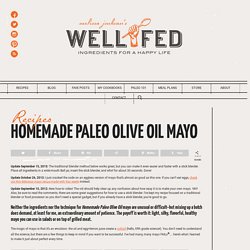 Patience. The Best Homemade Ranch Dressing Ever - Paleo Grubs. Dairy-free ranch dressing.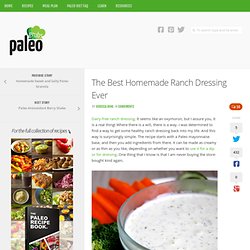 It seems like an oxymoron, but I assure you, it is a real thing! Where there is a will, there is a way. Home in Disarray: Buffalo Chicken Stuffed Bell Peppers. We used to do a weekly trivia game at our local bar.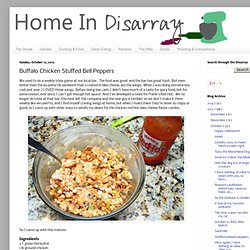 The host was great and the bar has great food. But even better than the $9 prime rib sandwich that's coated in bleu cheese, are the wings. When I was doing extreme low carb last year, I LOVED those wings. Before doing low carb, I didn't have much of a taste for spicy food, but for some reason, ever since, I can't get enough hot sauce! Ginger and Milk Drink recipe | Lebanese Recipes | by Tarla Dalal | Tarladalal.com | #22613. Arabic pita bread recipe. Syrian Za'atar Recipe. Syrian Za'atar Notes My brother is the best cook in the family, and used to travel on business. After his supply of Za'atar (he got on his travels) ran out, I found this recipe and made some for him. He was highly complimentary, claiming it was better than what he had previously. Chakchouka (Shakshouka) Recipe. Fried eggplant. Jordan 1 large eggplant washed and drained 2 clove garlic, finely minced 1 cup plain yogurt. Tabbouleh. Much of what gets called Tabbouleh bears little resemblance to what Lebanese Tabbouleh is.
When I moved to France and began eating in traditional Lebanese restaurants, I was served bowls heaped with fresh herbs, a few tomato chunks, and very, very few bits of bulgur (cracked wheat.) Unlike what is served as Tabbouleh in many places – which is often a bowl heaped with bulgur with a few tomatoes and bits of parsley and mint flecks in it – the cracked wheat is meant to be more of a garnish, and I've come to love traditional Lebanese Tabbouleh, which is a green, herbal salad with a touch of spices.
Anissa Helou is a highly acclaimed cookbook author and culinary guide, who I was fortunate to visit the market in Sharjah with, and I asked her to share her recipe for Tabbouleh in this guest post by her. Literally, right after I tossed in the dressing, I could not stop eating it. You will flip out when you try this. One Hundred and One Mezze: 17. Fried Cauliflower. Today's dish is simply deep fried cauliflower. Deep frying vegetables is a unique method of Levantine cuisine ...
I wrote the last sentence and immediately realised that it is not that unique. Peanut Butter Breakfasts. You all know how much I love peanut butter and how often I include it in my breakfast. That's why I was excited to hear about the Peanut Butter for Breakfast campaign put on by the National Peanut Board in honor of National Peanut Month. I have always thought that peanut butter is a great breakfast option since it goes with almost anything and has a high nutritional content.
Breakfast Burrito Recipe : Ellie Krieger : Recipes. Simply Prepared Quick & Easy Recipes, Menus & Meals on Epi. 9 Warm-Weather Cocktails - Low-Cal Cocktails. Me gusta / Must try this! Drunken Coffee Jello Squares. Creme Brulee Recipe : Alton Brown : Recipes. No Bake Granola Cakes. Smoothie Recipes for Skin.
Desserts That Are Almost Too Cute To Eat « Pretty Please Us Blog: Your guide to fashion, beauty, style & everything else in between. Stacy Stowers. Veggie Burgers with Mushrooms Recipe : Food Network Kitchens. Curried Chicken and Rice Soup Recipe : Food Network Kitchens. Spinach Dip. How To Make Barista-Worthy Coffee At Home. 12 Easy ways to prepare Yummy Coffee | Vijay For Victory. Homemade Coffee Creamer. Pumpkin Spice Latte.
---