Volontariat
SVI
Vous souhaitez découvrir l'envers du décor du festival belge Inc'Rock ? Nous recherchons activement des teamleaders ainsi que des volontaires du 29 avril au 6 mai pour la 10ème édition du festival belge Inc'Rock ! Vos tâches seront les suivantes : Gérer une équipe de bénévoles Monter les stands, les tables, etc.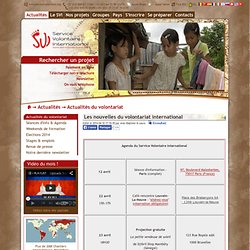 La Guilde Européenne du Raid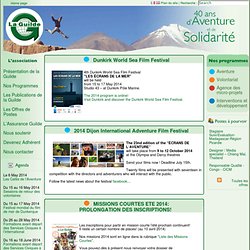 Les inscriptions pour partir en mission courte l'été prochain continuent! Nos missions 2014 sont en ligne dans la rubrique "Liste des Missions Courtes". Vous pouvez-dès à présent nous renvoyer votre dossier de candidature+CV+lettre de motivation. Toutes les démarches de l'inscription sont détaillées dans la rubrique "Inscription 2014". Nous traitons les dossiers par ordre de réception donc plus tôt nous recevons votre dossier, plus vous avez des chances d'obtenir un de vos choix de mission.
Entraide et organisations locales
If you are looking for an opportunity to change the lives of those overseas and to have an experience that will leave you with fond memories, inspiration and the travel bug, let Travellers Worldwide become your guide! With 20 years experience, Travellers Worldwide is a leading international provider of voluntary placements and work experience internships abroad. Whether you are a student, career changer or a retired adventurer you can choose from over 300 volunteer projects in destinations all over the globe and immerse yourself in a fulfilling, worthwhile experience filled with meaning, fun and adventure! You will be assisted in all planning aspects of your chosen international experience with options that may include care and community projects, teaching, sports coaching, work experience, conservation, language and cultural courses, drama, dance, music, and so much more. Come explore Hawaii in a different way!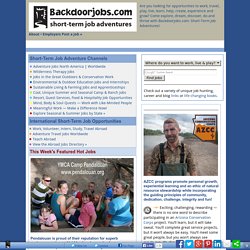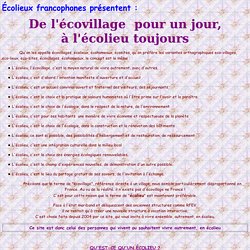 Écolieux francophones présentent : De l'écovillage pour un jour, à l'écolieu toujours Qu'on les appelle écovillages, écolieux, écohameaux, écosites, qu'on préfère les variantes orthographiques eco-villages, eco-lieux, eco-sites, écovillages, écohameaux, le concept est le même : L'écolieu, l'écovillage, c'est le moyen naturel de vivre autrement. avec d'autres.
Paying and Volunteer Farm Jobs Agriventure (International Agricultural Exchange Association), #105, 7710-5th St. SE, Calgary, Alta T2H 2L9, Canada; 403-255-7799; usa@agriventure.com; www.agriventure.com. Farm placements of agricultural trainees for 4-12 months in Scandinavia, France, Germany, and the Netherlands, plus Japan, Australia, and New Zealand. Communicating for Agriculture Exchange Program (CAEP), 112 East Lincoln Ave., Fergus Falls, MN 56538-0677; 218-739-3241, www.caep.org. Work abroad program in a range of countries for people aged 18-30 (some programs vary) with at least two years of practical experience in agriculture, horticulture, or equine husbandry.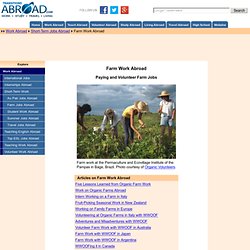 Farm Work Abroad
Free Volunteer Resources Center. - OpenMind Community - Free Volunteer Resources Center.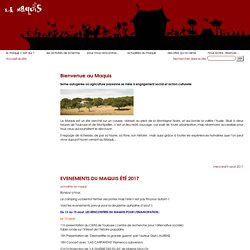 ferme autogérée où agriculture paysanne se mêle à engagement social et action culturelle Le Maquis est un site perché sur un causse, adossé au pied de la Montagne Noire, et qui borde la vallée l'Aude. Situé à deux heures de Toulouse et de Montpellier, c'est un lieu resté sauvage, car isolé de toute urbanisation, mais néanmoins accessible pour tous ceux qui souhaitent le découvrir. Il regorge de richesses, de par sa faune, sa flore, son histoire , mais aussi grâce à toutes les expériences humaines que l'on peut vivre aujourd'hui en venant au Maquis...
My two experiences were very different from each other, but made up a brilliant month of great travelling, and helpXing! - Katie , United Kingdom I think HelpX is great idea. The website is easy to use, and it is helpful to be able to read hosts profiles and references. I've enjoyed my experience as a helper.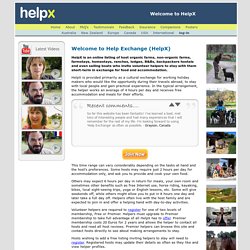 bnt/25-ways-to-earn-money-when-youre-broke-on-the-road/
Volunteer Abroad, Gap Year Travel, TEFL, and Language Courses with Kaya Responsible Travel
Volunteer Abroad – International Volunteer Programs & Work
Bénévole au parc Torres del Paine en Patagonie chilienne AMA Torres del Paine est une ONG créée en 2004 pour la protection de l'environnement au sein du parc national Torres del Paine, au sud du Chili, en Patagonie. Des milliers de voyageurs foulent chaque année les sentiers du parc. … Continuer la lecture écovolontaire auprès des ours andins en Equateur L'association Andean Bear Project mène des recherches pour la protection des ours andins en Equateur, appelés aussi ours à lunettes. Cette espèce d'ours est la plus rare et la plus menacée au monde car victime de la déforestation et de … Continuer la lecture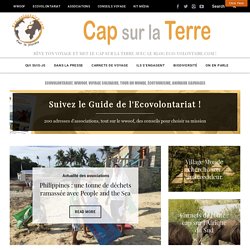 Workaway
Partez à l'étranger, immergez-vous dans d'autres cultures, apprenez une langue, ajoutez de nouvelles cordes à votre arc, faites-vous de nouveaux amis grâce à … Workaway.info. Un site pour voyager, s'entraider et découvrir de nouvelles cultures. Rencontrer d'autres volontaires Workaway Dans votre profil Workaway, vous pouvez cliquer sur une carte pour contacter d'autres volontaires Workaway qui se trouvent à proximité. Une bonne façon de rencontrer des gens dans le même état d'esprit avec qui échanger ! Saviez-vous que Workaway avait créé une fondation ?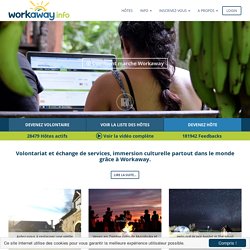 Le Loubatas
permaculture et agroecologie La Ferme biologique du Bec Hellouin un lieu de production, de recherche et de transmission. Plus de 800 variétés de fruits et légumes croissent dans ses jardins, dans un respect absolu de l'environnement, grâce aux concepts de la permaculture.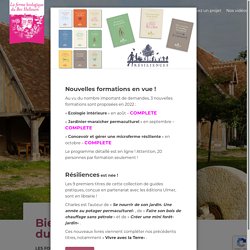 Wwoof