Volontariat
SVI. SVI - II. La Guilde Européenne du Raid. Entraide et organisations locales. Short-Term Job Adventures • Summer Jobs • Seasonal Jobs • Internships • Volunteer Travel • Work Abroad • Life-Changing Experiences.
Index. Farm Work Abroad. Paying and Volunteer Farm Jobs Agriventure (International Agricultural Exchange Association), #105, 7710-5th St.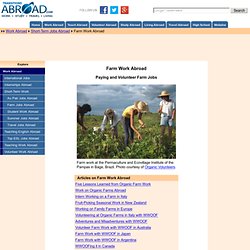 SE, Calgary, Alta T2H 2L9, Canada; 403-255-7799; usa@agriventure.com; www.agriventure.com. Farm placements of agricultural trainees for 4-12 months in Scandinavia, France, Germany, and the Netherlands, plus Japan, Australia, and New Zealand. Communicating for Agriculture Exchange Program (CAEP), 112 East Lincoln Ave., Fergus Falls, MN 56538-0677; 218-739-3241, www.caep.org. Work abroad program in a range of countries for people aged 18-30 (some programs vary) with at least two years of practical experience in agriculture, horticulture, or equine husbandry.
Free Volunteer Resources Center. - OpenMind Community - Free Volunteer Resources Center. Anywork Anywhere - Jobs & Resources For Work & Travel Worldwide. Le Maquis. HelpX. Bnt/25-ways-to-earn-money-when-youre-broke-on-the-road/
Volunteer Abroad, Gap Year Travel, TEFL, and Language Courses with Kaya Responsible Travel. Volunteer Abroad – International Volunteer Programs & Work. Ecovolontariat. SE7EN. Les Amanins. Workaway. Partez à l'étranger, immergez-vous dans d'autres cultures, apprenez une langue, ajoutez de nouvelles cordes à votre arc, faites-vous de nouveaux amis grâce à … Workaway.info.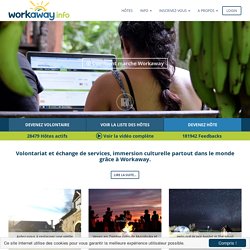 Un site pour voyager, s'entraider et découvrir de nouvelles cultures. Rencontrer d'autres volontaires Workaway Dans votre profil Workaway, vous pouvez cliquer sur une carte pour contacter d'autres volontaires Workaway qui se trouvent à proximité. Une bonne façon de rencontrer des gens dans le même état d'esprit avec qui échanger ! Saviez-vous que Workaway avait créé une fondation ? Volunteer, work, intern, organize, hire and connect. Change the world. Le Loubatas. Ecovolontariat, wwoof, chantier nature. Bénévolat pour l'environ.
Ferme du Bec Hellouin - Eco-cente du Bec Hellouin. Wwoof.
---