Things to Waste Time
Funny Pictures and Funny Videos | Apparently my Cashier is Gay... Knoword | Expand your vocabulary! 10 Fascinating Food Facts. Funny Facebook Status Messages ( Failbooking ) How to go from Japan to China. Random Thoughts of People Our Age. EVIL GUIDE PLAN. Sketch Swap. Multicolr Search Lab - Idée Inc. Exciting Links for Boring Days. Robot For President YouTube - Hitler Banned From iSketch!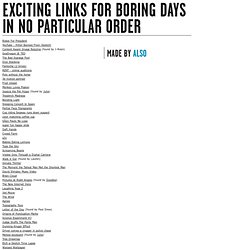 Content Aware Image Resizing (found by J-Roen)SeaDragon @ TEDThe Bad Signage PoolDice StackingFantoche (2 times)RENT - online auditionsPolo without the horse3d motion portraitFruit VesselMonkey Loves PigeonJessica the Pet Hippo (found by Julia)Treadmill MadnessBending LightSleeping Concert In SpainPartial Face TransplantsCop riding Segway runs down suspectcolor matching coffee cupSão Paulo No Logosuper fun happy slide Daft HandsCrowd FarmzZzBabies Eating LemonsType the SkyScreaming BeansVisible Only Through a Digital CameraWalk it Out (found by Lauren)Inmate ThrillerThe Moment the Tallest Man Met the Shortest ManDavid Shrigley Music VideoBrain CloudPictures at Right Angles (found by Doodles)The New Internet HeroLaughing Yoga 2Jed MovieThe WindApneeTypography ToysLetter of the Day (found by Paul Drew)Origins of Punctuation Marks.
Pick the Perp. Things People Said. Ordinary people can be drop dead funny.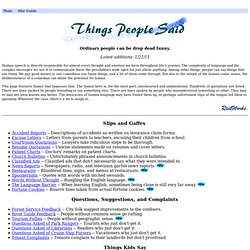 Latest additions: 1/21/11 Human speech is directly responsible for almost every thought and emotion we have throughout life's journey. The complexity of language and the complex messages we use it to communicate leave the possibilities wide open for just about anything.
---