Cool Effects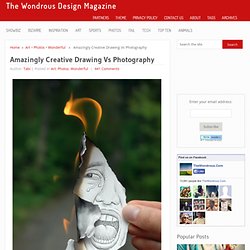 By Tabi , on June 26, 2010 This wonderful work has done by a very talented Belgian painter, illustrator, portraitist, caricaturist and photographer Ben Heine . This creative artist was born in Abidjan, Ivory Coast. He Studied graphic arts and sculpture and I also have a degree in journalism. Lets take a look at some of his awesome works that he calls "Drawing Vs Photography" or "Imagination Vs Reality".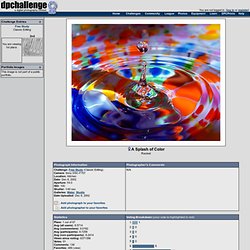 ...from Critique Club... Hi Rackat...ain't I lucky..they assigned your photo to me..ha FIRST IMPRESSION: Horrible shot...what were you thinking????
Shot of a drop shot by Lex Augusteijn
The prettiest woodpile I've ever seen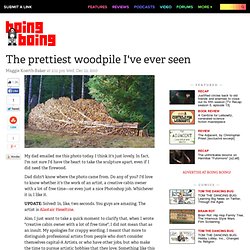 My dad emailed me this photo today. I think it's just lovely. In fact, I'm not sure I'd have the heart to take the sculpture apart, even if I did need the firewood. Dad didn't know where the photo came from.
Make your own path
4 (JPEG Image, 800x533 pixels)
Drawing Vs Photography
Photography is always about capturing the meaning, significance and essence of a moment in time, however, conceptual photography takes this idea to the extreme, by capturing a thought, idea, or message to the viewer and communicating it in a clever and interesting method. We've gathered up 30 awe-inspiring conceptual photographs that will make you take a moment to look a little bit closer and try to decipher the message of each photograph. If you love these photography roundups, check out our other posts: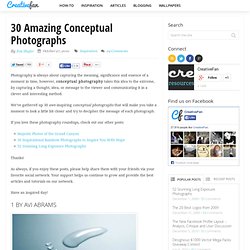 Dan Mountford Double Exposure Photography
Using knives, tweezers and surgical tools, Brian Dettmer carves one page at a time. Nothing inside the out-of-date encyclopedias, medical journals, illustration books, or dictionaries is relocated or implanted, only removed. Dettmer manipulates the pages and spines to form the shape of his sculptures. He also folds, bends, rolls, and stacks multiple books to create completely original sculptural forms. "My work is a collaboration with the existing material and its past creators and the completed pieces expose new relationships of the book's internal elements exactly where they have been since their original conception," he says. "The richness and depth of the book is universally respected yet often undiscovered as the monopoly of the form and relevance of the information fades over time.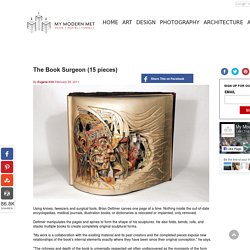 38362_131794853528806_131057713602520_145289_5381797_n
Dark Side of the Loom
Break Stuff! – Illusion - The Most Amazing Creations in Art, Photography, Design, Technology and Video.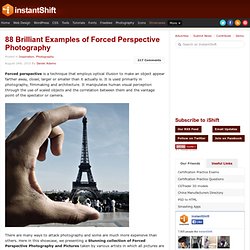 Forced perspective is a technique that employs optical illusion to make an object appear farther away, closer, larger or smaller than it actually is. It is used primarily in photography, filmmaking and architecture. It manipulates human visual perception through the use of scaled objects and the correlation between them and the vantage point of the spectator or camera. There are many ways to attack photography and some are much more expensive than others. Here in this showcase, we presenting a Stunning collection of Forced Perspective Photography and Pictures taken by various artists in which all pictures are linked to the author's pages.