Infos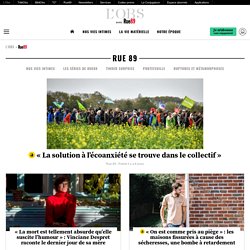 L'info.com , rendez-vous hebdomadaire de Rue89 avec France Info, recevait ce vendredi 8 avril Francis Briest. Commissaire priseur depuis vingt-cinq ans, il préside Artcurial , première maison de vente française. Créée fin 2001 alors que le marché venait de se libéraliser, cette maison dont Serge Dassault est actionnaire est aujourd'hui une rare concurrente française de ses aînées anglo-saxonnes Sotheby's et Christie's, avec des salles de vente à Paris, Monaco, Deauville, Lyon et Marseille. Alors que les ventes réalisées par ces maisons recommencent depuis deux ans à battre des records, à Paris mais aussi à Hong-Kong, Francis Briest répond à nos questions... et défend son activité sur le marché français. L'art, valeur refuge en France en 2011 ?
Vieillot et radin, le marché de l'art à Paris ? Non, mais...
The Zabludowicz Collection is pleased to announce the seven emerging artists who will show new work as part of the 2013 Invites programme. Launched in 2012, Invites is a unique opportunity for artists without commercial gallery representation to produce a solo show in a dedicated project space at Zabludowicz Collection, London. Artists have been selected as a result of extensive studio visits and all shows will run for six weeks.
Art Report - art, exhibition, gallery, museum, fair, for artists, collectors.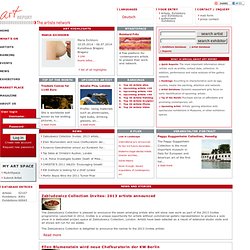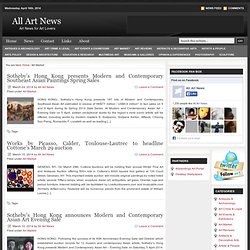 You are here: Home / Art Market LONDON.- Indian and Islamic Works of Art specialist Arthur Millner has joined forces with auction specialists Thomas Del Mar, Matthew Barton, Charles Miller and George Duckett at 25 Blythe Road adding to their diverse range of sales. Arthur will hold two online auctions each year, in April and November.
Art Market | All Art News
FT Arts Extra - Arts culture and events, news and reviews from the Financial times plus videos, podcasts and slideshows
Arts / Visual Arts - Latin American art is on the up
L ast month, hundreds of foreign collectors, museum curators and dealers made the long trip to São Paulo in Brazil to attend the opening of the city's 51st Biennial. Among them were leading art world figures: Sir Nicholas Serota, director of Tate; Catherine Grenier, deputy director of the Pompidou Centre; Hans Ulrich Obrist, roving curator and co-director of the Serpentine Gallery; collector Estrellita Brodsky, who endowed the curator of Latin American art at the Museum of Modern Art in New York. Their presence reflected the rapidly rising level of interest in Latin American art. Tate's Latin American art acquisitions committee is now eight years old; Pompidou is creating a Latin American project; the Lyon Biennale has just named an Argentinean curator for next year's edition.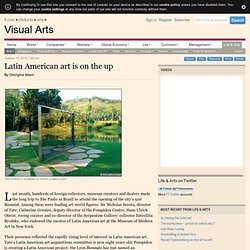 AMR2010-key-findings.pdf (Objet application/pdf)
World Wealth Report 2010 | Wealth Management
Interactive Chart: Cost Of Living Extremely Well Index - Forbes.com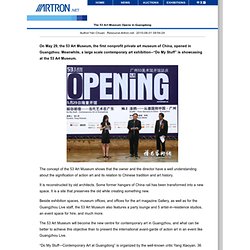 The 53 Art Museum Opens in Guangdong--News-Artron.net
On May 29, the 53 Art Museum, the first nonprofit private art museum of China, opened in Guangzhou. Meanwhile, a large scale contemporary art exhibition--"Do My Stuff" is showcasing at the 53 Art Museum. The concept of the 53 Art Museum shows that the owner and the director have a well understanding about the signification of action art and its relation to Chinese tradition and art history. It is reconstructed by old architects. Some former hangars of China rail has been transformed into a new space.
Amid a global recession, 2010 was the year that mainland Chinese collectors really began to make their presence felt in auction houses around the world. The prices they were willing to pay for prized symbols of their patrimony — not incidentally showing off the super-wealth generated by their country's charging economy — showed what a game-changer this relatively new pool of buyers has become. ARTINFO China looks back on a momentous year in the salerooms to bring you our picks for the top ten lots of the year. 1. The Qianlong-era porcelain vase that sold for $85.9 million at provincial British auction house Bainbridges on November 11, setting a new record for a Chinese work of art at auction BACK STORY: It was a collector's fairy tale come true.
The Ten Priciest Chinese Artworks at Auction in 2010--News-Artron.net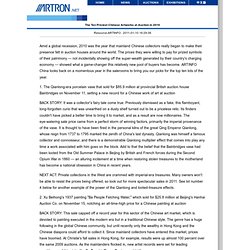 Marc Gauthier
Two North Italian style tables with opposing winged griffins reputedly sold for a fraction of their construction price. Christie's will announce record global sales of £3.2 billion ($5 billion) for 2010 next month. The figure includes both auction sales and private sales, and just nudges ahead of the company's previous high of £3.1 billion in 2007. Sotheby's will announce its figures in dollars, and its website indicates that its global auction sales have almost doubled last years, reaching $4.3 billion, not including private sales.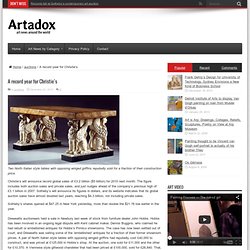 Best Art News Around the World » A record year for Christie's