News
Edmonton Journal. BBC. BBC World Service. BBC America. BBC Middle East. 12 April 2014Last updated at 06:17 ET Egypt in crisis Reports, features and analysis as turmoil continues to grip a divided Egypt Gazans suffering effects of Egypt's drive against Muslim Brotherhood US scholar's wish to be buried in Iran on hold amid media backlash John Simpson: The importance of good, free journalism The untold side of the Camp David summit goes on stage Why it's tough being a woman and a fan in Kuwait Anti-Syrian hostility spawns Lebanon social media backlash Syrian refugees fear long wait in Lebanon's Palestinian camps Iranians unhappy as subsidy cuts bring rise in cost of living.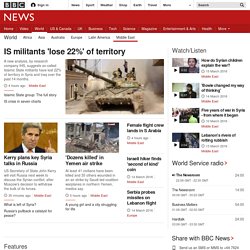 RT. International community must demand that those who are in power in Kiev stop war on their own citizens in south-eastern Ukraine, Russia's UN envoy Vitaly Churkin told the UN Security Council.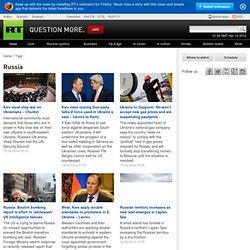 If Kiev fulfils its threat to use force against desperate South-eastern Ukrainians, it will undermine the prospect of a four-sided meeting in Geneva as well as other cooperation on the Ukrainian crisis, Russian FM Sergey Lavrov told his US counterpart. The newly-appointed head of Ukraine's national gas company says the country "sees no reason" to comply with the "political" hike in gas prices imposed by Russia, and will formally stop transferring money to Moscow until the situation is resolved. The US is trying to blame Russia for missed opportunities to prevent the Boston marathon bombing last year, Russian Foreign Ministry said in response to recently released report that accused Moscow of withholding information about the bomber. RT - On Air. RT is a 24/7 English-language news channel.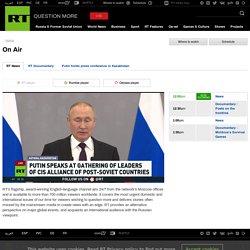 We are set to show you how any story can be another story altogether. Broadcasting over six continents and 100 countries, our coverage focuses on international headlines, giving an innovative angle set to challenge viewers worldwide.The channel is government-funded but shapes its editorial policy free from political and commercial influence. Our dedicated team of news professionals unites young talent and household names in the world of broadcast journalism.We're here to bring you another story.
---