PARANORMAL STUFFS
The Water Page - Water in Animism. Introduction The purpose of this article is to examine the relationship between animism and water.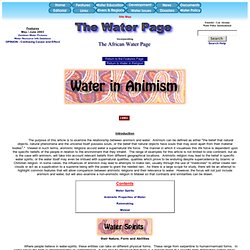 Animism can be defined as either "the belief that natural objects, natural phenomena and the universe itself possess souls, or the belief that natural objects have souls that may exist apart from their material bodies. " Viewed in such terms, animistic religions accord water a supernatural life force. The manner in which it visualises this life force is dependent upon the specific beliefs of the people in relation to the environment that they inhabit. The range of examples for this article is not limited to one continent, but as is the case with animism, will take into account relevant beliefs from different geographical locations. Ghost stories, hauntings, ghouls, vampires from Philippines. I was a teacher at Central Philippine University.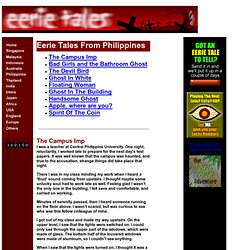 One night, reluctantly, I worked late to prepare for the next day's test papers. It was well known that the campus was haunted, and true to the accusation, strange things did take place that night. There I was in my class minding my work when I heard a 'thud' sound coming from upstairs. I thought maybe some unlucky soul had to work late as well. Champaca Street, Juna Subdivision — The Albularyo.com. Mysteries. UFO General. UFO General. True Ghost Stories and Paranormal Events. Ghosts in the Mirror. My mother visited the Myrtles Plantation near Baton Rouge, Louisiana.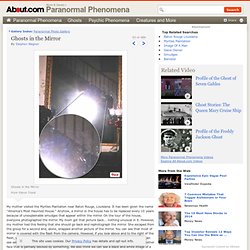 It has been given the name "America's Most Haunted House. " Anyhow, a mirror in the house has to be replaced every 10 years because of unexplainable smudges that appear within the mirror. On the tour of the house, everyone photographed the mirror. My mom got that picture back... nothing unusual in it. However, my mother had this feeling that she should go back and rephotograph the mirror. Haunted Places in Singapore - Spooky Corner. Advertisement ∇ I've posted a list of Malaysia's very own haunted places.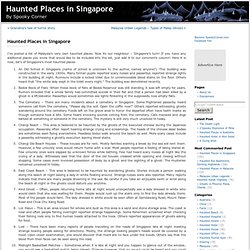 Now its our neighbour – Singapore's turn! Ghostly photographs from Hauntings. Schools and Churches - Ghost Hunting. Illinois College was founded in 1829, and like many other historic spots in Illinois, the events of the past still come back to remind students and faculty members of earlier days.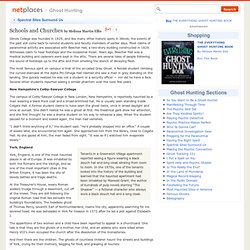 Most claims of paranormal activity are associated with Beecher Hall, a two-story building constructed in 1829. Witnesses claim to hear footsteps and the occasional moan. Years ago, Beecher Hall was a medical building and cadavers were kept in the attic. There are several tales of people following the sound of footsteps up to the attic and then smelling the stench of decaying flesh. The most famous spirit on campus is that of the so-called Gray Ghost. Spellbound tours. True Ghost Stories - True Stories of Ghosts and Hauntings from All Over the World. People all over the globe report ghost and haunting activity.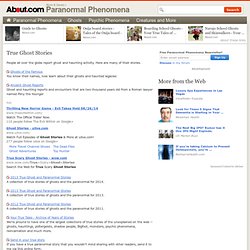 Here are many of their stories. Ghosts of the FamousYou know their names, now learn about their ghosts and haunted legacies. GHOST RESEARCH SOCIETY. Haunted Houses to Wet Your Pants. Have plans for Halloween?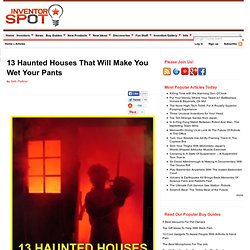 Love to be scared, scare someone else or delight in watching others wet themselves in fright? If so, this is the post for you. Compiled here are the 13 best American haunted houses, and each has its own specialties in gore and fear. These 13 are sure to terrify even the most seasoned haunted house goer. AMERICAN HAUNTINGS: WHERE DEAD MEN STILL TELL TALES. The Bell Witch Web Site - Online home of the Bell Witch of Tennessee. America's Best 13 Haunted Houses ranked by HauntedHouseMagazine.com.
Every year Hauntworld.com releases the premier list of haunted houses, haunted hayrides, scream parks, Halloween attractions, corn mazes, real haunted houses and even home haunted houses.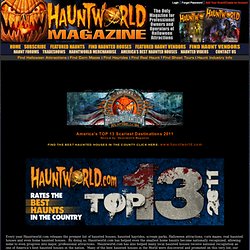 By doing so, Hauntworld.com has helped even the smallest home haunts become nationally recognized, allowing some to even progress into major, professional attractions. Hauntworld.com has also helped many local haunted houses receive national recognition as one of America's best haunted houses in the nation. Many of the best haunted houses in the World were discovered and promoted on this very list, our annual list of the best haunted houses in America. Mysterious Church Yard-- Worthing, United Kingdom. May 16, 2011 Rate this encounter:Jamie - Worthing, United Kingdom - April, 2005 This story isn't mine, but something that happened to two of my friends, Paul and Dan.
Paul and Dan had written a script for a horror film called Eve's Demons, and were looking for a church to film one of the scenes. They were with a couple of girls cast in the film, Sarah and Aisha. TAzPRS_Home. The Shadowlands: Ghosts and Hauntings. Paranormal News -- Your Source for UFO and Paranormal Related Information. Esōterikós Paranormal Research Team"Seeking the Unknown" - EPRT Home.
The Official Richard Senate Ghost Hunter Web Site! True Life Paranormal Experiences. Tell us about your paranormal experience for entry on this page FloridaAround the first week in May of 2013 while shopping in the Dollar General I had a very strange experience.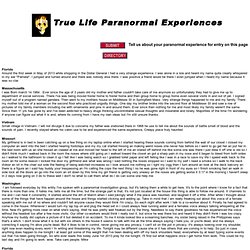 I was alone in a isle and heard my name quite clearly whispered in my ear "Pamela". I jumped and turned around and there was nobody else there. I was positive a friend would be there I even jumped when I heard my name because it was so clar. Massachusetts. Home. American Paranormal Investigations. The Paranormal Vault - Home. Florida Paranormal Research, Where You Become Part Of The Investigation.
Angels & Ghosts: Ghost Pictures, Angel Pictures, Angel & Ghost Stories. International Ghost Hunters Society. THE TOP TEN MOST HAUNTED, SCARIEST PLACES IN THE WORLD. No. 1: Catacombs, Paris, France. Is this a real Paris Catacomb Ghost Photo asks Harold Grant Ghost Picture from his recent trip to Paris 2008. Long ago, as the city of Paris grew, it became necessary to provide more space for the living. To do so, engineers and planners decided to move the mass of humanity least likely to protest: in this case, the dead. I Have Paranormal Experiences.
---