Twitter
Is This What Twitter Commerce Will Look Like? Twitter is getting serious about commerce on its service.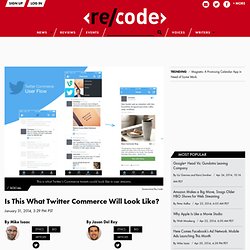 So much so that it looks as though soon you'll be able to buy goods for sale directly from a tweet. The microblogging service is close to finalizing a deal with payment services company Stripe, which would likely handle the back-end processing for making purchases on Twitter. Chart-of-the-day-square. François Hollande: En rendez-vous avec Jack D... Twitter hits back after Jonathan Franzen outburst. StartupStats. Bw-twitter-cover. Twitter Enters French Controversy on Sarkozy Parodies. Did you know that the French President Nicolas Sarkozy had opened a Twitter account?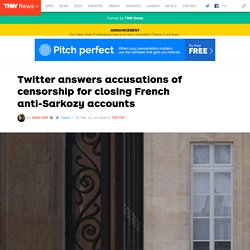 Its opponents certainly do, as several parody and critical accounts have been suspended by Twitter over the last days, generating accusations of censorship. This led the micro-blogging platform to publish a post on its French blog today. While it doesn't directly mention the controversy, it is dedicated to clarifying Twitter's policy with regard to parody and spam. Twitter Acquires Web Security Firm Dasient. Deep Apple Integration Triples Daily Twitter Signups From iOS Devices - Liz Gannes - Social. Why Fred Wilson and Bijan Sabet Left Twitter. A fellow Twitter investor tells us Fred Wilson and Bijan Sabet voluntarily left Twitter's board in order to sell a significant portion of their shares.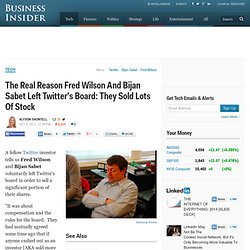 "It was about compensation and the rules for the board. They had mutually agreed some time ago that if anyone cashed out as an investor [AKA sold more than 20% of their shares], they'd have to leave the board. Fred and Bijan decided that, at the $8 billion valuation round, they felt very comfortable with their return and they'd like to get out. " Fortune's Dan Primack has also reported this was the reason Sabet and Wilson stepped down. A source close to Sabet did not deny a share sale, but said Sabet's VC firm, Spark Capital, has not sold more than half of its stake. Top 7 Ways to Save Time on Twitter. While many small businesses have started using Twitter in their marketing, finding the time to do it right can be a struggle.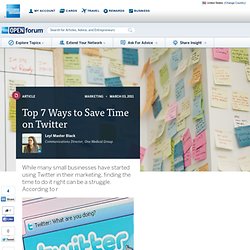 According to r March 03, 2011 While many small businesses have started using Twitter in their marketing, finding the time to do it right can be a struggle. According to recent research by R2integrated, the No. 1 barrier to entry into social media for businesses is lack of time and resources. Here are seven Twitter tricks from the pros that allow you to spend less time on the mechanics and more time engaging. Twitter Was Act One | Business. One brisk December day, Dorsey, 34, is leaving Third Rail, an artisanal coffee shop he frequents in New York's West Village.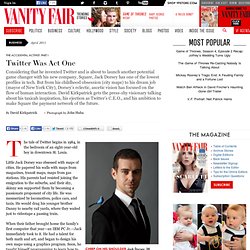 As he walks, he is unusually effusive. "I just had a meeting I've been wanting to have since I was 14," he says gleefully, "with the taxi-and-limousine commissioner." Their topic: "Technology in cabs. Twitter's Suitors Talk in Billions. The Power of Twitter in Information Discovery. It surprises me how many really smart people I meet still doubt the power of Twitter.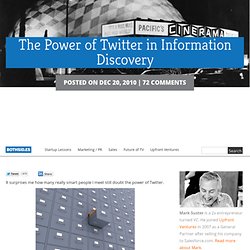 It seems the urge to be a naysayer of Twitter is really strong for some. I think some of this stems from the early days of Twitter when it was presumed that it was a technology to tell people what you ate for lunch. Twitter never seemed to really take the offense in PR and marketing. I guess it wasn't in their DNA. Right now the most important role to hire in Twitter would be a seasoned marketing professional who could proactively change the conversation about Twitter and educate people about its significance as an information sharing tool. Who Are The Most Listed Twitter Users? How Twitter Can Help You Quit Smoking. In this Sunday's New York Times, reporter Brian Stelter outlines his using Twitter as a tool for weight loss by setting up a @brianstelter25 account for his progress and tweeting out his exercise plan and meals.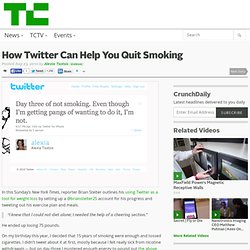 "I knew that I could not diet alone; I needed the help of a cheering section." He ended up losing 75 pounds. On my birthday this year, I decided that 15 years of smoking were enough and tossed cigarettes. I didn't tweet about it at first, mostly because I felt really sick from nicotine withdrawals –- but on day three I mustered enough energy to pound out the above missive. Firefly - The Check-in Service for Twitter. So Now Facebook Has Check-Ins — What About Twitter?
At an event on Wednesday, Facebook unveiled Places, their new location element that allows users to check-in to venues.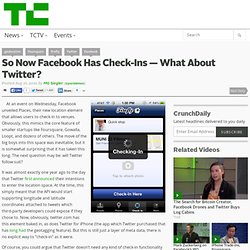 Obviously, this mimics the core feature of smaller startups like Foursquare, Gowalla, Loopt, and dozens of others. The move of the big boys into this space was inevitable, but it is somewhat surprising that it has taken this long. The next question may be: will Twitter follow suit? It was almost exactly one year ago to the day that Twitter first announced their intentions to enter the location space. Help Center. The Twitter Photo Sharing Horse Race. (Click image for full size) Roughly a year ago, TwitPic was the undisputed king of Twitter photo sharing services, with 4 to 5 times the traffic of its closest competitors.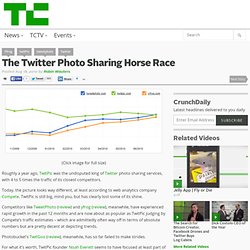 Today, the picture looks way different, at least according to web analytics company Compete. TwitPic is still big, mind you, but has clearly lost some of its shine. Competitors like TweetPhoto (review) and yfrog (review), meanwhile, have experienced rapid growth in the past 12 months and are now about as popular as TwitPic judging by Compete's traffic estimates – which are admittedly often way off in terms of absolute numbers but are pretty decent at depicting trends. Photobucket's TwitGoo (review), meanwhile, has so far failed to make strides. Panasonic Adds A Twitter App To Its Viera Cast Plasma HDTVS. You can't escape Twitter anymore.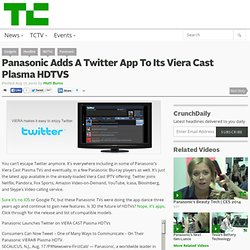 It's everywhere including in some of Panasonic's Viera Cast Plasma TVs and eventually, in a few Panasonic Blu-ray players as well. It's just the latest app available in the already-loaded Viera Cast IPTV offering. Twitter joins Netflix, Pandora, Fox Sports, Amazon Video-on-Demand, YouTube, Icasa, Bloomberg, and Skype's Video calling service. Sure it's no iOS or Google TV, but these Panasonic TVs were doing the app dance three years ago and continue to gain new features. Is 3D the future of HDTVs? Social Great / Where's the Crowd? - New York. Birdfeed Looks To Attract Tweets As The Go-To Twitter Geolocation App. Back in June, we wrote about Birdfeed, an iPhone Twitter application that finally brought the speed and simplicity to rival what many consider to be the top client, Tweetie. It's a great app that offers a different look and feel from Tweetie (and especially now Tweetie 2), which some users prefer.
And it's about to gain a key feature which could further differentiate it: Geolocation. Now, to be clear, as we previewed last month, the upcoming version of Tweetie, 2.1, will also support Twitter's new geolocation feature. But the new version of Birdfeed, 1.2, does it in a way that highlights it much more. And in fact, when Twitter geolocation support finally does roll out (it's due very soon, we hear), Birdfeed has a good shot to be the go-to app for it at launch. Twitter. Brizzly / A simple way to experience the social web.
---