VisualizeEconomics
Get flash to fully experience Pearltrees
The illusion of diversity: visualizing ownership in the soft drink industry Phil Howard, 1 Chris Duvall 2 and Kirk Goldsberry 3 August, 2010 Background Three firms control 89% of US soft drink sales [1]. This dominance is obscured from us by the appearance of numerous choices on retailer shelves.
Peter von Stackelberg designed this complex timeline of social, technological, economic and political events and trends from 1750 to 2100. Each time series shows graphs, events and categories on a common scale. The purpose of the timeline is to provide a visual tool for looking at events across a relatively long period of time and identify patterns and interrelationships involving a broad range of factors. Identification of patterns is particularly important when attempting to look at the future of complex social, technological, economic, and other systems. Some thoughts behind the design process. Stephen Lark uploaded a zoomable version to Zoomorama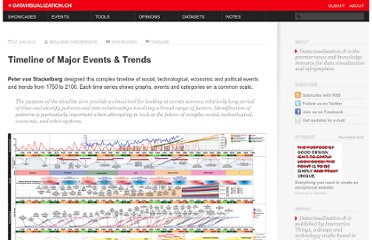 CID Working Paper 189 (2010) How does the productive structure of countries' changes over time? In this paper we explore this question by combining techniques of networks science with 42 years of trade data and find that, while the Product Space remains relatively stable during this period, the dynamics of countries' productive structures is characterized by a few highly dynamic economies. In particular we identify Brazil, Indonesia, Turkey, Malaysia, Thailand, Korea, Singapore and China, as countries that transformed their productive structures considerably during these four decades, albeit following different trajectories. For instance, the economic complexity of Korea, Singapore and China was relatively high at the beginning of the observation period and continued to increase during these forty two years, moving these countries into the top spots of the economic complexity rankings for the beginning of this millennium.
Looking for opinions on the economy or economic indicators? California Council on Economic Education, CCEE, offers these links to blogs, well-known economists and news sources to help you sort through current events and provide context for your students. Register for CCEE's weekly economic updates for timely information and ideas to help explain economics to your middle and high school students using real information that connects with what's going on in their world today. Concept Link
09 Jun 2011 Notes Competition , Economics , Visualizing.org UN Global Pulse, an initiative by the United Nations and Visualizing.org have teamed up to challenge you to visualize the voices of vulnerable populations in times of global crisis. Read more 19 May 2011 Showcases Economics , Politics , Processing Jan Willem Tulp, a freelance information visualizer based in The Netherlands has recently published his submission for the Eyeo data visualization challenge by Visualizing.org that analyzes the numbers of homes in proportion to the population in the USA. Read more
Statistical Visualization