Philosophy
Get flash to fully experience Pearltrees
This picture has been doing the rounds on Facebook. It's a great example of the idea of 'As Above, So Below', which is a symbolic truth rather than a literal truth. If you were to push the comparison between brain cells and galaxies, it would probably break down fairly quickly. All the same, the pictures are similar and the comparison has deep appeal. Why? Speaking for myself, it makes me feel connected.
Philosophy Links and resources
Philosophy and "thinkers"
"In fact, you get pretty good at understanding how the patterns in the show work, and everyone else chained up is like, 'Holy shit bro, how did you know that that tree was going to fall on that guy?' and you're like, 'It's because I fucking pay attention and I'm smart as shit.' You're the smartest of the chained, and they all revere you." Glaucon: "But Socrates, a tree didn't really hit a guy. It's all shadows." Socrates: "No shit, Glaucon, but you don't know that.
Plato realizes that the general run of humankind can think, and speak, etc., without (so far as they acknowledge) any awareness of his realm of Forms. The allegory of the cave is supposed to explain this. In the allegory, Plato likens people untutored in the Theory of Forms to prisoners chained in a cave, unable to turn their heads. All they can see is the wall of the cave. Behind them burns a fire. Between the fire and the prisoners there is a parapet, along which puppeteers can walk.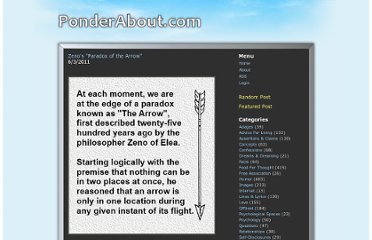 Zeno's "Paradox of the Arrow" passage from Biocentrism by Robert Lanza M.D. Related Posts: The Paradox Of The Infinite Circle The Liar Paradox The Barber Paradox Tags: paradoxes
In the first post of this series I promised to explore the wider implications of our having a quantum computer in our head. What does this revolutionary understanding of the capacities of the human brain mean for our life and our future? Here I call "quantum consciousness" the consciousness we access when we use the potentials of our quantum-computer brain. Our brain is a macroscopic quantum system, yet we use it as if it were exclusively a classical biochemical system.