Timeline
How to Create Timelines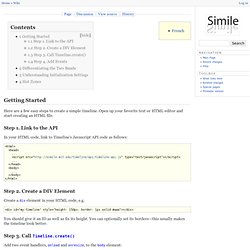 Getting Started Here are a few easy steps to create a simple timeline. Open up your favorite text or HTML editor and start creating an HTML file. Step 1. Link to the API
Temporis
Dandelife.com :
The History of The Discovery of Cinematography
GUIdebook
If you're wondering if you can attach SketchUp models to the new Google Earth timeline, the answer is Yes, as this proof of concept shows: An imaginative recreation of the evolution of a building complex in Ur. Plenty for historians and educators to play with here. I can't wait to see historical battles played out on Google Earth.The fully featured photo georeferencing tool RoboGeo v5.0 beta is out. Version 5 adds the ability to georeference photographs using Google Earth, just like in Google Picasa.
SketchUp models & time : Ogle Earth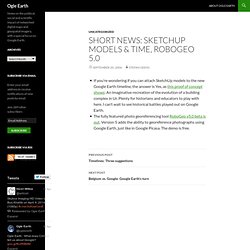 Yartha Atlas of World History
Mapping History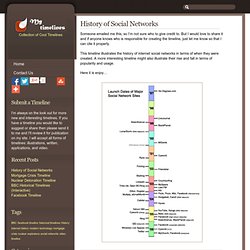 Someone emailed me this, so I'm not sure who to give credit to. But I would love to share it and if anyone knows who is responsible for creating the timeline, just let me know so that I can cite it properly. This timeline illustrates the history of internet social networks in terms of when they were created.
Rock 'n' Roll - A musical style born in the late 40's out of jump blues and incorporating the saxophone based rhythms of that form with as varied influences as the electric guitar of blues, the steady beat of swing, the pounding piano of boogie woogie, the fervor of gospel, the intense romantic longing of pop harmony groups and the looseness of country, with songs focusing on the viewpoints and interests of its primarily young audiences and a constant pushing outwards of the accepted moral boundaries of the times. Its primary practitioners were young black artists appealing to the post-war community's need for excitement, dancing and increasing social freedoms. In the mid-50's, fueled by radio and jukeboxes, white teenagers became equally entranced by the style and became some of its most popular artists. The music however is not restricted to any race, gender, or point of origin either by performers or audience, and its inclusiveness is one of its greatest strengths.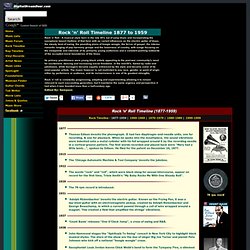 Rock n Roll Timeline
The Complete History of the Discovery of Cinematography
The Chronology of New Media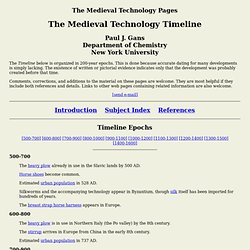 The Medieval Technology Pages Paul J. Gans Department of Chemistry New York University The Timeline below is organized in 200-year epochs. This is done because accurate dating for many developments is simply lacking. The existence of written or pictorial evidence indicates only that the development was probably created before that time.
Medieval Technology Timeline
A Timeline of Timelines
This is an expanded version of a timeline tha­t appeared in Cabinet's "Histories of the Future" issue. Daniel Rosenberg's introduction to the timeline can be found here. Although we have not been able to preserve the horizontal design, we have added additio­nal entries for this web version.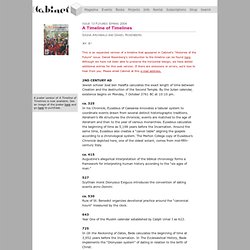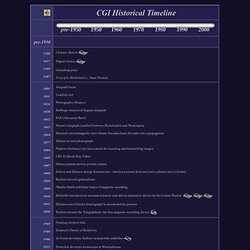 An Historical Timeline of Computer Graphics and Animation
Robert Able & Associates produces the 1st computer generated 30 second commercial used for Super Bowl (Brilliance) Wavefront Technologies is the first commercially available 3D software package (founded by Mark Sylvester, Larry Barels and Bill Kovacs ) Thomson Digital Image (TDI) founded Jim Clark receives the 1984 ACM SIGGRAPH CG Achievement Award International Resource Development report predicts the extinction of the keyboard in the next decade
Below, you can see the preview of the Computer Languages History (move on the white zone to get a bigger image): If you want to print this timeline, you can freely download one of the following PDF files: There is only 50 languages listed in my chart, if you don't find "your" language, see The Language List of Bill Kinnersley (he has listed more than 2500 languages).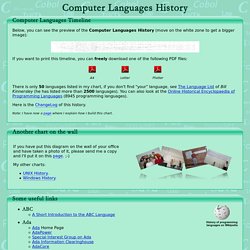 Ulf's Comprehensive History of Information and Computing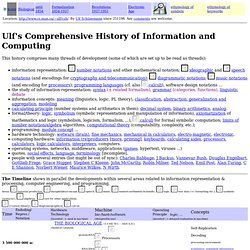 This history comprises many threads of development (some of which are set up to be read as threads): The Timeline shows in parallel the developments within several areas related to information representation & processing, computer engineering, and programming. Areas: material production, thought/idea/concept,
Graphical Timelines
Timeline Creator
New Media Timeline (1969-2004)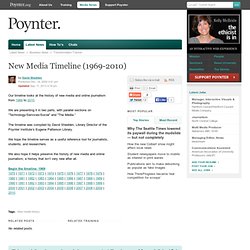 Our timeline looks at the history of new media and online journalism from 1969 to 2010. We are presenting it in two parts, with parallel sections on "Technology/Services/Social" and "The Media." The timeline was compiled by David Shedden, Library Director of the Poynter Institute's Eugene Patterson Library. We hope the timeline serves as a useful reference tool for journalists, students, and researchers.