Kingmatthew
Matt
I'm awesome!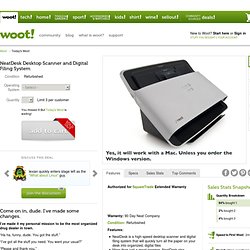 Authorized for SquareTrade Extended Warranty Warranty: 90 Day Neat Company Condition: Refurbished Features: NeatDesk is a high-speed desktop scanner and digital filing system that will quickly turn all the paper on your desk into organized, digital files More than just a great scanner, NeatDesk also includes patented NeatWorks® software to identify and extract key information from your paper files, then automatically organizes it in the easy to use database NeatDesk can actually recognize and activate the information you care about so you can edit, add notes, run reports, and more Award-winning ADF (Automatic Document Feeder) scanner, its patented input tray lets you scan receipts, business cards, and documents, all in a single batch The patented paper input tray lets you scan different kinds of paper – from the smallest taxi receipt to 2-sided legal documents – all in a single pass.
One Day, One Deal™
RezScore Grades Your Resumes and Offers Free Advice
RezScore is a webapp analyzes your uploaded resume and provides surprisingly accurate advice. If you're applying for a new job and need to get your resume in shape, it could be a very helpful tool. The functionality of RezScore is very, very simple.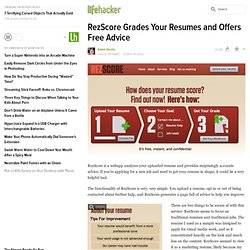 There are tons of awesome live, bootable Linux systems , but what if you need to run OS X? Reader Will shows us how to put a portable version of OS X on a thumb drive and boot it on (most) Intel computers. People put linux on their flash drives all the time. They also get hackintosh on their hard drives quite often.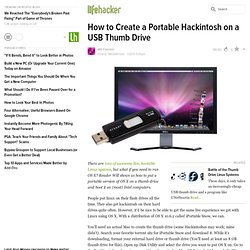 Colleges and universities, large and small, have sophisticated technology infrastructures to meet the needs of students, faculty and staff. It's often hard to imagine how they keep it all straight. A strong staff and appropriate policies in place certainly help. Abilene Christian University has several IT policies in place that address disaster recovery , appropriate use of technology and employee cell phone use , to name a few.
How Do You Create an IT Policy?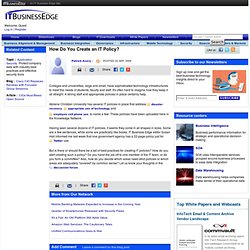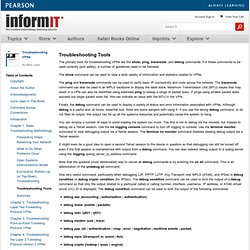 Troubleshooting VPNs | Troubleshooting Tools
The primary tools for troubleshooting VPNs are the show, ping, traceroute , and debug commands. For these commands to be used correctly (and safely), a number of guidelines need to be followed. The show command can be used to view a wide variety of information and statistics related to VPNs. The ping and traceroute commands can be used to verify basic IP connectivity and route across the network. The traceroute command can also be used in an MPLS backbone to display the label stack. Maximum Transmission Unit (MTU) issues that may result in a VPN can also be identified using extended ping to sweep a range of packet sizes.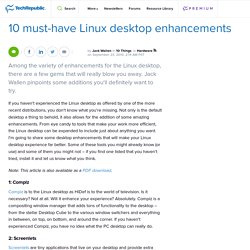 10 must-have Linux desktop enhancements
Takeaway: Among the variety of enhancements for the Linux desktop, there are a few gems that will really blow you away. Jack Wallen pinpoints some additions you'll definitely want to try. If you haven't experienced the Linux desktop as offered by one of the more recent distributions, you don't know what you're missing. Not only is the default desktop a thing to behold, it also allows for the addition of some amazing enhancements. From eye candy to tools that make your work more efficient, the Linux desktop can be expanded to include just about anything you want.
By Laura Chappell, Author of Wireshark Network Analysis (wiresharkbook.com) Editor's note: This top 10 list outlines the reasons why network analysts should learn Wireshark, the open source network analyzer . Laura Chappell, author of Wireshark Network Analysis, gives a light-hearted yet serious list of ways in which this open source network analysis tool can help any network analyst become better at his or her job.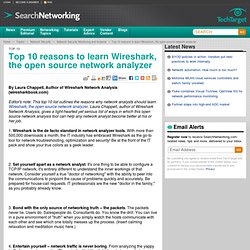 Top 10 reasons to learn Wireshark, the open source network analyzer
Overview The <httpRedirect> element configures settings for Internet Information Services (IIS) 7 that redirect client requests to a new location. There are several reasons why you might want to redirect clients to a new location. For example, if your company is migrating to a new Web site, you could redirect all requests from the old Web site to the new Web site.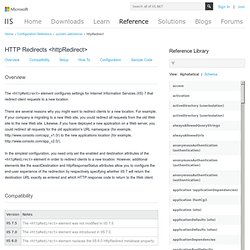 HTTP Redirects <httpRedirect> : Configuration Reference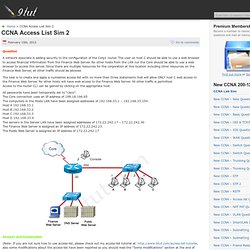 CCNA Training » CCNA Access List Sim 2
Question A network associate is adding security to the configuration of the Corp1 router. The user on host C should be able to use a web browser to access financial information from the Finance Web Server. No other hosts from the LAN nor the Core should be able to use a web browser to access this server.
I have written a guide for next week that explains running tasks as an administrator in Windows XP. Just like modern cars (some, not all) don't fully turn off the traction control even when you press the switch, modern versions (including XP) don't give you full administrative permissions (even with an Administrator account.) Thus, you'll need to activate the "hidden" administrator account in Windows to have full control over your files and settings.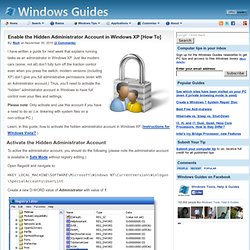 Enable the Hidden Administrator Account in Windows XP [How To] | Windows XP Maintenance
If you're trying to break into a Windows computer—whether you've forgotten your password or are hatching a more sinster plan—you have quite a few options. Here's how to do it, and how to keep your own computer protected. There are a few methods to breaking into a computer, each with their own strengths and weaknesses. Here, we'll go through three of the best and most common methods, and nail down their shortcomings so you know which one to use—and how to exploit their weaknesses to keep your own computer secure. The Lazy Method: Use a Linux Live CD to Get at the Files If you don't need access to the OS itself, just a few files, you don't need to go through much trouble at all.
Tutorial by Wardell Motley Maltego, developed by Roelof Temmingh, Andrew Macpherson and their team over at Paterva, is a premier information gathering tool that allows you to visualize and understand common trust relationships between entities of your choosing. Currently Maltego 3 is available for Windows and Linux.
Maltego 3: First Look
CCNA Training » CCNA EIGRP LAB Question
Question After adding R3 router, no routing updates are being exchanged between R3 and the new location. All other inter connectivity and Internet access for the existing locations of the company are working properly. The task is to identify the fault(s) and correct the router configuration to provide full connectivity between the routers. Access to the router CLI can be gained by clicking on the appropriate host.
So you've decided you want to drop off the map and leave Big Brother behind. It's harder than ever in our always-connected world, but if you're ready to plan your big vanishing act, here are a few tips to get you started. If this looks familiar, you're not crazy. Our guide to dropping off the map is a perennial Evil Week favorite. Who hasn't thought about how nice it would be to start fresh somewhere new, preferably with nicer weather and cheaper drinks?
wp-content/uploads/2010/06/Google%27s_Total_Information_Awareness.pdf
Hackermedia - is on the air!
www.blackhat.com: *.ppt
Microsoft Office Outlook 2010 is quite stable but not perfect, if your PST file becomes corrupt then you will need a repair tool to fix it. PST stands for Personal Storage Table(also referred as Personal Folder File) and is used to store all your Inbox, and other information. If it becomes corrupt, then your Inbox will also get corrupted. If Outlook 2010 is crashing, you could try running in Safe Mode and determine what is causing the problem.
Fix Outlook 2010 Problem: PST File Repair Tool
How To Recover Deleted Emails From Outlook And Thunderbird
Creating an IT policy that works
Keatron's Penetration Tools List |  InfoSec Institute – IT Training and Information Security Resources
Desktop virtualization, virtual desktops - Citrix XenDesktop
Microsoft SQL Server 2008 Management Studio Express - Microsoft Download Center - Download Details
Anonym.OS LiveCD | kaos.theory: fractal blog
Policies, Guidelines, and Practices
it policy template
iPhone Emulator for Windows | iPad Emulator | Test iPhone Apps | iPhone Simulator | MobiOne
Information security policies | Regulatory compliance policy | IT Policy Compliance
Forensics Live CD « UbuntuGuru
Forensics
chkrootkit -- locally checks for signs of a rootkit
Security Software | Convert your Windows Server 2008 to a Workstation!
How to Create Portable Version of Any Program in Windows Using Cameyo