Arkitektur
Wingender Hovenier Architecten - Projecten - Woonzorgcomplex de Korhoenders, Klein Driene Hengelo 2005-2010
Conference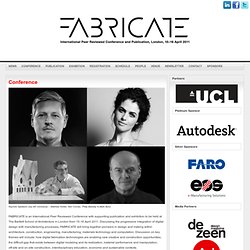 Keynote Speakers (top left clockwise) – Matthias Kohler, Neri Oxman, Philip Beesley & Mark Burry FABRICATE is an International Peer Reviewed Conference with supporting publication and exhibition to be held at The Bartlett School of Architecture in London from 15-16 April 2011. Discussing the progressive integration of digital design with manufacturing processes, FABRICATE will bring together pioneers in design and making within architecture, construction, engineering, manufacturing, materials technology and computation. Discussion on key themes will include: how digital fabrication technologies are enabling new creative and construction opportunities, the difficult gap that exists between digital modeling and its realization, material performance and manipulation, off-site and on-site construction, interdisciplinary education, economic and sustainable contexts.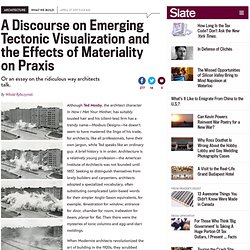 Demolition of Pruitt-Igoe buildings in 1972 Although Ted Mosby , the architect character in How I Met Your Mother , has suitably tousled hair and his (client-less) firm has a trendy name—Mosbuis Designs—he doesn't seem to have mastered the lingo of his trade, for architects, like all professionals, have their own jargon, while Ted speaks like an ordinary guy. A brief history is in order. Architecture is a relatively young profession—the American Institute of Architects was not founded until 1857. Seeking to distinguish themselves from lowly builders and carpenters, architects adopted a specialized vocabulary, often substituting complicated Latin-based words for their simpler Anglo-Saxon equivalents, for example, fenestration for window , entrance for door , chamber for room , trabeation for beam , planar for flat . Then there were the mysteries of Ionic columns and egg-and-dart moldings.
Architecture speak: An essay on the ridiculous way architects talk. - By Witold Rybczynski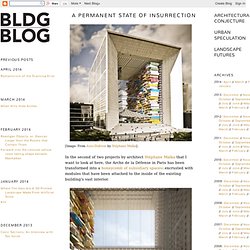 A permanent state of insurrection
[Image: From Auto-Defense by Stéphane Malka ]. In the second of two projects by architect Stéphane Malka that I want to look at here, the Arche de la Défense in Paris has been transformed into a honeycomb of subsidiary spaces : encrusted with modules that have been attached to the inside of the existing building's vast interior. As writer and curator Maryse Quinton describes it, "this study imagines the hijacking of a building that is symbolic for its monumentality and its location: the Arche de la Défense." In a detail that seems slightly tongue-in-cheek to me, Malka estimates that each module would cost only 3,000 Euros—as if you, too, could simply purchase your own plot of permanent insurrection, without need for a long-term mortgage or loan.
Design + Robotics - PennDesign Immersive Kinematics
Nottingham Contemporary (Nottingham, UK) « Caruso St John Architects
2004–2009 Location: Nottingham, UK Client: Nottingham City Council Project Status: Built Caruso St John were selected to design Nottingham's new Centre for Contemporary Art through an international competition in 2004. The artistic ambition of the project,encompassing object based visual art and time based performance art, has itsorigins in the artist run spaces of down town New York in the late 1960s, and in the work of artists like Gordon Matta Clark and Trisha Brown, whose work was directly engaged with the spaces of the city. The site for the new building is in a part of central Nottingham called the Lace Market, whose history and built form has parallels with the cast iron district of New York, giving the Centre a loose cultural connection to its site.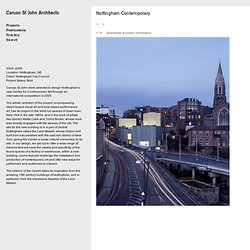 Baan - photography
Konstruktioner | Fiberline Composites
Clemens Vogel
Sergison Bates architects
Sveriges Arkitekter - Grimeton Skogsvaktarstuga ARKITEKTURs Debutantpris 2007
Fotograf: björn lofterud. Arkitekt: petra gipp, katarina lundeberg. Fotograf: strata arkitektur.
Helen & Hard
Er det bare en slåfejl, der driller? Måske har du tastet en forkert URL. Det sker for selv den bedste - tjek, om du har tastet rigtigt i browserens adresselinje.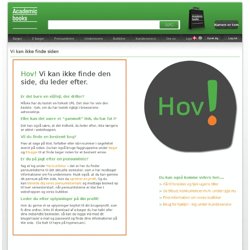 Academic Books - Bøger hos academicbooks.dk - Din studie- og erhvervsboghandel på nettet: Bog
JVA
2010 - lesfillesplaisirsculinaires : lhoas & lhoas architectes
A year after the completion of Therme Vals [1996], renowned minimalist architect, Peter Zumthor completed the design of Kunsthaus Bregenz [1997]. The Kunsthaus museum in Bregenz, Austria is always in a constant state of flux always changing its exhibition spaces to accommodate international contemporary art. Zumthor's minimalist design adapts its spaces to the art that is showcased in its exhibits creating a coexisting and redefining relationship between art and architecture. The Kunsthaus Bregenz has two main principles to their permanent collection: archives of art architecture and a collection of Contemporary art, which complements the changing exhibition spaces. The museum strives to be the intersection of art and architecture that opens itself to culture and international influence. More on the Kunsthaus Bregenz after the break.
archdaily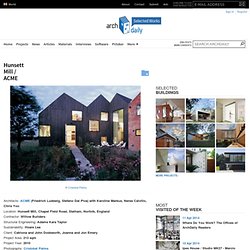 Hunsett Mill / ACME
Architects: ACME (Friedrich Ludewig, Stefano Dal Piva) with Karoline Markus, Nerea Calvillo, Chris Yoo Location: Hunsett Mill, Chapel Field Road, Stalham, Norfolk, England Contractor: Willow Builders Structural Engineering: Adams Kara Taylor Sustainability: Hoare Lea Client: Catriona and John Dodsworth, Joanna and Jon Emery Project Area: 213 sqm Project Year: 2010 Photographs: Cristobal Palma The Norfolk Broads are an artificial landscape of outstanding natural beauty, a man made wetland sustained through human intervention of water pumping mills, dykes and canals. After hundreds of years of indus- trial use of the natural landscape, the recent decades have seen increasing emphasis on conservation and a managed retreat back to nature.
'Sauna tonttu' by Lassila Hirvilammi Architects (FI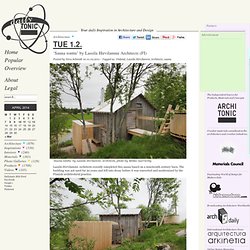 'Sauna tonttu' by Lassila Hirilammi Architects, photo by Mikko Auerniitty Lassila Hirvilammi Architects recently completed this sauna based on a nineteenth century barn. The building was not used for 50 years and fell into decay before it was converted and modernised by the Finnish architectural practice. Here is what the architects explain: "The sauna is located on top of a rock which rises 200 meters above sea level.
petra gipp arkitektur AB
Sveriges Arkitekter - Sök arkitekt, inredningsarkitekt, landskapsarkitekt, planeringsarkitekt
Arkitekturens År
Kivik Art Centre
jan de vylder architecten
guastavino.net
The four arches are two bricks thick while the dome is only one brick. Plaster of Paris is the only binding agent. "interior" view of the vault stringently-controlled load testing revealed that the dome easily carried a distributed load of 1,200 lbs.
Olafur Eliasson Space Is Process (2010