Favourites
homers - Memory Strategies
About Memory Studies have shown that the patient's adjustment can be deeply impacted by mild impairments in functions such as short-term memory. The extra effort, vigilance, and concentration needed to compensate for such mild deficits result in an enormous fatiguing effect.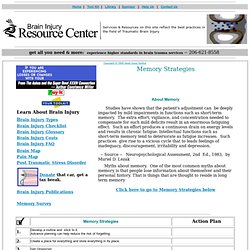 Dining philosophers problem - My first Java applet
The Official Website of Joni Mitchell
martha tilston - welcome
Winchester Weather
Project Gutenberg - free ebooks online download for iPad, Kindle, Nook, Android, iPhone, iPod Touch, Sony Reader
Radio 4 - The Reith Lectures - Lectures 1948 - Present
Please wait. Click on the radar image to zoom in to the regional radar and latest observations page. This page shows rainfall radar images at half-hourly intervals, for the last six hours. The key shows how the colours correspond to the amount of rainfall. For example, regions of yellow on the radar image indicate moderate rainfall.
British Isles: Rainfall radar