UML
yuml.me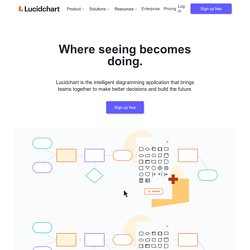 We've redesigned the entire diagramming process to make it as easy as possible. Make flow charts, wireframes, mind maps, and org charts. Try it now Sign up free Diagramming Software Drag and drop shapes onto the canvas to startflowcharting and mapping out a process. There's no learning curve with our free flow chart software—it's easy and intuitive. Try it now Sign up free Wireframes & Mockups From static wireframes to rapid prototypes, web developers can do it all with Lucidchart's wireframe tool.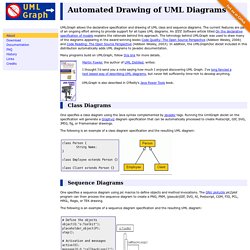 UMLGraph - Declarative Drawing of UML Diagrams
UMLGraph allows the declarative specification and drawing of UML class and sequence diagrams. The current features are part of an ongoing effort aiming to provide support for all types UML diagrams. An IEEE Software article titled On the declarative specification of models explains the rationale behind this approach. The tehnology behind UMLGraph was used to draw many of the diagrams appearing in the award-winning books Code Quality: The Open Source Perspective (Addison Wesley, 2006) and Code Reading: The Open Source Perspective (Addison Wesley, 2003). In addition, the UMLGraphDoc doclet included in this distribution automatically adds UML diagrams to javadoc documentation. Many programs build on UMLGraph; follow this link for more details.
Create UML diagrams online in seconds, no special tools needed.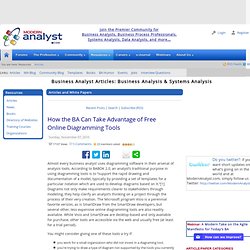 Almost every business analyst uses diagramming software in their arsenal of analysis tools. According to BABOK 2.0, an analyst's traditional purpose in using diagramming tools is to "support the rapid drawing and documentation of a model, typically by providing a set of templates for a particular notation which are used to develop diagrams based on it."[1] Diagrams not only make requirements clearer to stakeholders through modeling, they help clarify an analyst's thinking on a project through the process of their very creation. The Microsoft program Visio is a perennial favorite version, as is SmartDraw from the SmartDraw developers, but several other, less expensive online diagramming tools are also readily available. While Visio and SmartDraw are desktop-based and only available for purchase, other tools are accessible via the web and usually free (at least for a trial period).
How the BA Can Take Advantage of Free Online Diagramming Tools
gModeler.com