Sites_utiles 4
The Digital Invaders
La cuvée 2010 des films réalisés par les étudiants de dernière (3e) année de l'école de l'image des Gobelins semble excellente, et en attendant leur mise en ligne (a priori pas pour tout de suite), quelques morceaux sont visibles sur la toile. [edit 31/07] Pour éviter tout risque de spoiler je retire certaines vidéos. Smoke My Christmas , réalisé par Clément Desnos, Jean-David Fabre, Julien Perron, Rémi Salmon, et Vincent Verniers.
En attendant les films des Gobelins 2010 (quelques aperçus ...)
the leading free stock photography site
[CG Textures] - The worlds largest free texture site
How to Rebuild Your Attention Span and Focus
VizThink | Growing a Community of Visual Thinkers
Le e-fundraising en pratique - Aurélien DENAES
Macabre kids' book art by Gojin Ishihara ::: Pink Tentacle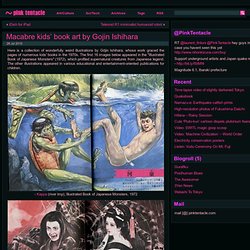 Here is a collection of wonderfully weird illustrations by Gōjin Ishihara, whose work graced the pages of numerous kids' books in the 1970s. The first 16 images below appeared in the "Illustrated Book of Japanese Monsters" (1972), which profiled supernatural creatures from Japanese legend. The other illustrations appeared in various educational and entertainment-oriented publications for children. - Kappa (river imp), Illustrated Book of Japanese Monsters, 1972
Le B2B a toujours été le parent pauvre des publications sur les stratégies digitales. Considéré comme "ennuyeux" et pas très moderne, on lui préfère toujours le B2C et les marques sexy (Nike, adidas….) en général. Toutefois, la majorité des entreprises sont B2B mais surtout, dans ma perspective elles ont une avance certaine sur les entreprises B2C car elles donnent beaucoup plus de considération au client. Ors, nous sommes dans une ère ou le client est revenu au centre comme le rappelle le CEO de Forrester.
Le R.O.I. des médias sociaux n'est pas [que] là où vous croyez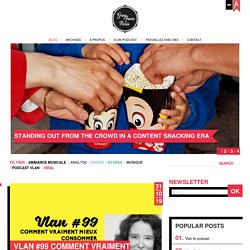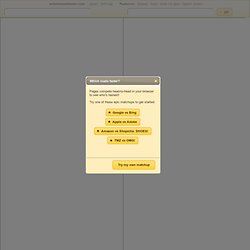 Why? whichloadsfaster is a fun way to spread the word that web performance matters. It's about friendly competition and about testing in everybody's browser, not just ones that have nice performance tools already. How? whichloadsfaster is open source, written in HTML and JavaScript and runs entirely on the client-side.
Which loads faster?
Web Fonts. Delivered ∗ Kernest
The designers at Kernest are particular about their fonts - and even more particular about font combinations. For the past 3 years they've painstakingly paired and unpaired fonts always searching for inspiring, distinctive combinations. Their effort resulted in this bundle of 36 font combinations.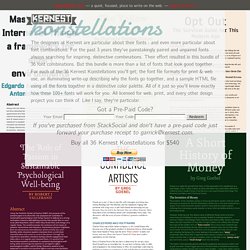 Docteur Tweety - Moteur de recherche
Advertisement Despite its privacy issues, Facebook clearly has a key role in global Internet activity. It has become a kind of universal social network, being used for both personal and business needs. For many individuals, companies and organizations, Facebook has become an integral part of their branding strategy and promotional campaigns. Facebook provides many tools for maximizing the effect of your presence on the social network, most of all by means of business pages, also known as fan pages.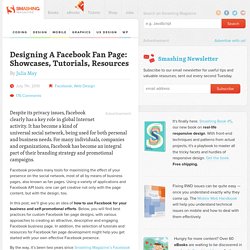 Designing A Facebook Fan Page: Showcases, Tutorials, Resources - Smashing Magazine
Manage Social Networks
Seesmic has been acquired by HootSuite and as of March 2013, the Seesmic website is no longer supported. But HootSuite welcomes all Seesmic users into our nest! Here's how you can start using HootSuite today. Making the transition to HootSuite:
The Real Life Social Network v2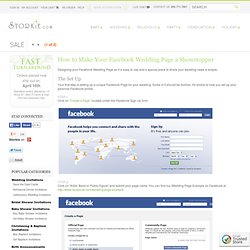 Facebook Wedding Guide Designing your Facebook Wedding Page so it is easy to use and a special place to share your wedding news is simple. The Set Up Your first step is setting up a unique Facebook Page for your wedding. Some of it should be familiar; it's similar to how you set up your personal Facebook profile.
Facebook Wedding Guide - How to Make a Wedding Page on Facebook - Storkie
25 Completely Free Fonts Perfect for @fontface - Speckyboy Design Magazine
The recent web design trend of not using web safe fonts for headlines and titles has opened up a whole new resource category for designers: The search for the perfect headline grabbing font. In this post we have collected 25 of the best completely FREE headline fonts that could be easily used with @fontface property and all packaged with a web-font license. Dekar Dekar Download Page → Freeware License (View License) Sertig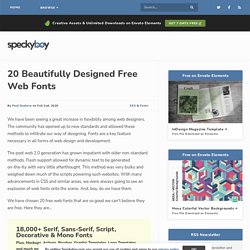 Web : inaccessiblité des sites
Launchlist - Your one stop website checklist!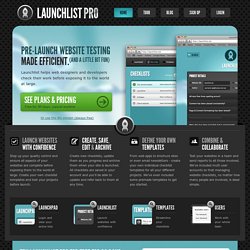 When registering with Launchlist you'll nominate a Launchlist site address which will form the subdomain for logging in to your account. Once your account has been activated you'll also get sent an email confirmation. Your site address will look something like this: http://yoursiteaddress.launchlist.net
Google serves almost 80 percent of all the search queries on the Internet, proving itself as the most popular search engine. However, Google makes it possible to reach not only the publicly available information resources, but also gives access to some of the most confidential information that should never have been revealed. In this post, you will find the information on how to use Google for exploiting security vulnerabilities that exists within many websites. The following are some of the ways to use Google for hacking: 1.
How to use Google for Hacking
You're invited to join Dropbox! - Online backup, file sync and sharing made easy.
Tara McPherson | STORE Posters Posters Elvis Costello
A couple days ago, Facebook announced some major changes in its platform that will make the entire web more social: "We're building toward a web where the default is social. Every application and product will be redesigned from the ground up to use a person's real identity and friends. Facebook calls this new social paradigm the "Open Graph," and Zuckerberg called the shift "the most transformative thing we've ever done for the web."
What You and Your Nonprofit Should Know About Facebook Changes - Beth's Blog: How Nonprofit Organizations Can Use Social Media to Power Social Networks for Change
Home : J3Concepts
J'ai abordé dans un précédant billet la théorie des couleurs, lors du choix des couleurs pour le Webdesign. Comme prévu, voici un billet vous présentant divers outils pour créer et trouver la palette de couleurs parfaite de votre futur projet… Edité par Adobe, Kuler est une web application en flash qui permet de consulter des milliers de palettes de couleurs proposées par les utilisateurs du service. Kuler inclus également un générateur de palette très poussé, permettant de choisir les couleurs aussi bien via la roue chromatique, que par des curseurs ou autres codes RGB, CMYK, Labs ou encore Hexa. A noter que Kuler existe aussi en application AIR, afin de l'avoir directement sur le bureau.
choisir ses couleurs pour le Webdesign – Partie 2 : les Outils | Nicolas BIRCKEL - A graphist web blog
ScreenToaster - Online screen recorder. Capture screencasts instantly.
» Custom Sneaker Guide: How to do Customs - Customsnkr.com
Mike Mitchell
[TUTO] Comment donner une peau de pêche à vos modèles
Top Five Twitter Analytical Tools
Best Online Collaboration Tools 2010 - Robin Good's Collaborative Map
test everything — 100+ tools in one!
The Strange Attractor - Official storefront powered by Merchline
50 Sites For Discovering Free Textures - slodive
What are you working on?
50 Beautiful Retro and Vintage Photoshop Tutorials
OpenStreetMap
Organizing Armageddon: What We Learned From the Haiti Earthquake | Magazine
35 Online Photo Editors To Help You Editing Photo Online
your tweet fight
Personnaliser les liens
Quelle Photothèque libre? - Foire Aux Questions de l'Adullact
« BonPatron » correcteur d'orthographe et de grammaire en ligne pour les textes français
Report: Nine Scientifically Proven Ways to Get Retweeted on Twitter | Popwise